I'm falling in love with companies that offer dividends again. If you can find a stock with historical stock price appreciation and dividend growth, it equates to some powerful gains. However, one has to be very careful of dividend traps. A dividend trap is a high-yield dividend stock whose payout is simply too good. One type of dividend trap is the the price of stock takes a massive drop.
Occidental Petroleum Corporation, together with its subsidiaries, engages in the acquisition, exploration, and development of oil and gas properties in the United States and internationally. The top 10 competitors in Occidental's competitive set are Chevron, Total, Devon Energy, ConocoPhillips, EOG Resources, Apache, Marathon Oil, Exxon Mobil, Chesapeake Energy and Concho.
While energy stocks in general have had a difficult 2019, Occidental has been hit harder than most, falling 20+% year to date and more than 40% in the last 12 months.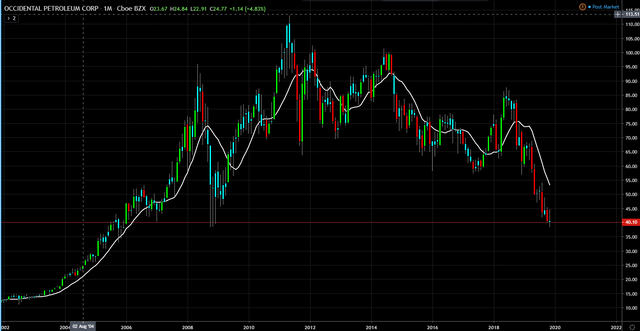 Once upon a time, Occidental which had a very good balance sheets, but after it acquired Anadarko earlier this year, it has one of the worst in the industry now. Despite creating a $100+ billion global energy leader with 1.3 million barrels of oil equivalent per day of production, Occidental now has as much debt as industry leader Exxon Mobil (XOM), despite much-smaller production, cash flow and market value.
Then there is the price of oil. Oil had a great week, on the hopes of a potential US-China trade tariff deal, which would spark demand again, but the secular down turn in oil can't be ignored.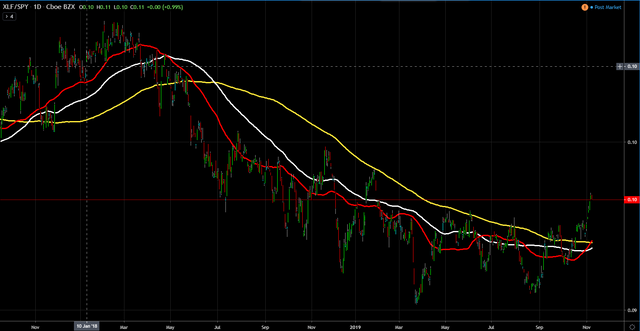 Which doesn't fair well for the SPDR ETF, XLE. XLE is the largest energy ETF with more than 30 holdings that include major oil giants, as well as niche players in the exploration, production, transmission, refining, and marketing industry groups within the sector. The top holdings include, you guest it, Occidental.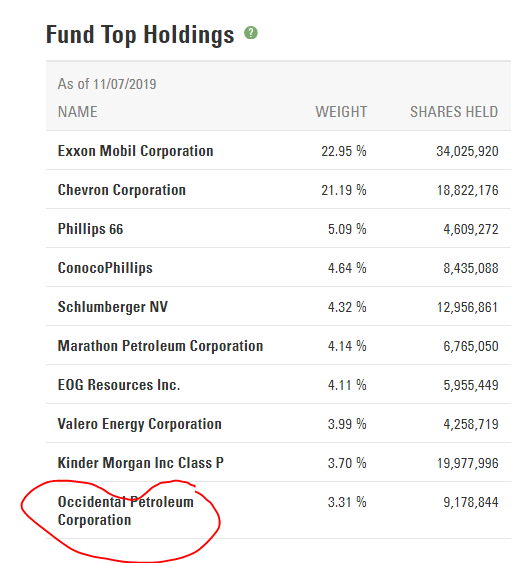 Source
But relative to the S&P 500, XLE also has been in downtrend.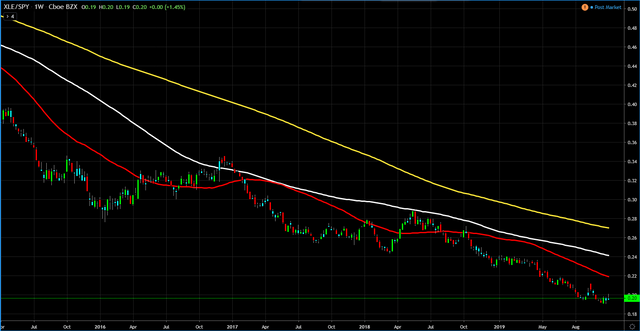 And then there is earning. Several days ago, Occidental Petroleum (OXY) came out with quarterly earnings of $0.11 per share, missing the estimates of $0.41 per share. This compares to earnings of $1.77 per share a year ago. During the earnings call, Occidental Petroleum Corp. pledged to slash spending by 40% next year after quarterly profit collapsed due to the Anadarko acquisition.
Which brings me to why Occidental is a dividend trap. Despite Occidental's Board of Directors declaring a regular quarterly dividend of $0.79 per share on common stock payable on January 15, 2020 and Occidental having paid quarterly dividends continuously since 1975 and Occidental having increased its dividend each year since 2002, I believe it's a dividend trap now.
In a client note Wednesday, J.P. Morgan analyst Phil Gresh wrote that a sharp reduction of two-thirds in the dividend, now $3.16 a share annually, "makes sense to us" given the company's high debt burden and what Gresh sees as little or no debt reduction from operating profits next year despite a sharp reduction in capital spending. Gresh, one of the few Occidental bears on the Street, has an Underweight rating and a price target of $42 a share.
Source
So the lesson of this post is to not have tunnel vision on the yield, expand your horizon and look at the other pieces of the puzzle that's making up that dividend.
This post is my personal opinion. I'm not a financial advisor, this isn't financial advise. Do your own research before making investment decisions.