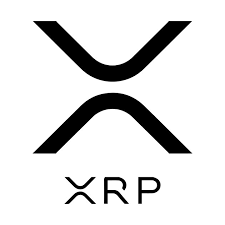 Whether Ripple is a decentralized or centralized blockchain, security token or not, who cares at this point? Who cares that Mike Novogratz is an ex-hedge fund manager, formerly of the investment firm Fortress Investment Group, was a partner at Goldman Sachs and was ranked a billionaire by Forbes in 2007 and 2008 and now through his company Galaxy Digital is trying to bridge the gap between the crypto and institutional worlds thinks that XRP's will underperform in 2020?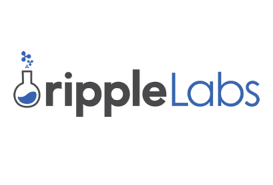 Who cares that Ripple Labs has 56 billion of XRP left and can manipulate price? Who cares that Forbes just released its Fintech 50 list this week, which included six blockchain companies, and Ripple made the cut? Well wait a minute, I care. OK, the list of 50 companies that made the cut are private companies with operations or customers in the U.S. with the and the goal of making it easier, faster and cheaper to use financial services.
Who cares that Ripple is kissing up to central banks and government around the world?
In July, a truce was called. CEO Brad Garlinghouse and Co-founder Chris Larsen penned a letter to the U.S Congress pleading demarcation. The letter was published as a full-page advert in the Wall Street Journal.

The letter praised central banks and governments in matters of currency issuance and stated that digital currencies should "complement" the U.S dollar and not "replace them." The U.S should "lead the way in the innovation of "privacy and stability" fearing the migration of new technologies overseas. The letter closed by pleading a balance of "fundamental differences" between regulators and innovators.
Source>
OK, are they really kissing up to central banks and world governments or keeping their enemies close….that pretty clever. Ripple even went as far as to open a Global Regulatory offices in Washington D.C. in October of 2018.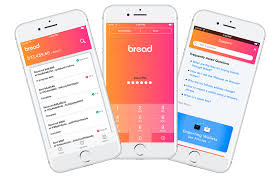 Who cares that Ripple formed a partnership with the Bread wallet? Well, I care, that access to more people who can buy and sell XRP. Bread and their wallet is a free digital wallet app for bitcoin that places emphasis on the experience of storing cryptos in a digital wallet as simple as possible. With 2+million people have the wallet, in 170+ countries, supporting 14 languages, that just made XRP more accessible.
Who cares that XRP continues to rip higher? I care it holds sentiment value to me as it was the first ever token I owned. So where is price heading next, the chart suggests price is headed to the weekly supply at $0.40.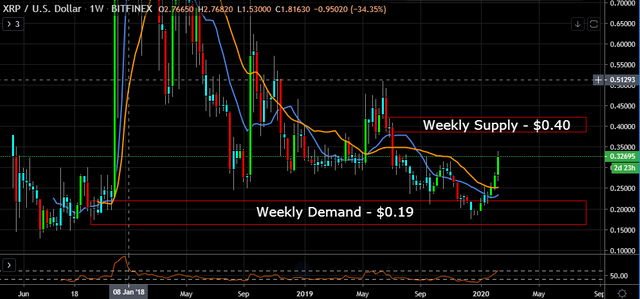 This post is my personal opinion. I'm not a financial advisor, this isn't financial advise. Do your own research before making investment decisions.

Posted via Steemleo