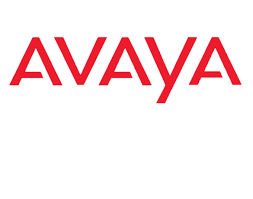 RingCentral, Inc. provides software-as-a-service solutions that enable businesses to communicate, collaborate, and connect primarily in North America.
The company's core product, RingCentral Office, is compatible with other popular applications like Salesforce, Outlook, Google Docs, and DropBox, while providing unique features in call forwarding, multiple telephone extensions, video conferencing, and screen sharing.
According to Goldman Sachs, RingCentral has direct exposure to the UCaaS market, which is expected to grow from more than $40 billion in 2020 to $48 billion in 2023.
Avaya Holdings Corp., through its subsidiaries, provides digital communications products, solutions, and services for businesses worldwide.
In October, Avaya announced a partnership with RingCentral whereby RingCentral would offer an Avaya-branded UCaaS service based on the RingCentral platform.

In Q4 of fiscal 2019, reported in November, the company showed $723 million in quarterly revenues, and $2.89 billion in annual revenues. These numbers reflect GAAP figures, and the annual total shows a 1.4% year-over-year gain. The company's cash on hand has shown steady increases in the past year, and stands at $752 million.

During the quarter, Avaya announced a partnership with RingCentral (more below), through which Ring will become Avaya's sole provider of UCaaS solutions. In addition, Ring committed to paying $500 million to Avaya in return for stock shares and licensing rights. The move brings Avaya's services and migration capabilities into combination with Ring's UCaaS platform, for both companies' benefit.
Source
Something is brewing as I noticed unusual options activity in Avaya yesterday. The Smart Money bought close to 20,000 March call options with a strike price at $15.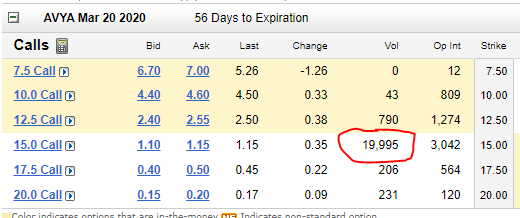 The only thing I see right now is that Avaya is announcing their earnings on February 10th. Now the last 3 out of 4 earnings announcement, Avaya has failed to meet expectations for earnings.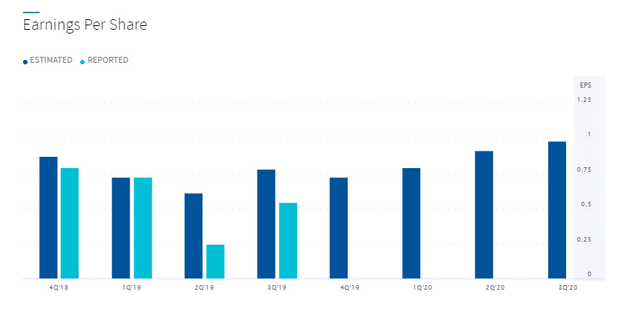 But I'm thinking, things are about to turn the corner as a result of this deal with RingCentral. The cool thing is what we will know in roughly two weeks.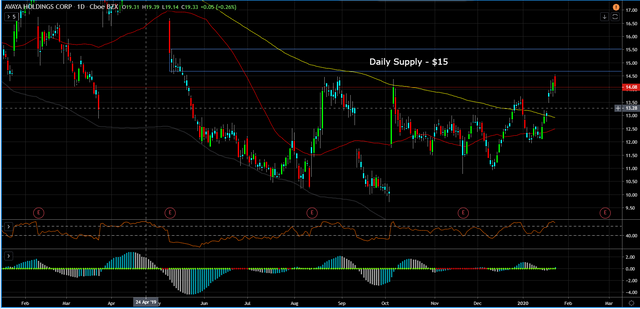 This post is my personal opinion. I'm not a financial advisor, this isn't financial advise. Do your own research before making investment decisions.

Posted via Steemleo