Not trying to burst any bubbles (pun intended), but that is just the reality of markets. We will see several coins create new all-time highs, however a vast majority of these alts will not.
How Far We've Fallen
We may not realized exactly how far from the all time high prices coins really are....
Here is a look at the top ten market cap coins and where they stand against all time highs: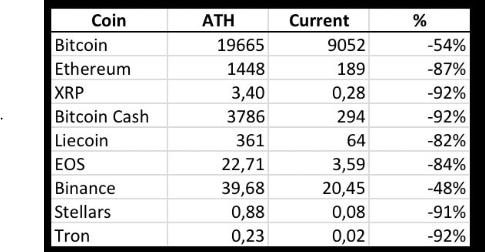 80-90% off the highs!?!
Bitcoin is roughly 50% off the highs and that is probably no surprise as most believe, as I do that bitcoin will crack 20k at some point.
Binance is a bit of an outlier because of when it was launched during the crypto bubble.
After that everything is more that 80% off the all-time highs. And if you dig outside of the top ten you will see the majority of other fit the bill - coins such as:
NEO, DASH, ZCASH, XEM, IOTA and it goes on.
Invest in Coins You Believe Have Viable Projects and Uses And Let the Cards Fall Where They May.
There will be winners and losers as exist in any given market so choose your coins wisely and know that some may be winner and some may be losers (in an investment dollar respect.)