And, yes, we have arrived to the end of the month again and I can tell you, despite my continuous efforts in order to improve my performance regarding Author rewards, the lack of time by one side and, likely, my own-lack of pertaining to any big curator group or, better said, not being inside any big "Upvoting-Circle", made me sink on this aspect.
However, that, does not mean that I do not belong to any trail or supporting community, I created @runningproject and its @isotonic funding account.
The first, @runningproject is actually one of the oldest community accounts still working and helping "runners" on the steem blockchain since more than 2,5 years.
The second, @isotonic , is, as I said, the funding account of the first, it is a manual curation account, which curates good content related with the main topic of the community. Delegators obtain once a week the 80% of the related curation rewards of the week, while the other 20% feeds the @runningproject community.
This is an example of good use of curation and community supportive accounts/initiatives...in my opinion, of course...
Unfortunately, I think that the rest of the similar initiatives are somehow manipulated and addressed to the very same actors... Of course, I might be wrong but that is what I think is happening...
This is my Monthly Author Rewards chart: "One of sand"
Now, coming back to the main topic, I am "sinking" as a content creator: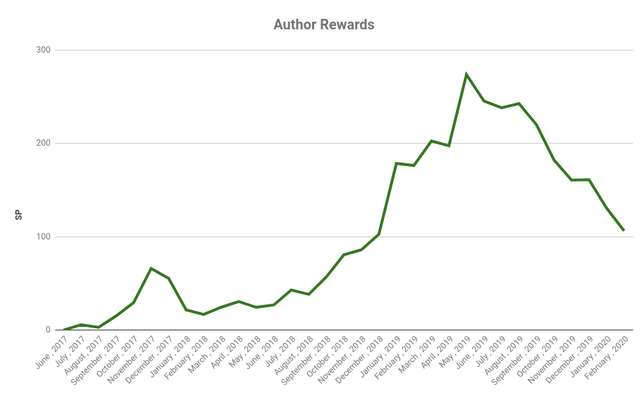 No way, impossible to correct the fall... I am feeling a little bit frustrated here indeed. I still don't understand how I managed in the past to reach 273 SP per month doing worstly as a content creator...
This is my Monthly Curator rewards chart: "one of lime"
But, have a look to my rewards as a curator: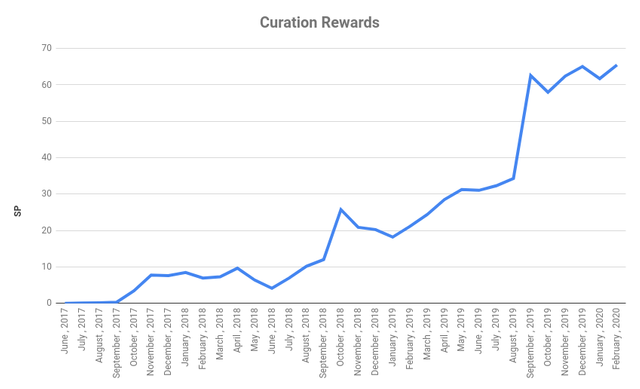 ALL TIME HIGH on the Monthly curation rewards!
The situation regarding this variable is better. I am over 65 SP which means:
Around 0.0068 Steem per 1 SP per month
0.082 Steem per 1 SP per year
785 SP in total a year or 8.2% of ROI
Not the best ROI still but good enough. I know and I have read it is possible to get a better ROI by setting the autovote efficiently but, you know, I used to support the steemians I like, independently of the maximisation of the rewards variable...also I think that Manual curation is essential for engagement and content discovering. And also I have to say that I used to upvote the majority of my commentators, for sure not the best way for maximising the ROI but, I don't care...
The overall picture of the SP earned on February is...
Again, obviously downwards...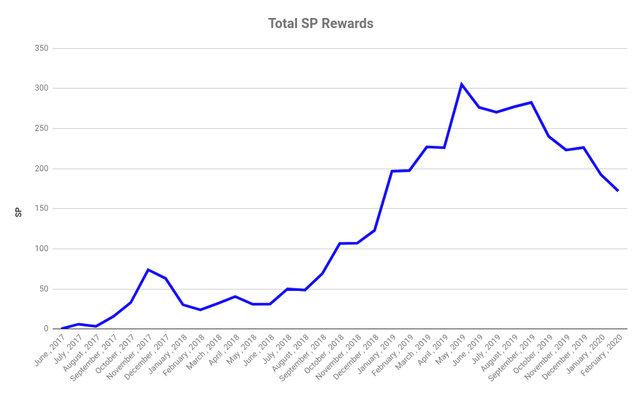 After analysing some other accounts that I follow, I can confirm I am not the only active steemian suffering from this Rewards downtrend which, in my opinion is mostly caused as a result of the last Hardfork and its consequences on the "engagement" variable which is lacking nowadays.
As I said, seems that for a whale willing to maximize its ROI it is much more easier to set an autovote following and upvoting 10 authors a day than discovering content on the blockchain so, no way for the rest for having discovered neither, that's for sure.
Also, delegating SP to curation initiatives as @curangel can improve the numbers on ROI but, honestly, I think this account is not using all its potential towards the rest of the steemians.
It is very rare to see the Voting Power of this account going below the 97%: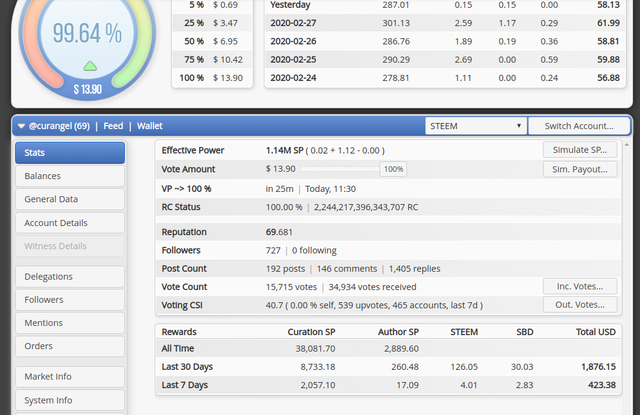 A waste of resources and power indeed (IMO).
Anyway, I am keeping working and building here on Steem.
I still think that the best is yet to come...possibly we will see "green sleeves" on March the 6th when more information about TRON/STEEM join will arrive... or possibly not...
In any case, this is a very interesting moment.
Posted via Steemleo