From time to time I used to check what is the current status the New Rewarding Curve by using the @penguinpablo 's tool that you can also check here.
The rewarding curve is important if you are willing to get the most of from your own upvotes and also to understand why some steemians get more than others, even if the quality of the shared content is sometimes of low value.
Only 3 months ago, after the last Hardfork deployment, the rewarding curve looked as follows: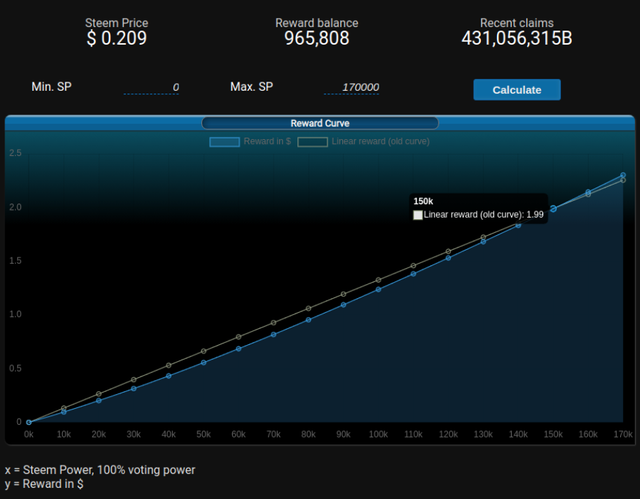 This chart traces two curves, in grey is the Old-rewarding curve, in Blue is the New rewarding curve.
X-axis represents the accumulated SP of the upvoters of a post, while the Y-axis represents the post rewards.
There is a point on which the blue curve (NEW) crosses the grey curve (OLD). It represents that any post rewarded
below that point gets less in terms of rewards in comparison with the old rewarding curve. Instead, above that point the effect is totally the opposite.
In short, if you upvote on a post which is rewarded below that crossing point, you would lost from 20 to 50% of your own rewards for curation while if you upvote on a post which is far beyond that crossing, your UPVOTE IS WORTH HIGHER and so, it also multiplies the author and curation rewards of upvoters and you get, let's say your curation rewards multiplied by the algorithm of the new curve... Catch it?
So, just 3 months ago, any post rewarded with more than 2$ was worthy to be upvoted on: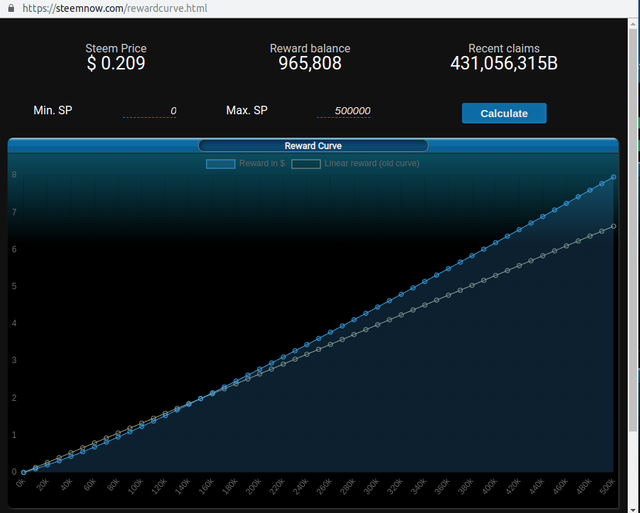 At that time, everyone thought it may be an amazing idea since it could, somehow trigger upvotes of dolphins, orcas and whales on good content creators with the aim of incentivize good authors.
Situation today
This is the current rewarding curve chart according to @penguinpablo :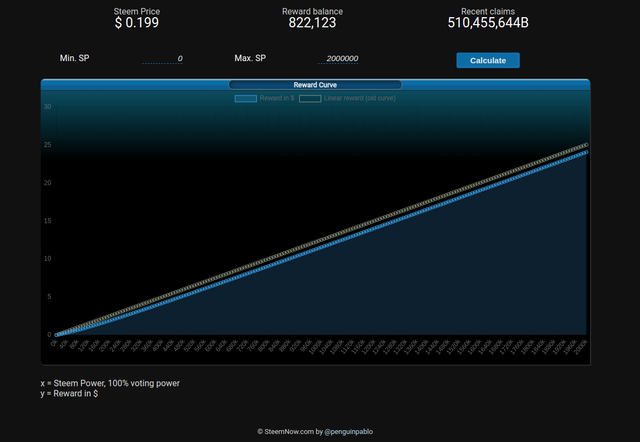 What do you see there?
First of all, I have sketched a curve for an imaginary post getting upvoted by 2.000.000 SP which is the maximum value we can set on.

There is no crossing between GREY (OLD curve) and BLUE (NEW curve), even if the curve reaches the 25$ of rewards in the y-axis.

Upvoters get automatically 10% less curation rewards in comparison with the old system as a minimum.
Consequences:
Comments are not upvoted even if they are worthy
Pure investors join only whale-circles trails ==> No content discovery is promoted
Useless Automatic burn of the rewards in comparison with the old system
Waste of resources: your upvote worth less, always
Difficult to understand for a newcomer, investor or not
Frankly, I still don't understand why there is no debate on this point. As I wrote three months ago, this rewarding curve has no impact on content discovery and quality enhancement... it is a useless and weird algorithm that must be cancel for the sake of simplicity and good understanding of everyone.