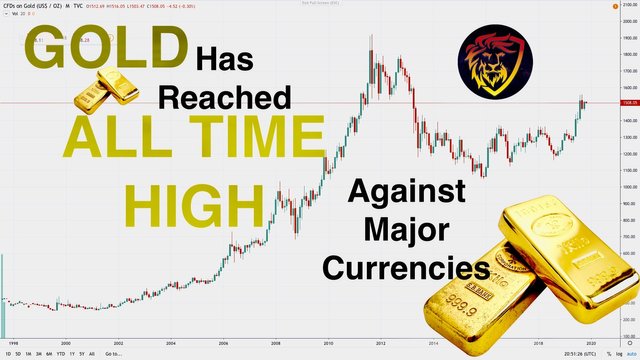 Against ALL MAJOR CURRENCIES!!!! That's historical. get ready for changes coming in the next months in the crypto sphere.
- The game is rigged.
OUR financial system is controlled by so very few investments funds you could count in one hand. Monopolies ghostly dominated all brands, and are controlling the many different markets technology allowed to happen through history. Why invest in a failure?
I imagine how frustrating it would be, to lose a huge amount of money, just because a politician got mad one day, because of his inflated ego. It wouldn't work. At least not for me.
Thankfully, being alive in this era, we now have the choice of cryptocurrencies. In front of that, there's a global war happening in front of our eyes, being named beautifully on television as just an economic conflict. Of course people know it can be dangerous, but they have no idea how deep this is going behind the curtains.
On the backstage, China is creating a cryptocurrency based on gold, and they claim to have 2 thousand tons of pure gold.
I'm sharing 3 links below for the knowledge-insatiable ones.
Who knows ?
Get your bags ready for launching to the moon.
Soon...
(In case you are newbie)
Tip: I usually recommend www.tradingview.com as the best website for checking any charts.
---
GOLD PRICE - LAST 100 YEARS (grey = recession):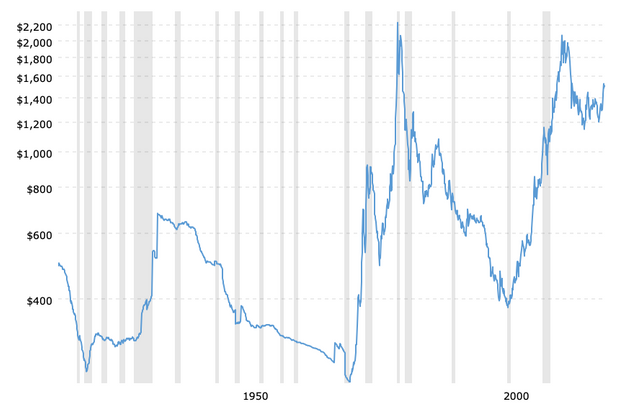 Gold Prices - 100 Year Historical Chart
(Em cinza, são as épocas de recessão econômica)
🇵🇹 🇧🇷
Contra TODAS AS PRINCIPAIS MOEDAS !!!! Isso é histórico. Prepare-se para grandes mudanças nos próximos meses no mundo das criptomoedas.
- O jogo está fraudado.
Nosso sistema financeiro é controlado por tão poucos fundos de investimentos que você pode contar em uma mão. Os monopólios dominaram fantasmagóricamente todas as marcas e estão controlando os diversos mercados que a tecnologia pode permitir ser criado, ao longo da história. Por que investir em um fracasso?
Imagino como seria frustrante perder uma quantia enorme de dinheiro, apenas porque um político enlouqueceu um dia, por causa de seu ego inflado. Não daria certo. Pelo menos não para mim.
Felizmente, por estar vivo nesta era, agora temos a opção de usar criptomoedas. Diante disso, há uma guerra global diante de nossos olhos, sendo lindamente exibida na televisão como apenas um conflito econômico. É claro que as pessoas sabem que pode ser perigoso, mas não têm idéia de quão profundo isso está por trás das cortinas.
Nos bastidores, a China está criando uma criptomoeda baseada em ouro, e eles afirmam ter 2 mil toneladas de ouro puro.
Estou compartilhando 3 links abaixo para os insaciáveis de conhecimento.
Dica: Caso você seja iniciante, recomendo normalmente utilizar o www.tradingview.com para analisar gráficos.
Eu vendo o melhor curso introdutório de criptomoedas do Brasil. Caso duvide, fique à vontade para tirar suas próprias conclusões:
http://bit.ly/2nkJ6C4
---
I ♥️ STEEM
---
Max Keiser: China Secretly hoarding gold and will unleash crypto backed by metal and destroy USD
China Secretamente acumula ouro, cria criptomoeda lastreada por metais preciosos e destrói USD: