Hi Everyone,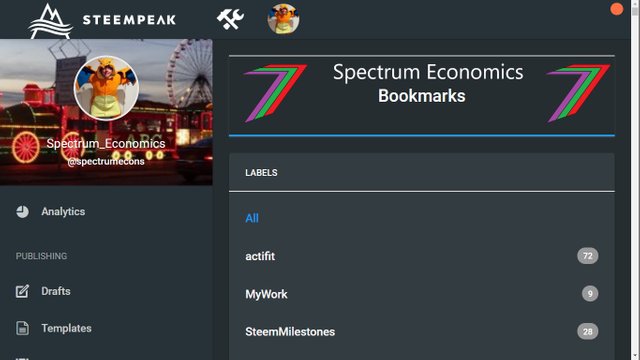 I have been spending more time on SteemPeak again. This time I have been using the bookmark feature. I believe the bookmark feature is intended for users to save an interesting post so that they can read it later. I have occasionally used the SteemPeak bookmark to do that.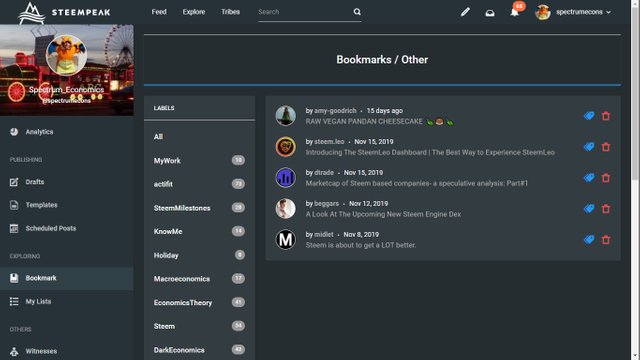 I have also found another interesting use for this feature. Bookmarking can be used to help organise your own content. Once a post has been bookmarked, you have an option to add a 'label'. Once the label has been added, the bookmarked post will join other posts with the same label. See example below.
Bookmarked posts labelled 'MyWork'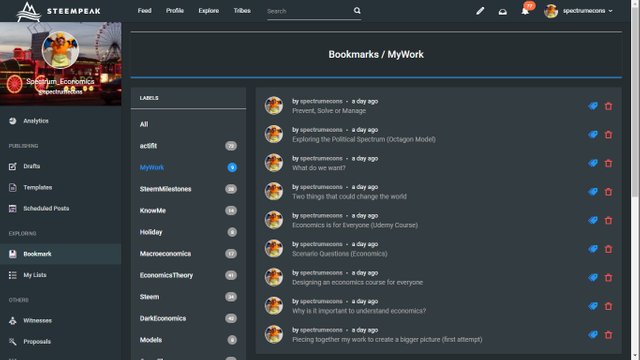 The left-hand column contains the 'labels' you are using and the number of posts under each label. In the right-hand column are the posts under that 'label'. In the example given, I have nine posts under the label 'MyWork'.
I have bookmarked every post and placed each post under a label. I have over 450 posts so it took me about a day to bookmark and label them. That sounds like a lot of work but once it is done, it is very easy to locate posts. The existing layout of the profile/channel page is very restricted. To find a previous post requires scrolling through all the recent posts and requires some idea of the date it was posted. Using the bookmarks, it only requires you to remember the label and the title of the post.
It only takes a few seconds to add a newly created post to an appropriate label. Below is a zoomed out view of my bookmarks page with all labels included.
Spectrumecons Bookmarked Posts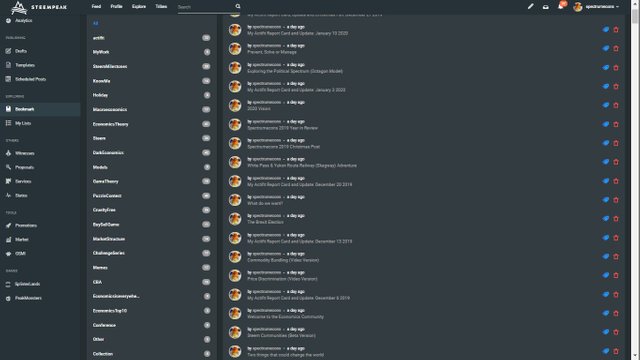 I have aligned the labelling on SteemPeak with my headings in my 'Collection of Works' series of posts; links to all four 'Collection of Works' posts are in the signature of this post. I created the 'Collection of Works' series so that I could more easily find my older content. I believe the SteemPeak bookmarks and labels serve that purpose equally well.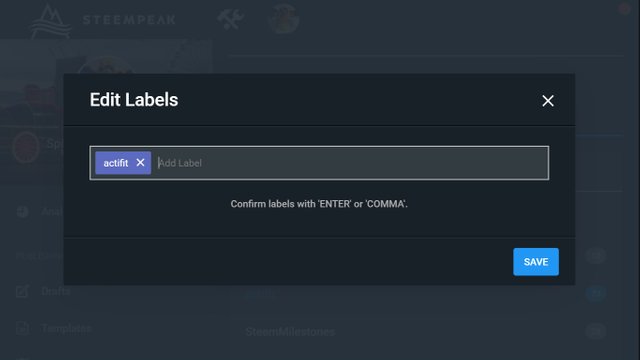 Several labels can be added to one post. For simplicity, I have only used one label per a post. However, I might add additional labels for content I want to combine later. For example, I might want to write a book or create another course. If I wanted to write a book using my Steem content, I could assign a label to a book; i.e. Awesome Book of Economics. I could then place all the posts that contain content that I want to use to write that book into the designated label.
Any problems
---
Using SteemPeak bookmarks and labels is great for helping me find my own content but I cannot display my labels for other users to see. As shown below, the URL is https://steempeak.com/me/bookmarks. Therefore we can only observe our own labels. A more preferable URL would have been https://steempeak.com/@spectrumecons/bookmarks. If the intention is to keep bookmarks private, an alternative feature to bookmarks could be added. This then could be used to help present content to other users and readers.

Another problem I have found is that I cannot rearrange content under a label or reorder the labels that are displayed in the left-hand column. Posts and labels appear in the order they were bookmarked.
Do other Frontends have bookmarks?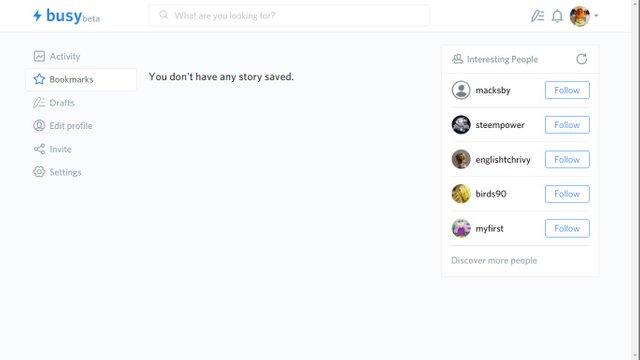 I have noticed that Busy also have an option to Bookmark posts. However, they do not have an option to label bookmarked posts. The labels make bookmarking a valuable tool for organising content. Steemit and Steem Plus do not appear to have such a function. I have not tried the Desktop version of eSteem but I did not see any option on the mobile DApp.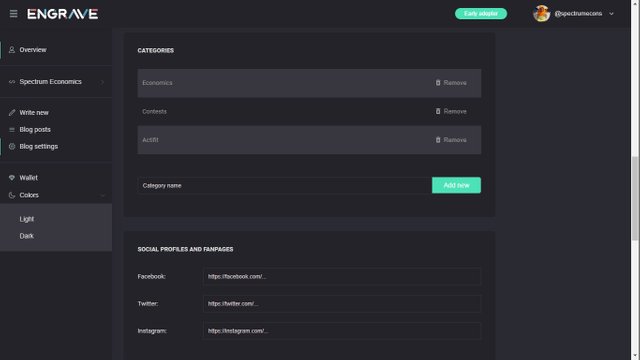 Engrave has options for organising content into categories. I believe this function would enable users to organise content as I have done with SteemPeak but this arrangement would be available for others to see. I have played around with Engrave but it does not appear to enable me to display my existing content on their website. I am guessing it only displays content posted on Engrave, which is a pity. It would be a great benefit to have a function to import content that is posted on other Steem interfaces.
To sum it up
---
I believe we need better tools to organise our own content. What SteemPeak has with bookmarks and labels is great but that content arrangement is private. I would love SteemPeak to have an option for us to share our content under labels or categories. I also like what Engrave are doing but it feels very limited if they require you to post only on their website for your content to be displayed on your blog page.
More posts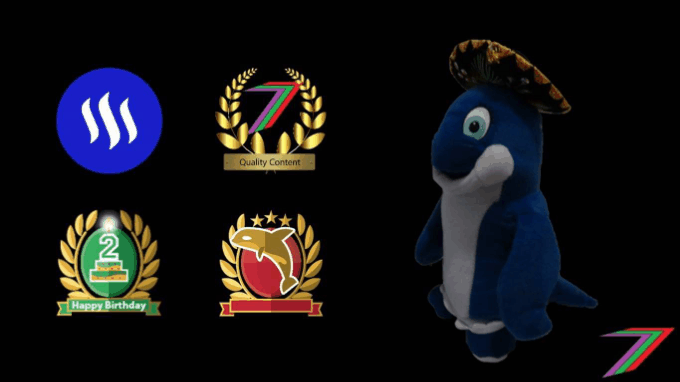 If you want to read any of my other posts, you can click on the links below. These links will lead you to posts containing my collection of works. These posts will be updated frequently.




---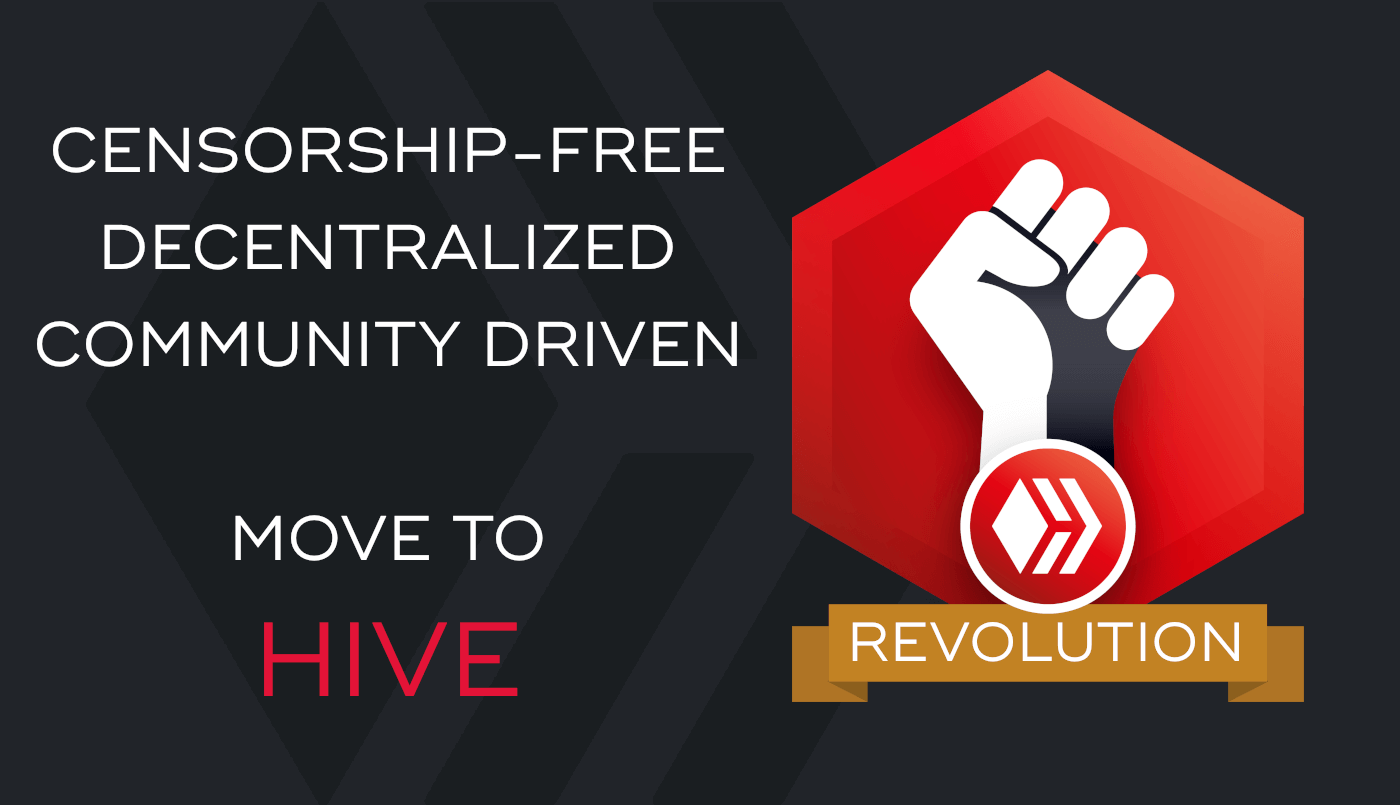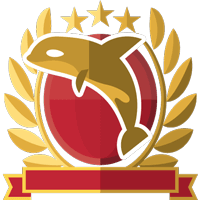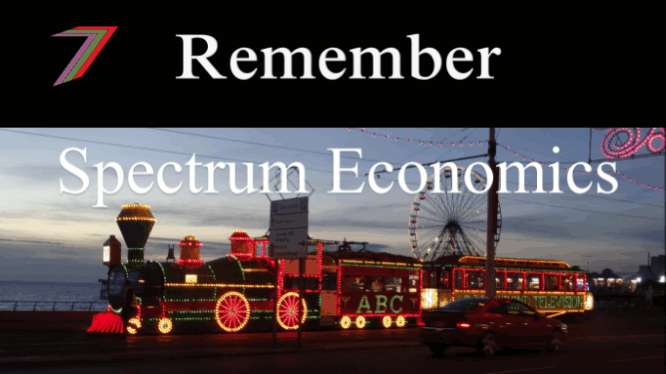 Steem - The Future of DApps