Summary
The company recorded a net income of $2,277 million or $1.30 per share for third-quarter 2019, compared to a net loss of $412 million or $0.35 last year.
Barrick Gold announced that its Board of Directors had declared a dividend for the third quarter of 2019 of $0.05 per share, a 25% increase. The dividend yield is 1.21%.
Barrick Gold is one of the three gold miners that I consider my core long-term "gold miners."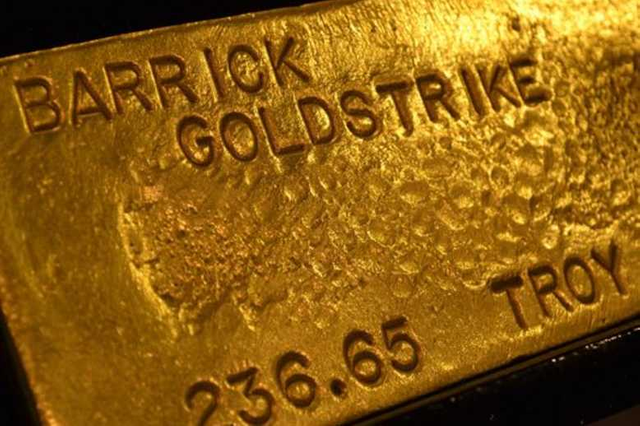 Source: Barrick Gold
Investment Thesis
The Toronto-based new Barrick Gold (GOLD) is one of the largest gold producers worldwide and is part of my long-term gold portfolio for years. Barrick Gold is also producing copper from three joint ventures.
It is a difficult task to describe the company on Seeking Alpha because the company owns a broad asset portfolio. I will try my best here to give a compact picture that supports my long-term investment recommendation without getting lost in too many unnecessary details. GOLD has slightly underperformed the VanEck Gold Miners ETF (GDX) this year, so far.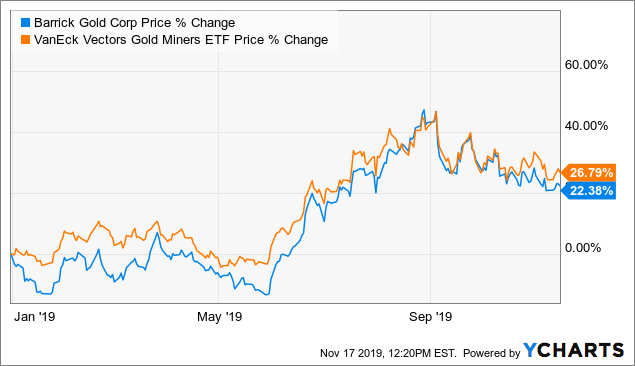 ChartData by YCharts
The size of the company makes it a perfect proxy for gold, and the market reaction to the tariffs imposed on China goods by the US is a good reminder of how important it is to hold a gold position in your portfolio. Barrick Gold is one of the three gold miners that I consider my core long-term "gold miners."
The two other gold producers are Newmont Goldcorp (NEM) and Agnico Eagle (AEM). I recommend reading my article about Agnico Eagle's third quarter results here.
The general investment thesis that I recommend for those three miners is to keep a long-term position that can be increased with a slow accumulation on weakness while using about a maximum of 20% of the total capital invested in the trading short term the increasing volatility of the gold industry.
The difference between my core gold miners and the rest is that I allocate a smaller part for the short term and avoid to sell out unless the stock has reached my long-term target.
Barrick Gold has changed drastically since last year
Here we are in the third quarter. A reliable New Barrick Gold, which includes the acquisition of Randgold Resources and the joint venture with Newmont (NYSE: NEM) in Nevada.
On September 24, 2018, Barrick Gold [ex-ABX] and Randgold Resources [ex-GOLD] announced that they have agreed to an all-share merger that will form the most prominent gold company in the world.
Also, Barrick Gold and Newmont Goldcorp created a 38.5% [for Newmont]/61.5%[for Barrick] joint venture called Nevada Gold Mines NGM, with Barrick as an operator for the eight assets located in Nevada with apparent synergies.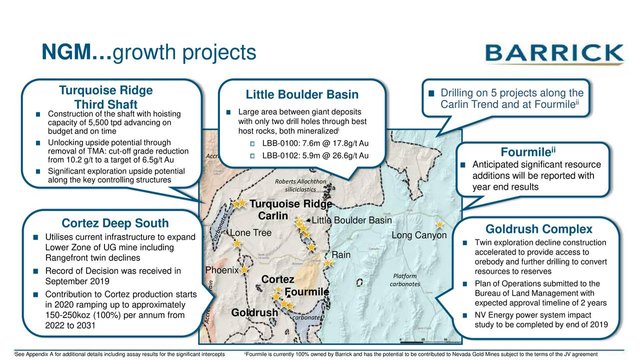 Source: GOLD Presentation
The new Barrick Gold total gold production in 3Q'19 was 1,306 K Au Oz.
Randgold is operating exclusively in Africa and has four mines producing below [e.g., Loulo-Gounkoto (80%) Kibali (45%) Tongon (89.7%) and Morila (40%)].
Production for the joint venture with NEM was 535K Au Oz in 3Q'19 compared to 526K Oz sequentially. This amount represents Cortez, Goldstrike (including South Arturo), 75% of Turquoise Ridge, Phoenix, and Long Canyon, both at 61.5%.

---
Author Bio:

Steem Account: @funtrading
Seeking Alpha Account: Fun Trading
Steem Account Status: Unclaimed
Are you Fun Trading? If so, you have a Steem account that is unclaimed with pending cryptocurrency rewards sitting in it from your content. Your account was reserved by the Steemleo team and is receiving the rewards of all posts syndicated from your content on other sites.
If you want to claim this account and the rewards that it has been collecting, please contact the Steemleo team via twitter or discord to claim the account. You can also view the rewards currently sitting in the account by visiting the wallet page for this account.
What is Steemleo Content Syndication?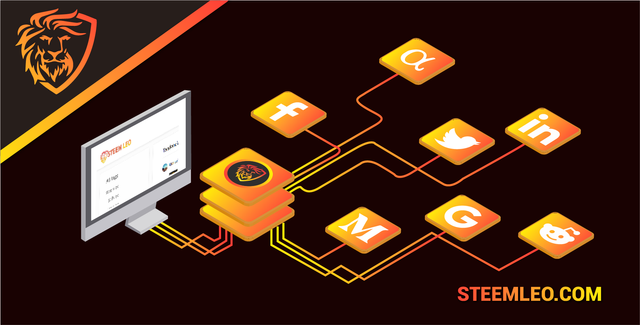 The Steemleo community is syndicating high-quality financial content from across the internet. We're also creating free Steem accounts for the authors of that content who have not yet discovered the Steem blockchain as a means to monetizing their content and we're listing those accounts as the 100% beneficiaries to all the rewards. If you want to learn more about Steemleo's content syndication strategy, click here.