Summary
Once a certain point is reached, there are few catalysts that can save a truly deteriorating company.
Always do your own due diligence. And if it looks too good to be true, it probably is.
Now is not the time to become the hero when it comes to high-yielding REITs.
This idea was discussed in more depth with members of my private investing community, iREIT on Alpha. Get started today »
This article was co-produced with Williams Equity Research and edited by Brad Thomas.
Many prominent analysts and investors failed to resist the temptation that was the deeply discounted CBL & Associates Properties (CBL).
Seeing what they saw – and nothing more – they recommended and/or invested in its common stock. The same went for its preferreds – the 7.375% Series D Cumulative Redeemable and 6.625% Series E Cumulative Redeemable shares.
And that's a major shame considering this week's news.
Here at iREIT, we've always maintained extreme caution when it comes to high-flying sucker yielding stocks. We make a point to adhere to the principles of sound investment strategies. Because that's what works.
It's a proven fact.
Granted, there's always risk when investing. But not all risk is created equal. In the same way, everyone makes bad investments. The key is to limit losses and not repeat mistakes.
So, regardless of whether you have been or are now an investor in CBL, here's the lesson to be learned.
Once a certain point is reached, there are few catalysts that can save a truly deteriorating company.
That's why we're taking the opportunity today to evaluate the warning signs and where this beaten-down pick stands today.
But, just to give you a heads-up about where we're headed, we'll turn to Ralph Block, who once said:
"A REIT that yields 10% almost always means that investors perceive very low growth or, even worse, a potential dividend cut."
Now onto the case in point…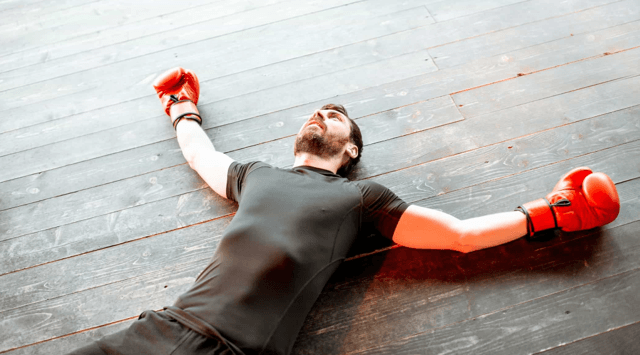 Photo Source
What Is CBL & Associates Properties, Inc?
For better or worse (perhaps much worse) CBL's portfolio consists of a pretty good chunk of real estate:
108 properties
59 malls
5 outlet centers
23 associated centers
6 community centers
6 office buildings
9 properties managed for third-parties.
It buys in tertiary markets, which are areas outside urban cores. Properties are cheaper there and often have better going-in capitalization rates. Though they are subject to greater risks.
For instance, if your building is out in the sticks, there's little stopping competitors from building identical properties next door.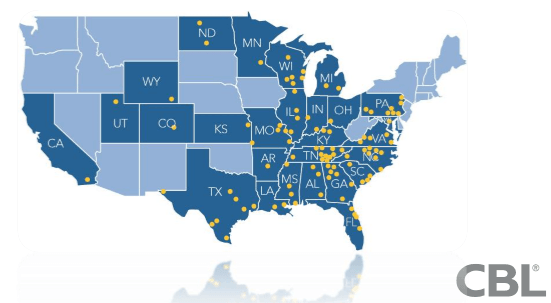 Source: CBL
Of all the types of commercial real estate – office, self-storage, hotel, industrial, medical, retail, grocery-anchored, multi-family, and pipelines – malls ranked Class B and below have shown some of the weakest fundamentals and equity performance in the last five years.
Their future outlook isn't improving either. And CBL focuses on Class-B malls.
Like Washington Prime Group (WPG) – which also fell hard (-7%) on the distribution cut news – CBL is frantically repurposing and releasing its retail properties before the money dries up. (A major contributor to the supply of funding is a company's ability and cost to borrow money.)
---
Author Bio:

Steem Account: @bradthomas
Twitter Account: rbradthomas
Steem Account Status: Unclaimed
Are you Brad Thomas? If so, you have a Steem account that is unclaimed with pending cryptocurrency rewards sitting in it from your content. Your account was reserved by the Steemleo team and is receiving the rewards of all posts syndicated from your content on other sites.
If you want to claim this account and the rewards that it has been collecting, please contact the Steemleo team via twitter or discord to claim the account. You can also view the rewards currently sitting in the account by visiting the wallet page for this account.
What is Steemleo Content Syndication?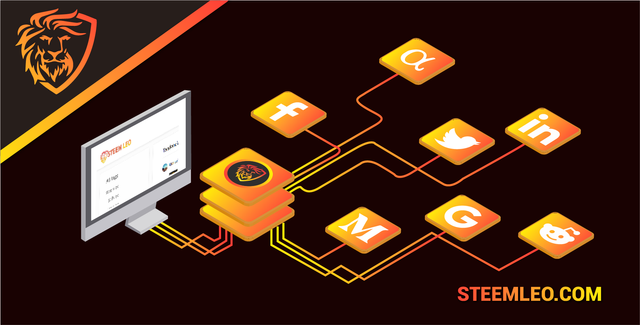 The Steemleo community is syndicating high-quality financial content from across the internet. We're also creating free Steem accounts for the authors of that content who have not yet discovered the Steem blockchain as a means to monetizing their content and we're listing those accounts as the 100% beneficiaries to all the rewards. If you want to learn more about Steemleo's content syndication strategy, click here.