Summary
Investors are clamoring to invest in publicly-traded cannabis companies as the legal marijuana market expands.
Despite the clear growth potential in this industry, investors still need to exercise caution.
As we add more cannabis and cannabis related firms to coverage, we've come across one that looks particularly unattractive.
Looking for more stock ideas like this one? Get them exclusively at Value Investing 2.0 . Get started today »
Investors are clamoring to invest in publicly-traded cannabis companies as the legal marijuana market expands. Despite the clear growth potential in this industry, investors still need to exercise caution.
Most of the nine publicly-traded cannabis stocks we currently have under coverage are unprofitable. Some of them have fundamentals that are trending the wrong way, and the majority of them look overvalued.
As we add more cannabis and cannabis related firms to coverage, we've come across one that looks particularly unattractive. Cronos Group (CRON) is in the Danger Zone.
Misleading Earnings
From 2017 to the trailing twelve months period, CRON's net income improved from $2 million to $498 million. Meanwhile, over the same time, after-tax operating profit ((NOPAT)), fell from -$7 million to -$33 million, per Figure 1.
Figure 1: CRON's Net Income Hides Real Losses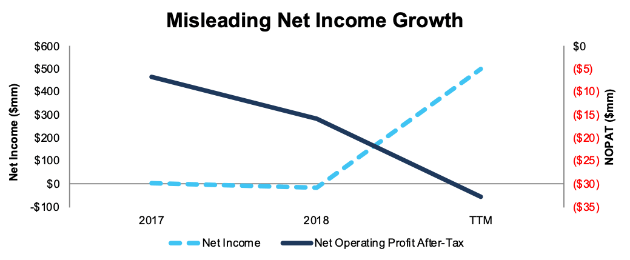 Sources: New Constructs, LLC and company filings
The disconnect between net income and NOPAT stems from over $533 million in non-operating income reported in operating earnings. These non-operating items artificially increase net income and give investors a misleading picture of the firms true profitability.
We removed the following non-operating items from CRON's income statement:
$436 million in gains on the revaluation of derivatives in 1Q19
$264 million in gains on the revaluation of derivatives in 2Q19
$21 million in gains on the divestment of Whistler Medical Marijuana Company in 1Q19
$18 million in the unrealized change in fair value of biological assets in 1Q and 2Q19
Combined, these non-operating items total $739 million, or 3,827% of CRON's TTM revenue. CRON's non-operating income completely overshadows its operating results.
Revenue Growth Won't Remain So High Forever
The last item on the list above, unrealized change in the fair value of biological assets, is worth pointing out as it requires special attention in CRON's filings. CRON and other cannabis growers such as Aurora Cannabis (OTC:ACB) and Canopy Growth Corp (OTC:CGC) record biological assets on their balance sheets. These items are disclosed as a separate line item from inventory. However, these biological assets consist of cannabis plants, which, for a firm that sells cannabis and cannabis oils, are inventory.
Recognizing unrealized gains to the fair value of these biological assets materially impacts CRON's reported results. In 2018, CRON recorded an $11.6 million (67% of revenue) gain due to the unrealized change in fair value of biological assets. CRON also records losses for realized changes in fair value adjustments on inventory sold, which somewhat offset this large gain.
We treat these unrealized losses (gains) as non-operating expenses (income) and cull them out of our calculation of NOPAT.
Revenue Growth Already Slowing
As with many cannabis stocks, CRON garnered significant attention due to revenue growth rates running upwards of 400%. However, these growth rates are already falling (as one would expect), as seen in Figure 2.
---
Author Bio:

Steem Account: @davidtrainer
Twitter Account: NewConstructs
Steem Account Status: Unclaimed
Are you David Trainer? If so, you have a Steem account that is unclaimed with pending cryptocurrency rewards sitting in it from your content. Your account was reserved by the Steemleo team and is receiving the rewards of all posts syndicated from your content on other sites.
If you want to claim this account and the rewards that it has been collecting, please contact the Steemleo team via twitter or discord to claim the account. You can also view the rewards currently sitting in the account by visiting the wallet page for this account.
What is Steemleo Content Syndication?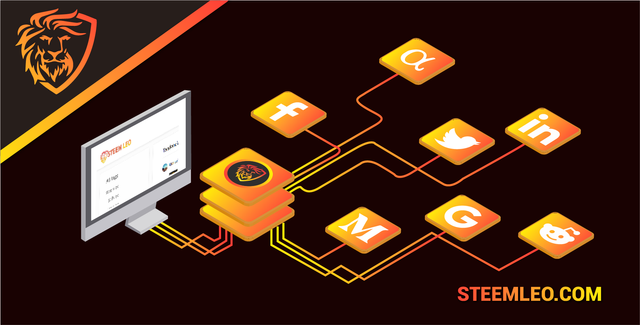 The Steemleo community is syndicating high-quality financial content from across the internet. We're also creating free Steem accounts for the authors of that content who have not yet discovered the Steem blockchain as a means to monetizing their content and we're listing those accounts as the 100% beneficiaries to all the rewards. If you want to learn more about Steemleo's content syndication strategy, click here.