Summary
Leading spirits producer Diageo has rallied to near all-time highs recently.
The company is carrying on its share buyback in spite of the rising share price.
Contrary to what you might think at first glance, this is the correct decision.
Diageo stock is reasonably priced here, and is actually cheap if you think about it from an M&A perspective.
Looking for a helping hand in the market? Members of Ian's Insider Corner get exclusive ideas and guidance to navigate any climate. Get started today »
I saw an article recently on Seeking Alpha saying that Diageo (DEO) is a good company but that it's overvalued. That's not too surprising; high-quality companies like Diageo often appear overvalued based on traditional valuation metrics. The author, Marathon Investing, however went into specifics saying that Diageo should not carry on its share buyback at present given the rising stock price.
As a long-time Diageo owner, and it being one of my larger holdings, it's worth running through a full analysis of the math here. Capital allocation, after all, is a key lever that determines whether you get okay returns or outstanding ones for your long-term holdings. I intend to hold DEO stock for decades, and as such, it's crucial that the company wisely deploy its capital for shareholders.
If management were blowing our money on a ill-timed share buyback program, that would be a good reason to consider selling DEO stock. In fact, however, the opposite is true.
Diageo's Share Buyback In Context
Here's a chart of Diageo stock since the day they announced the share buyback program, July 26th, 2017: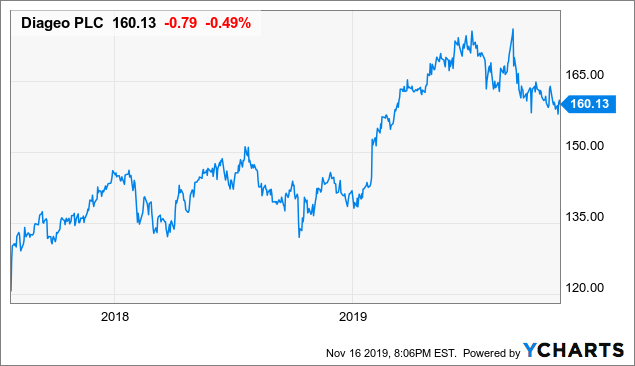 Data by YCharts
As you can see, the stock shot up right as they announced the buyback in conjunction with a strong earnings report. So, at the time management started planning to execute the share buyback, the stock was trading at close to $120/share. It certainly seemed like a great deal to buy DEO stock at that price. Regardless, the same things that drove management to start buying back stock - improving operating results and cash flow along with proceeds from selling off some non-core brands - also caused investors to bid the price of the stock up.
Announcing a share buyback in and of itself serves as a catalyst to raise the share price as well. Remember that companies can't just go into stealth mode and gobble up their float; they have to let the market know their intentions.
It's easy as outside investors to think that management could time share buybacks better - and in some cases they certainly could. But it can be harder than it looks. You aren't just buying when the stock price is cheap - you also have to ask yourself where your dividend and share buyback fit in with the overall cash flow picture.
Diageo: Using Consistent Leverage To Maximize Returns
Diageo has done an impressive job maintaining a stable credit rating over the years - in fact going on nearly 15 years without a rating change: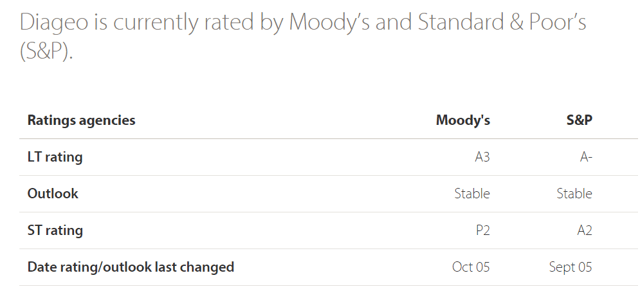 Source: Corporate website
There's two elements to this; from a shareholder safety point, it's reassuring to see that Diageo hasn't taken any downgrades over the past decade. Even during the Financial Crisis and Diageo's 2014-16 earnings slowdown/emerging markets problems phase, its balance sheet never weakened. On the other hand, take note that Diageo has maintained a steady leverage position as well, keeping things finely-tuned enough to avoid getting upgraded either.
But aren't credit ratings upgrades always good? Not necessarily if you are trying to maximize shareholder returns. Particularly when you have growing recession-proof cash flows, using some low-cost debt to generate high investment returns often makes sense.
What's Diageo been investing in recently? For many years, it was buying additional spirits brands, particularly in emerging markets. Then it made a splash, buying George Clooney's Casamigos premium tequila brand for nearly $1 billion. That deal was widely questioned at the time, particularly since Diageo had already picked up another high-end tequila brand, Don Julio.
---
Author Bio:

Steem Account: @ianbezek
Twitter Account: irbezek
Steem Account Status: Unclaimed
Are you Ian Bezek? If so, you have a Steem account that is unclaimed with pending cryptocurrency rewards sitting in it from your content. Your account was reserved by the Steemleo team and is receiving the rewards of all posts syndicated from your content on other sites.
If you want to claim this account and the rewards that it has been collecting, please contact the Steemleo team via twitter or discord to claim the account. You can also view the rewards currently sitting in the account by visiting the wallet page for this account.
What is Steemleo Content Syndication?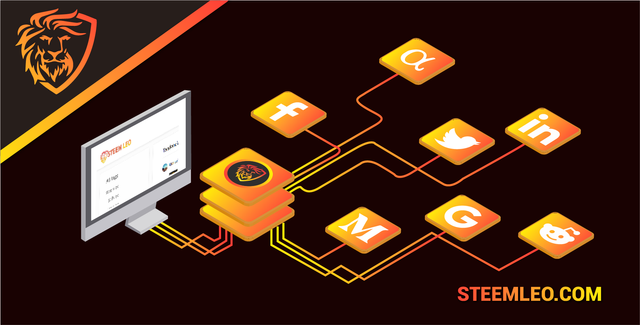 The Steemleo community is syndicating high-quality financial content from across the internet. We're also creating free Steem accounts for the authors of that content who have not yet discovered the Steem blockchain as a means to monetizing their content and we're listing those accounts as the 100% beneficiaries to all the rewards. If you want to learn more about Steemleo's content syndication strategy, click here.