Summary
The Cheesecake Factory is a restaurant brand most famous for its delicious desserts. Nonetheless, the company offers much more to consumers than cheesecake.
The company is fundamentally strong with a great balance sheet. The dividend is also attractive, yielding more than 3%.
We look for a margin of safety when evaluating restaurant businesses, and investors can find one in The Cheesecake Factory.
Dividend growth investing is a popular and largely successful approach to generating wealth over long periods of time. We will be spotlighting numerous dividend up-and-comers to identify the best "dividend growth stocks of tomorrow." Today we take a bite out of The Cheesecake Factory Incorporated (CAKE). We find a lot for investors to like as the company is fundamentally strong, pays a strong dividend, and offers investors a margin of safety via an attractive valuation.
The Cheesecake Factory is a restaurant owner/operating company that operates its namesake restaurant brand in the US and internationally (via license), as well as a couple of smaller subsidiaries in North Italia and Fox Concepts. In total, the company owns approximately 292 total locations in the United States and Canada. There are 24 Cheesecake Factory locations in other parts of the world that operate under a licensing agreement.
The Cheesecake Factory is a mature restaurant concept, it has been around since 1972. Over the past decade, the business has grown modestly. Revenues have grown at a CAGR of 4.01%, while EBITDA has grown at a CAGR of 3.01% over the same time period.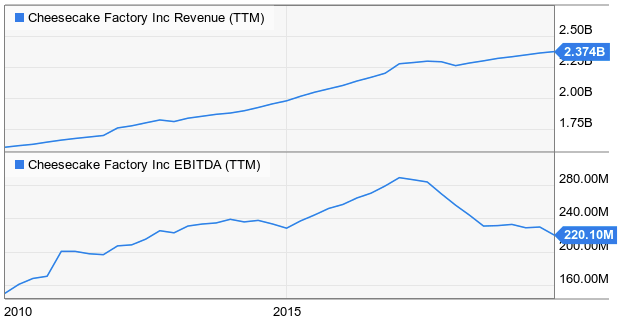 Source: YCharts
Fundamentals
To better evaluate The Cheesecake Factory as a business model, we need to take a closer look at the operating metrics behind the company.
We review operating margins to make sure the company is consistently profitable. We also want to invest in companies with strong cash flow streams, so we look at the conversion rate of revenue to free cash flow. Lastly, we want to see that management is effectively deploying the company's financial resources, so we review the cash rate of return on invested capital (CROCI). We will do all of these using three benchmarks:
Operating Margin - Consistent/expanding margins over time
FCF Conversion - Convert at least 10% of sales into FCF
CROCI - Generate at least 11-12% rate of return on invested capital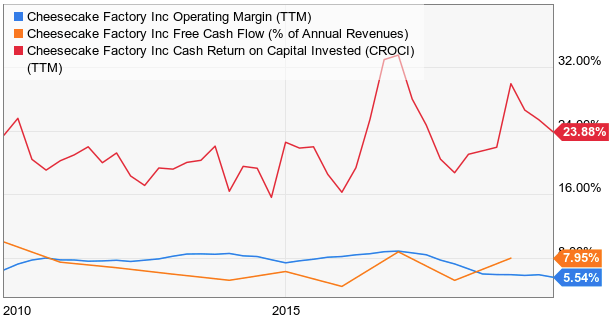 Source: YCharts
The restaurant business is extremely competitive - especially casual dining where you have competition from a plethora of both national and local competitors. In addition, you have cost pressures from labor and commodity prices. Cheesecake Factory has seen its operating margin slip in recent years, a trend that we hope to see stabilize and rebound. A mix of pricing, off-location sales (food sold through delivery services such as Grubhub (NYSE:GRUB) for example) and new restaurant concepts (North Italia and Fox acquisitions) can all impact this. Because of the slim margins, FCF conversion sits below our desired benchmark. On the plus side, the company is able to generate strong returns on invested capital, a sign of strong management.
Aside from operations, the balance sheet is another crucial factor when evaluating a company. Too much debt can restrict cash flows, as well as expose investors to risk in the event that the business suffers an unexpected downturn.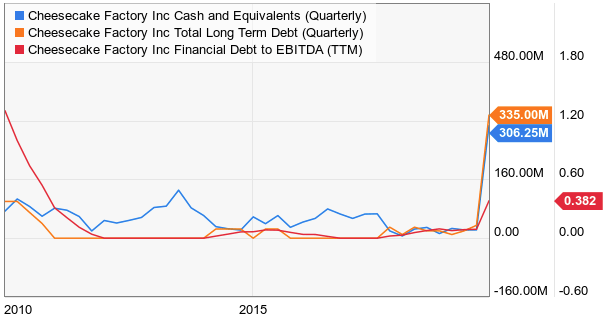 Source: YCharts
The Cheesecake Factory has done a great job maintaining its balance sheet. The company's leverage ratio of 0.38X EBITDA is well below our 2.5X cautionary threshold. The company's cash balance will change upon the next quarterly update because $308 million of that is being used to fund the Fox acquisitions that closed in October.
Author Bio:

This article was written by Wealth Insights. A well-known investment author on Seeking Alpha with over 6,000 followers.
Steem Account: @wealth-insights
Profile on Seeking Alpha
Steem Account Status: Unclaimed
Are you Wealth Insights? If so, you have a Steem account that is unclaimed with pending cryptocurrency rewards sitting in it from your content. Your account was reserved by the Steemleo team and is receiving the rewards of all posts syndicated from your content on other sites.
If you want to claim this account and the rewards that it has been collecting, please contact the Steemleo team via twitter or discord to claim the account. You can also view the rewards currently sitting in the account by visiting the wallet page for this account.
What is Steemleo Content Syndication?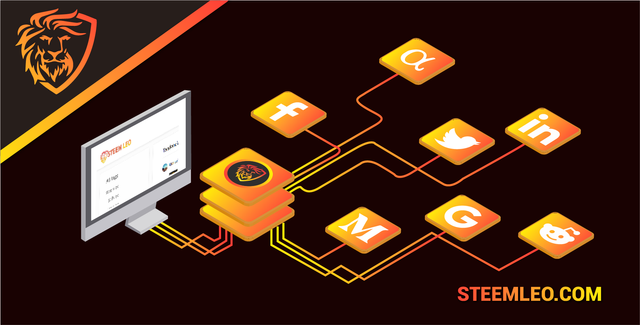 The Steemleo team is syndicating high-quality financial content from across the internet. We're also creating free Steem accounts for the authors of that content who have not yet discovered the Steem blockchain as a means to monetizing their content and we're listing those accounts as the 100% beneficiaries to all the rewards. If you want to learn more about Steemleo's content syndication strategy, click here.