Summary
Revenues were high this quarter as well, with $172.26 million, up from $81.07 million the same quarter a year earlier, and slightly the same sequentially.
The gold sold in the second quarter was 99,241 Au Oz at a gold price of $1,513 per oz, which was another pleasant surprise.
Let's look at the future and learn from the past. William Shakespeare wrote in "The Tempest": What's past is prologue.
Investment Thesis
The Vancouver-based Eldorado Gold (EGO) released its third-quarter of 2019 results. Finally, this time, the company managed to release decent earnings with good revenues and no reason for concern. I call that huge progress. Revenues were strong, with gold represented 85.4% of the total revenues.

Investing in Eldorado Gold has been a long and challenging path for long term shareholders. The management led by CEO George Burns, have made terrible mistakes that almost bankrupted the company about a year ago.
But, let's look at the future and learn from the past. William Shakespeare wrote in "The Tempest": What's past is prologue.
The investment thesis is now more straightforward, albeit not quite there yet. The company is on the right track, and production seems in control besides some concern with Olympias mine, which keeps underperforming. It appears that Eldorado Gold cannot make it right with Greece at least until now.
One impressive achievement is the quick completion of Lamaque mine and now a significant increase in future gold production that I will talk about later. Also, tests at Kisladag are confirming that the life of mine will probably be extended.
However, Greece is still the main issue, and despite promises for a quick resolution, Eldorado Gold is still "negotiating," whatever that means after years of delays and abuse. Georges Burns seems encouraged in the conference call, with the progress made with the new government. On a side note, the Perama Hill project seems a new focus.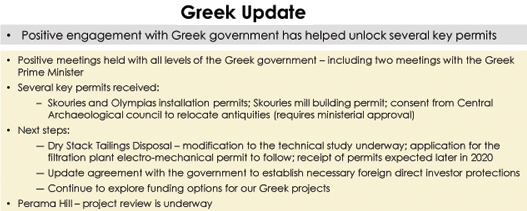 Source: Presentation Q3
Yes, we can be optimistic, and yes, this new government seems much better than the precedent leftist. But, hope is not a strategy, or at least it has its time limit.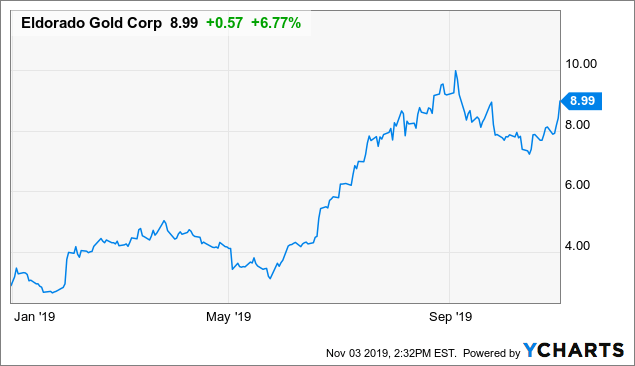 Data by YCharts
As I said earlier, 2019 shaped up as a classic turnaround story.
Thus, my investment thesis is to accumulate EGO progressively on any weakness with a long-term target of around $10 again. It assumes a resolution of the Greek impasse, which may come at the end of 2019. However, I believe the stock will not jump quickly after crossing $9, because of the financial issues that will have to be solved and potentially some weakness in the gold price.
Also, to develop Greece, the company will have to invest a significant amount in development CapEx, and depending on the financing adopted, the stock price will be fluctuating widely. Hence, I recommend accumulating EGO on weakness, but above all, use about 50% of your position to trade short term.
---
Author Bio:

Steem Account: @funtrading
Seeking Alpha Account: Fun Trading
Steem Account Status: Unclaimed
Are you Fun Trading? If so, you have a Steem account that is unclaimed with pending cryptocurrency rewards sitting in it from your content. Your account was reserved by the Steemleo team and is receiving the rewards of all posts syndicated from your content on other sites.
If you want to claim this account and the rewards that it has been collecting, please contact the Steemleo team via twitter or discord to claim the account. You can also view the rewards currently sitting in the account by visiting the wallet page for this account.
What is Steemleo Content Syndication?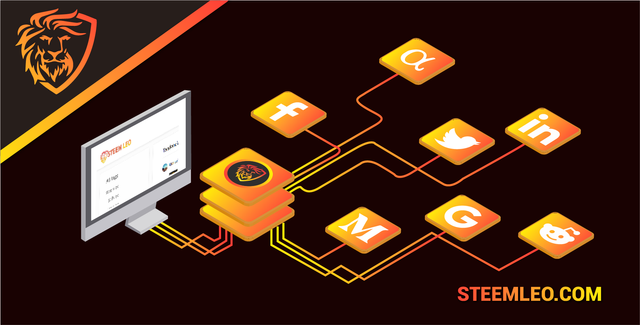 The Steemleo community is syndicating high-quality financial content from across the internet. We're also creating free Steem accounts for the authors of that content who have not yet discovered the Steem blockchain as a means to monetizing their content and we're listing those accounts as the 100% beneficiaries to all the rewards. If you want to learn more about Steemleo's content syndication strategy, click here.