Summary
Kraft Heinz reported significantly better than expected earnings Thursday.
The stock bounced in a major way and is now well off its August lows.
Don't expect a straight path higher from here, however.
The company signaled Thursday that it may cut the dividend in 2020 to shore up the balance sheet.
This idea was discussed in more depth with members of my private investing community, Ian's Insider Corner. Get started today »
Kraft Heinz (KHC) surprised a lot of folks on Thursday. The company announced quarterly earnings that - while far from spectacular - significantly topped expectations. Not surprisingly, KHC stock exploded higher, enjoying its best trading day of the year: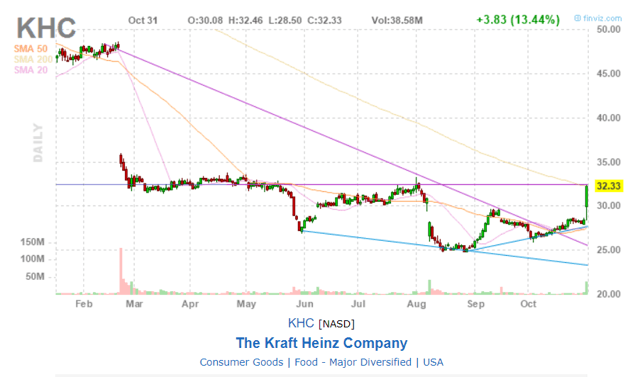 Source: Finviz
In fact, shares have gotten back nearly all their post-February losses and are up a quick 30% off the August lows.
Unfortunately, I got to the Kraft Heinz story way too early. I started buying in the $50s, thinking that was a fine discount to the prices that original 3G/Buffett followers had paid. Don't forget that KHC stock traded as high as $90 at the height of optimism around 3G building a packaged foods M&A platform. It's been a long tumble for this former blue chip company. Regardless, with more purchases subsequent to the February collapse, I lowered my overall cost basis to $43. All that to say, I'm certainly not taking a victory lap with Kraft's recovery Thursday.
In fact, I write this to offer a note of caution. While I'm still bullish on the stock, it won't be a painless recovery, and the earnings report gives us at least one big reason to be cautious going forward.
Over the long-haul, I expect Kraft Heinz stock to trade higher, at least back to $40. If you compare it to other mediocre packaged foods companies, it still looks cheap; Kraft Heinz went from being overly-loved with its Buffett/3G backing to being overly shunned following the dividend cut, write-offs, management changes, and so on. Take all the drama away and imagine Kraft Heinz was a generic food company selling so-so products at high profit margins and generating a lot of cash. The $25 share price this August made no sense given that the company can still do nearly $3/share in annual EPS (8x earnings at that price). But don't mistake Thursday's price action for everything being fixed in a day.
These Were Hardly Amazing Quarterly Results
If you read Kraft Heinz's quarterly earnings in a vacuum, with no knowledge of the drama around the stock, you'd probably be shocked to see that folks bid the stock up 13% Thursday on these results. Overall, the company's organic revenues dropped 1.1%. The headline number was even weaker still, though that was driven by brand divestitures and currency translation.
The organic sales figure should raise concern though. A company with a clean balance sheet can survive a lot of boneheaded management decisions and other hardships. A levered-up company needs most things to break correctly, by contrast. Kraft Heinz has a huge debtload, and has already optimized its business as far as overhead costs and profit margins go. You can fault 3G all you want for a lack of skill in R&D and marketing, but they keep a lid on costs. Thus, Kraft Heinz really needs to figure out the top line to turn things around. There's simply not much left to cut on the cost side of the equation, other than the dividend (more on that in a second).
Kraft Heinz did manage to push through price increases this quarter, which is a good sign. Packaged foods companies have had to deal with flat pricing or even decreases as they face stiffer store brand and online competition. So, it's nice to see Kraft Heinz be able to show some pricing power. Unfortunately, it came at the expense of volumes - organic sales volumes dropped 2.1% on the quarter. I just want to reiterate that a shrinking business is a particularly dangerous place to be when your balance sheet is weak; you can't shrink your way to prosperity when your debtload remains the same size.
Did Management Just Signal A Dividend Cut Next Year?
Here's the facts as far as the Kraft Heinz dividend goes. The company is currently paying $1.60/share per year in dividends. Across 1.22 billion shares of KHC stock, this results in the company sending roughly $1.95 billion annually to shareholders.
As the company noted in its most recent conference call, between the merger and the end of the 2018, the company paid down just $2.4 billion of gross debt. For a company with about $30 billion in total debt, that's not a particularly satisfying rate of debt retirement. Sending nearly $2 billion out the door in dividends annually when it is struggling to repay debt - even with asset sales - doesn't necessarily make a lot of sense.
Take this just announced quarter. As management noted, in Q3 they generated $860 million of free cash flow and used just shy of $500 million of that on the dividend. If your top priority is the debt, you might not want to maintain a dividend policy of paying out roughly 60% of your cash flow.
---
Author Bio:

Steem Account: @ianbezek
Twitter Account: irbezek
Steem Account Status: Unclaimed
Are you Ian Bezek? If so, you have a Steem account that is unclaimed with pending cryptocurrency rewards sitting in it from your content. Your account was reserved by the Steemleo team and is receiving the rewards of all posts syndicated from your content on other sites.
If you want to claim this account and the rewards that it has been collecting, please contact the Steemleo team via twitter or discord to claim the account. You can also view the rewards currently sitting in the account by visiting the wallet page for this account.
What is Steemleo Content Syndication?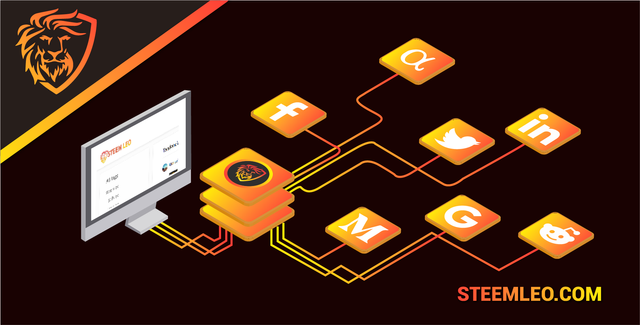 The Steemleo community is syndicating high-quality financial content from across the internet. We're also creating free Steem accounts for the authors of that content who have not yet discovered the Steem blockchain as a means to monetizing their content and we're listing those accounts as the 100% beneficiaries to all the rewards. If you want to learn more about Steemleo's content syndication strategy, click here.