Summary
The lithium industry may struggle to meet long term electric vehicle battery demand.
Short term oversupply may turn to scarcity within a few years.
Low cost production projects benefit at the expense of higher cost mining methods.
Looking for a helping hand in the market? Members of The Lead-Lag Report get exclusive ideas and guidance to navigate any climate. Get started today »
The auto industry will change more in the next five to 10 years than it has in the last 50 – Mary Barra
Electric vehicles (EVs) are the biggest trend in transportation around the world. Trying to switch over the world's primary fuel source is causing some growing pains. One of the biggest material inputs is the lithium used in the batteries that power the vehicles. The current global lithium supply is estimated at 312,000 metric tonnes per year. For the time being, this represents an oversupply of global demand. 56% of lithium production goes toward batteries, up from 29% in 2013.
Lithium prices are harder to find than many commodities. The material is not traded on any public exchange. Prices have dropped in 2019, and especially so in China. American and European markets were still down but to a less severe extent. The decentralized trading of lithium means that spot prices in different markets can diverge greater than more common commodities. Global demand decline is driven by 2019 EV sales being less than projected, which aligns with a general slowdown in total global vehicle sales. Global EV sales are especially affected by cuts in Chinese EV subsidies. Despite the short-term headwinds, forecasts for EV growth could lead to lithium demand increasing by 10-fold in next decade
Global lithium production is expected to triple by 2025, but may still struggle to meet electric vehicle battery needs. The material prices have come down as the market supply has become oversaturated over the past year. Many lithium projects around the world are facing financing pressures due to the price drops. Higher price production, like those pulling lithium from rocks and hard materials, is under margin pressure in the short term. Lower cost brine production has been less affected by the decline prices.
Lithium production has been concentrated among a few major companies, but there is room for smaller firms to take advantage of new supply opportunities. Lithium Americas (TO: LAC) is one of the small producers building out more production capacity in the hope of taking advantage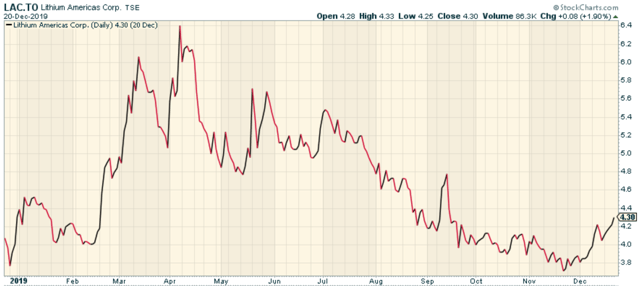 LAC is developing a new brine production site in Jujuy, Argentina. The new facility has a planned capacity of 40,000 tonnes of lithium carbonate annually. This is an increased expectation from the original plan of 25,000 tonnes, which the company raised after the results of a study they commissioned earlier in 2019. They also have the tailwind of full funding for the project already being confirmed. Funding needs are made easier by a weaker than expected Argentine peso exchange rate. Production is planned to begin in early 2021.
On a less optimistic note, in September the company cut budget and production goals for the American mine they are developing in Nevada. They cited the declining prices and oversupply in global markets. They cut production targets from 30k tonnes to 20k tonnes annually. The Argentinian brine site is a much lower-cost project compared to the Nevada mine, which is pulling lithium from clay deposits.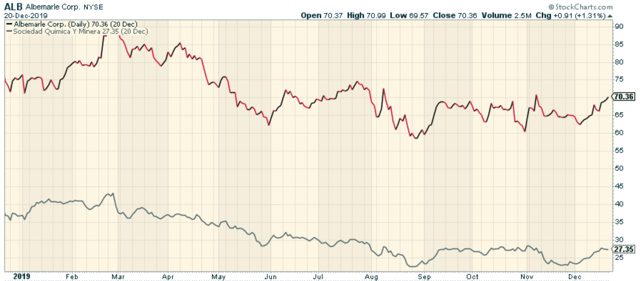 ---
Author Bio:

This article was written by Michael A. Gayed. An author on Seeking Alpha and founder of the Lead Lag Report.
Steem Account: @leadlagreport
Twitter Account: leadlagreport
Learn more about Michael A. Gayed on Seeking Alpha
Steem Account Status: Unclaimed
Are you Michael A. Gayed (a.k.a. leadlagreport)? If so, you have a Steem account that is unclaimed with pending cryptocurrency rewards sitting in it from your content. Your account was reserved by the Steemleo team and is receiving the rewards of all posts syndicated from your content on other sites.
If you want to claim this account and the rewards that it has been collecting, please contact the Steemleo team via twitter or discord to claim the account. You can also view the rewards currently sitting in the account by visiting the wallet page for this account.
What is Steemleo Content Syndication?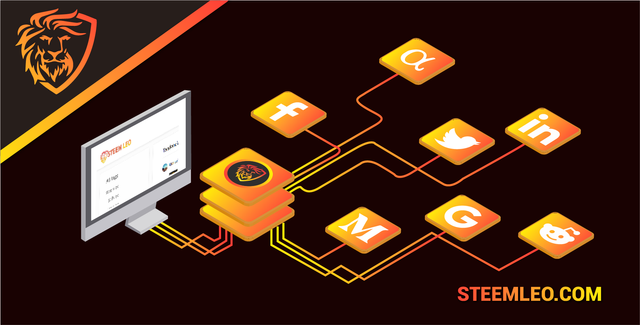 The Steemleo community is syndicating high-quality financial content from across the internet. We're also creating free Steem accounts for the authors of that content who have not yet discovered the Steem blockchain as a means to monetizing their content and we're listing those accounts as the 100% beneficiaries to all the rewards. If you want to learn more about Steemleo's content syndication strategy, click here.
---
Posted via Steemleo | A Decentralized Community for Investors