Summary
The automotive industry is one of the largest areas of consumer spending, representing billions of dollars per year.
While vehicle manufacturers have underperformed over the past decade, the parts market has proven lucrative. O'Reilly Automotive is a great example.
While the stock is a little expensive right now, the long-term fundamentals are there for long-term performance.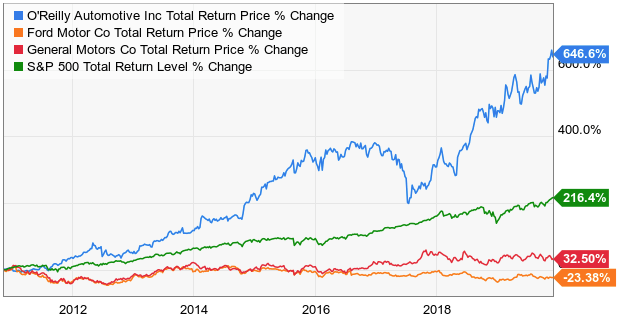 The automotive industry is one of the largest areas of spending for the US consumer. Nationwide, more than 17 million vehicles on average are purchased each and every year. This is billions per year in total dollars. However, capturing this as an investor hasn't been quite as simple. Domestic manufacturers such as Ford Motor Company (F) and General Motors (GM) have drastically underperformed the market over the past 10 years. We have found that the best automotive niche to be in as investors is the parts market, rather than the actual vehicle manufacturers. One of our favorite names in this space is O'Reilly Automotive, Inc. (ORLY). The company boasts superior fundamentals to the manufacturers, and there are some macro-industry trends that are poised to benefit O'Reilly in the years ahead - as well as some things for long-term investors to keep an eye on.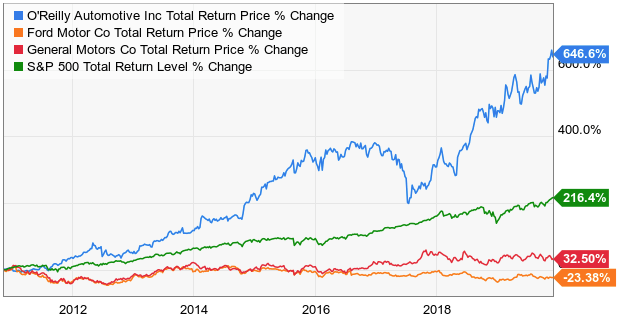 source: YCharts
Strong Fundamentals
Why has O'Reilly Automotive been such a high performer over the past decade? The answer begins with a strong business model that oozes strong fundamental performance. O'Reilly Automotive sells automotive supplies and parts to both "DIY" as well as professional mechanics across the US. The company has a store network of more than 5,300 stores in 47 states. The company's strong logistical network is able to offer immediate access to most parts. The typical "I need it yesterday" mantra of fixing broken down vehicles has helped keep external threats such as Amazon (AMZN) at bay. Even Amazon's next day delivery typically isn't enough to counter the effectiveness of being able to drive down the road and take home immediate product. A strong logistical network and immediate delivery have powered strong margin performance as well. Just look at how much higher a margin that O'Reilly is able to operate at.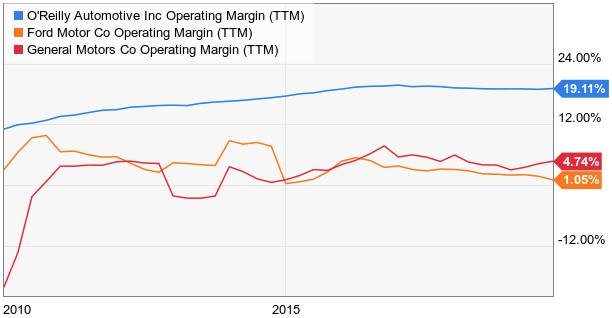 source: YCharts
In addition, the company's business model is much less capital intensive, and management has been able to efficiently deploy capital to generate strong cash rates of return. Both FCF conversion and CROCI (cash return on capital invested) meet our overall screening benchmarks used to identify robust cash flow generating companies.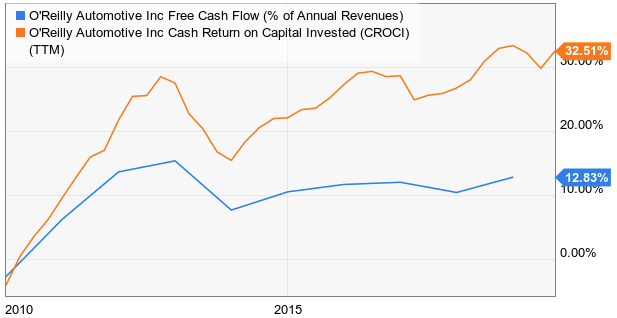 source: YCharts
O'Reilly Automotive has also kept its balance sheet in strong order. The company has borrowed in recent years to help fund increased share buybacks, but the debt load remains quite manageable at just 1.6X EBITDA.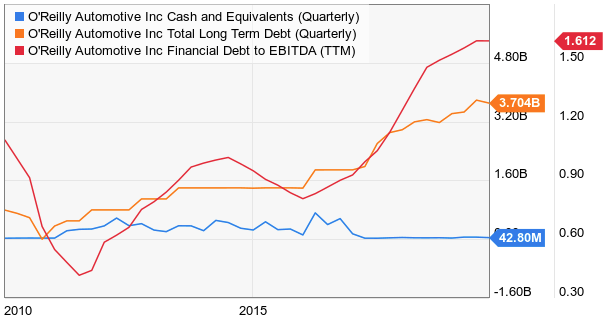 source: YCharts
Because the company spends only about 5% its revenues on CAPEX and doesn't pay a dividend at the moment, it could easily divert its FCF (about $1.2 billion TTM) to quickly bring its balance sheet back in order.
..Read the Full Article on Seeking Alpha
Author Bio:

This article was written by Wealth Insights. A well-known investment author on Seeking Alpha with over 6,000 followers.
Steem Account: @wealth-insights
Profile on Seeking Alpha
Steem Account Status: Unclaimed
Are you Wealth Insights? If so, you have a Steem account that is unclaimed with pending cryptocurrency rewards sitting in it from your content. Your account was reserved by the Steemleo team and is receiving the rewards of all posts syndicated from your content on other sites.
If you want to claim this account and the rewards that it has been collecting, please contact the Steemleo team via twitter or discord to claim the account. You can also view the rewards currently sitting in the account by visiting the wallet page for this account.
What is Steemleo Content Syndication?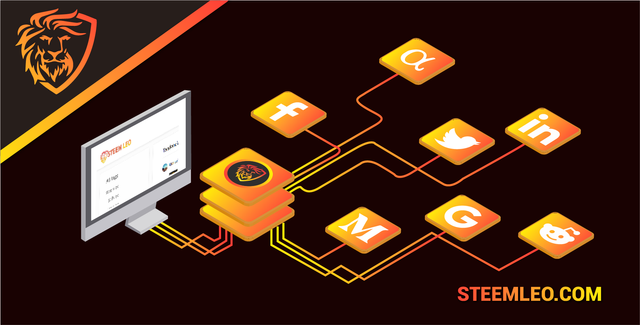 The Steemleo team is syndicating high-quality financial content from across the internet. We're also creating free Steem accounts for the authors of that content who have not yet discovered the Steem blockchain as a means to monetizing their content and we're listing those accounts as the 100% beneficiaries to all the rewards. If you want to learn more about Steemleo's content syndication strategy, click here.