Summary
Despite fears that it's becoming obsolete, this company continues to generate lots of cash.
It has successfully adapted to numerous technological changes over its 150-plus years of existence, and investors are underrating its resilience.
Even after outperforming, Western Union remains undervalued.
Looking for more stock ideas like this one? Get them exclusively at Value Investing 2.0 . Get started today »
Despite fears that it is becoming obsolete, this company continues to generate lots of cash. It has successfully adapted to numerous technological changes over its 150-plus years of existence, and investors are underrating its resilience.
We first made Western Union a Long Idea on Sept. 12, 2018, and the stock is up 19% since then while the S&P 500 is flat. Even after this outperformance, the stock remains undervalued. Western Union (WU) is this week's Long Idea.
GAAP Earnings Mislead Investors
WU's GAAP net income has been volatile over the past few years, which might lead investors to underrate the stability of this business. As Figure 1 shows, the company's economic earnings – the real cash flows of the business – have been remarkably consistent since 2016.
Figure 1: WU's GAAP Net Income and Economic Earnings: 2016-TTM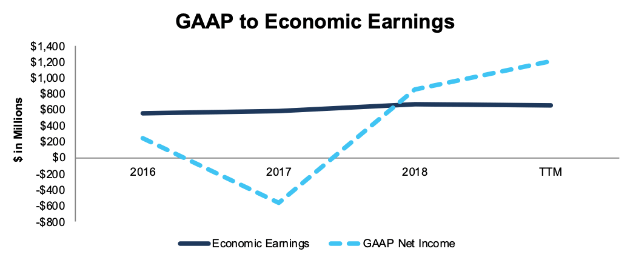 Sources: New Constructs, LLC and company filings
The disconnect between GAAP and economic earnings has a few different drivers, some easy to spot and some more hidden. In 2016, GAAP earnings were reduced by the one-time expense of $601 million (11% of revenue) for the "Joint Settlement Agreement" that Western Union paid the FTC to settle allegations that its money transfer system was used by fraudsters.
In 2017, GAAP earnings were hit by a non-recurring $464 million write-down to its Business Solutions segment (not a part of its core money transfer business) and an $828 million one-time charge due to tax reform. Combined, these two non-operating charges accounted for 23% of revenue.
Finally, TTM GAAP earnings are overstated due to a $525 million (10% of revenue) gain on the sale of its bill-pay subsidiary, Speedpay, in Q2 2019.
These non-operating items have some analysts calling WU a "turnaround" story, but economic earnings show that the business has actually been producing consistent profits the entire time.
Balance Sheet Efficiency Drives Shareholder Value
WU's stable economic earnings are even more impressive when one considers that its weighted average cost of capital (WACC) has increased from 4.5% in 2016 to 5.4% TTM.
WU has offset this rising cost of capital by significantly decreasing its average invested capital. WU's average invested capital declined from $4.4 billion in 2016 to $3.4 billion TTM.
Part of this decrease comes from the company's improved working capital efficiency. WU's net working capital has declined from -$568 million at the end of 2015 to -$1.4 billion currently. The majority of this shift comes from an increase in the company's income taxes payable, from $212 million in 2015 to $1.1 billion presently. These deferred taxes are effectively an interest free loan from the government that WU is able to use to fund its operations, which frees up more capital to return to shareholders.
WU also has reduced its invested capital through the sale of non-core businesses, such as the Speedpay sale noted above.
As a result of these changes, the company generated $3.4 billion (35% of market cap) in free cash flow from 2016-2018. This free cash flow allows WU to support a 3.1% dividend yield and return a significant amount of capital to shareholders through buybacks. The company's shares outstanding have fallen from 481 million at the end of 2016 to 424 million currently, a 12% decline.
Core Business Remains Strong
Selling of non-core assets to return cash to shareholders only makes sense if the core business remains strong. Fortunately, WU's core business of facilitating cross-border monetary transactions between individuals is thriving.
Consumer-to-consumer transactions accounted for 80% of WU's revenue in 2018, and over 90% of these transactions were cross border. These cross-border payments – also known as remittances – reached an all-time high in 2018, according to data from The World Bank. Figure 2 shows the steady growth in the global remittance market over the past decade.
Figure 2: Global Remittances: 2009-2018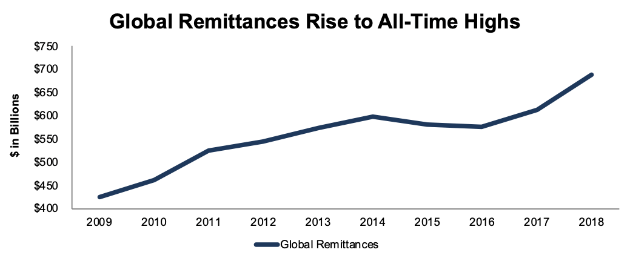 Sources:
World Bank
Individuals transferred $689 billion worth of remittances in 2018, with Western Union accounting for $80 billion, ~12%, of those transactions.
High Barriers to Entry
The bear case against WU assumes that its share of the global remittance market is destined to decline as new technologies make cross-border transactions easier.
What bears miss is that the primary obstacle to cross-border transactions is not technological, but rather regulatory. WU does business in more than 200 countries, which means it must comply with more than 200 different regulatory regimes.
---
Author Bio:

Steem Account: @davidtrainer
Twitter Account: NewConstructs
Steem Account Status: Unclaimed
Are you David Trainer? If so, you have a Steem account that is unclaimed with pending cryptocurrency rewards sitting in it from your content. Your account was reserved by the Steemleo team and is receiving the rewards of all posts syndicated from your content on other sites.
If you want to claim this account and the rewards that it has been collecting, please contact the Steemleo team via twitter or discord to claim the account. You can also view the rewards currently sitting in the account by visiting the wallet page for this account.
What is Steemleo Content Syndication?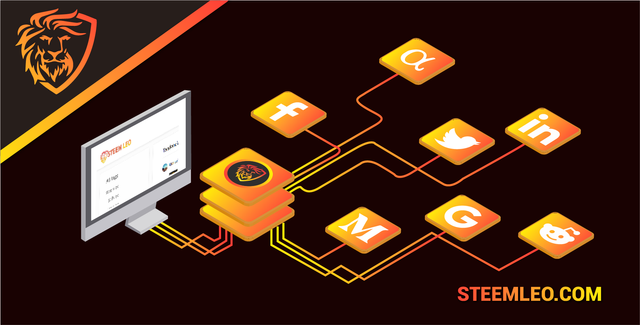 The Steemleo community is syndicating high-quality financial content from across the internet. We're also creating free Steem accounts for the authors of that content who have not yet discovered the Steem blockchain as a means to monetizing their content and we're listing those accounts as the 100% beneficiaries to all the rewards. If you want to learn more about Steemleo's content syndication strategy, click here.