Summary
Zimmer Biomet Holdings has been correcting problems that started in 2016.
Large joint replacements are on the rise.
Zimmer has been able to retain doctors' loyalty even through supply chain problems.
Looking for a helping hand in the market? Members of The Lead-Lag Report get exclusive ideas and guidance to navigate any climate. Get started today »
The first wealth is health. - Ralph Waldo Emerson
The baby-boom generation is driving many segments of the economy. Given the size of this generation, companies cater to their lifestyles, choices, and needs. One of their market drivers is healthcare. They are staying more active than previous generations and that is leading to an increase in joint replacements. According to the Arthritis Foundation, there was a jump of 89% in the number of knee replacements in men and women aged 65 to 84. This is good news for Zimmer Biomet Holdings Inc. (ZBH). Zimmer is the largest maker of large joint replacements.
Zimmer has had several missteps in recent years that have caused the FDA to look into their quality control and supply chain processes. The stock price went nowhere for three years because of these problems, and it caused CEO David Dvorak to resign in July 2017. Bryan Hanson took over in December 2017. Hanson has worked to correct these problems and rebuild trust between the sales staff and the management team, and this shows in the stock price.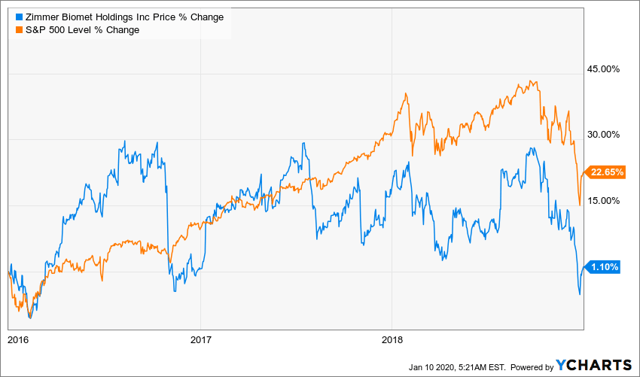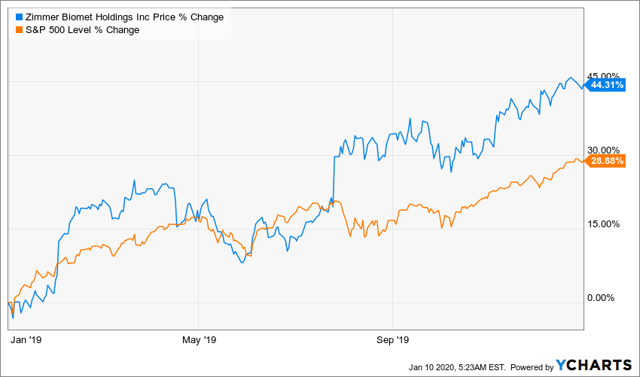 Even after the outperforming returns from Zimmer over the past year, the stock still has much potential for growth. One of the largest segments that is growing is their sales in the Asia Pacific region. For the most recent quarter ending September 30, net sales in Asia Pacific jumped almost 9% compared to the same period last year. This includes a 7.8% increase in knee replacements and a 5.4% increase in hip replacements. They expect Asia Pacific to continue to grow, given the demographics of an elderly population that is starting to embrace modern healthcare techniques. Another area of growth for Zimmer is the reduction in age that people are starting to get major joint replacements. The Arthritis Foundation also notes that there has been a 188% increase in joint replacements in people aged 45 to 64. This age range used to be thought too young to have a replacement, given the average useful life of a replacement is 20 years. So, this group will probably require revision surgeries and repeated full replacements. All of this is positive news for market-leading Zimmer.
As Zimmer has worked to improve their supply chain problems, net income increased 65% in the third quarter compared to the same time period in 2018. A large portion of this increase is due to a provision for income taxes, but even when this amount is backed out of the net income, ZBH had a 13.4% increase in net income. Compared to their close competitor, Stryker Corp. (SYK), which had a decrease in net income of $124M during the same periods. Zimmer has a profitability margin of 22.8% compared to Stryker's 13%.
Even with the problems during 2016-2018, surgeons continued to use Zimmer's joint replacements. Once surgeons have been trained during residency to implant a specific device, they usually don't change device manufacturers. This is because of the amount of time and training needed to learn how to implant a new maker's device. Which is all time away from profitable surgeries. So, there is a barrier to entry for new device makers. Operating revenue never significantly declined during the 2016-2017 period, but the company had to take many special charges that reduced earnings per share to cover the problems and litigation. By not losing surgeons that prefer Zimmer's devices, it sets ZBH up for future growth.
---
Author Bio:

This article was written by Michael A. Gayed. An author on Seeking Alpha and founder of the Lead Lag Report.
Steem Account: @leadlagreport
Twitter Account: leadlagreport
Learn more about Michael A. Gayed on Seeking Alpha
Steem Account Status: Unclaimed
Are you Michael A. Gayed (a.k.a. leadlagreport)? If so, you have a Steem account that is unclaimed with pending cryptocurrency rewards sitting in it from your content. Your account was reserved by the Steemleo team and is receiving the rewards of all posts syndicated from your content on other sites.
If you want to claim this account and the rewards that it has been collecting, please contact the Steemleo team via twitter or discord to claim the account. You can also view the rewards currently sitting in the account by visiting the wallet page for this account.
What is Steemleo Content Syndication?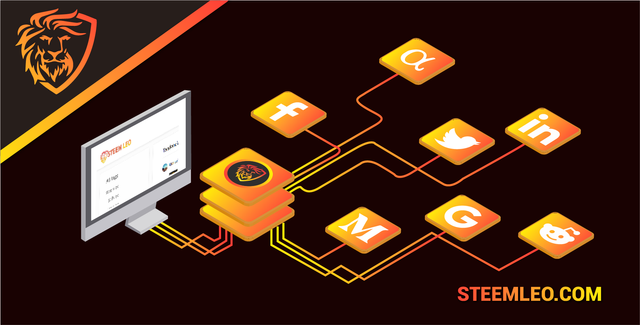 The Steemleo community is syndicating high-quality financial content from across the internet. We're also creating free Steem accounts for the authors of that content who have not yet discovered the Steem blockchain as a means to monetizing their content and we're listing those accounts as the 100% beneficiaries to all the rewards. If you want to learn more about Steemleo's content syndication strategy, click here.
---
Posted via Steemleo | A Decentralized Community for Investors