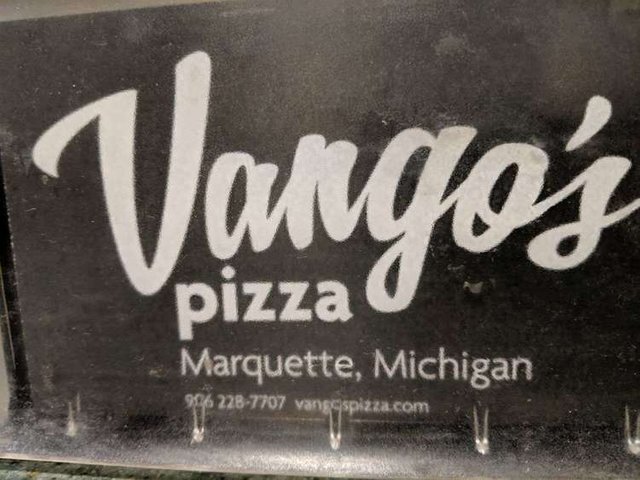 The Upper Peninsula(UP) of Michigan is home to a plethora of culinary rarities. As much as it is a part of our state, the UP is also a land unto itself with vast expanses of wilderness and all manner of individuals.
This was actually supposed to be a review about an entirely different place called Congress Pizza in Ishpeming. While we were camping up in Marquette, we realized that Congress didn't open until 4 PM and we decided our time would be better spent around the campfire.
However, I still had a "jonesing" for pizza, and not just any kind of pizza. In the years I have travelled in the UP, I have found like New York style, Detroit style, and Chicago style, they have one all their own.
Similar to what many call Minnesota style (which makes sense given the proximity though the actual existence of this style is widely debated, just Google it), the pizza consists of a relatively thin crust cut into squares with lots of fresh toppings.
I tend to refer to it as salsa on a saltine, but in a absolutely mind blowingly tasty way.
Anyway, long story short after doing a quick Google search, I found Vango's and I thought it might be a suitable replacement.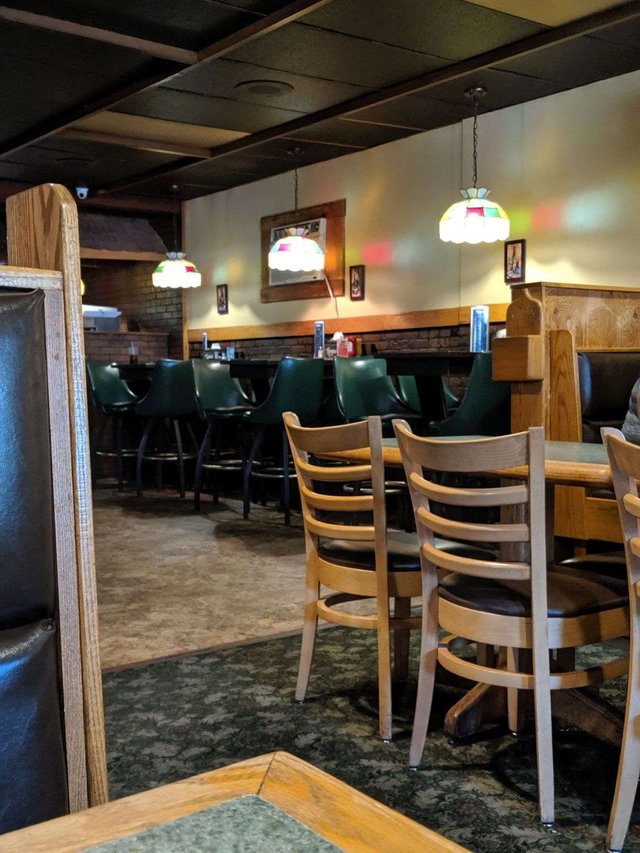 It is a small family restaurant in the downtown area of Marquette, near the campus of Northern Michigan University.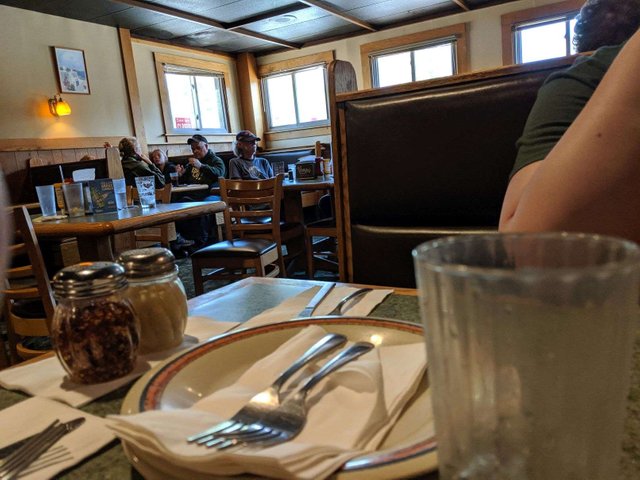 In my opinion the seating and decor were pretty dated. Those aren't the things I was there for, so I can pretty easily overlook all of that.
There was another section I didn't get a picture of and an outdoor seating area that was off limits to us (maybe because we weren't locals or regulars, I don't know).
One of the older waitresses was pretty adamant about keeping people out of the other seating section too, I am not sure what was going on there.
We started off with some deep fried mozarella sticks.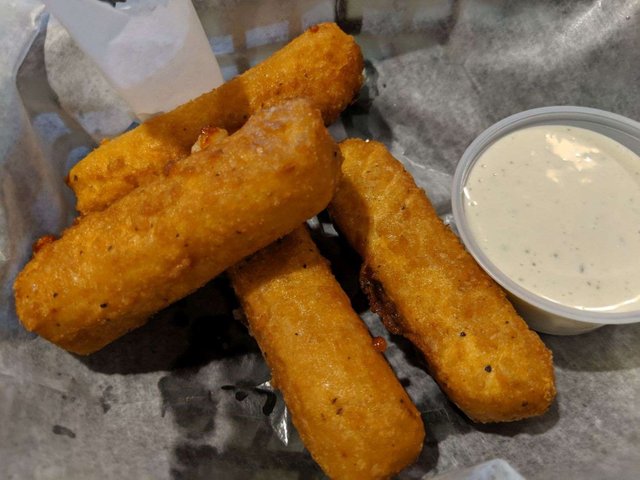 They were tasty, but you could tell they were just fried from frozen. Something that they buy in bulk and heat up when someone orders it. It is always a rare treat when you find a place that actually hand makes their deep fried mozarella. Trust me, the difference is noticeable, it simply melts in your mouth.
The mozarella sticks lead me to another interesting thing we noticed on the menu. The chicken tenders are listed as "Tyson chicken" tenders. This pretty much means they are like the "mozz" sticks, frozen and deep fried to order.
I just find it a little refreshing that they are telling it to you how it is. They aren't trying to pretend these are lovingly hand breaded by someones grandma in the back room. They are frozen, we fry them, you eat them...
This isn't a Tasteem contest about chicken tenders though, it is about pizza and that brings me to the entree that @mrsbozz and I shared.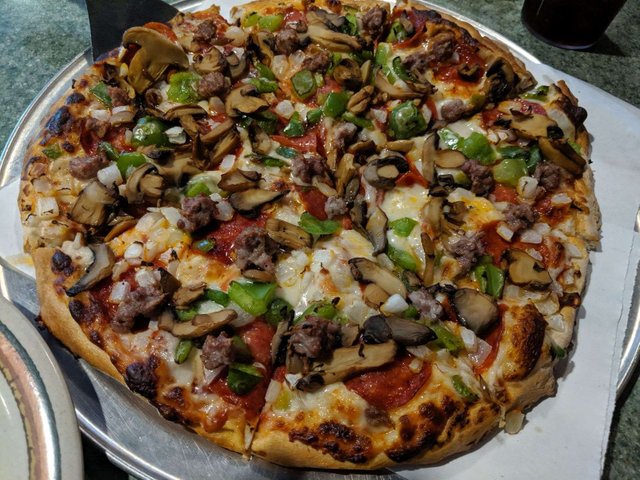 We decided to go with the "house special" and we were not disappointed. This pizza comes with pepperoni, mushrooms, green pepper, onions and a special sausage called cudighi. It is actually very popular in the UP specifically to the Marquette area. If you ever get a chance to try some, I highly recommend it.
In the end, Vango's was good, I wouldn't call it great. The pizza was the main thing it had going for it. The service was just kind of meh...
Actually, our service started great, we had a younger woman helping us that was very nice and attentive. At some point either her shift ended, she went on break, or we were stolen by the older waitress. She was rather gruff and seemed to care more about socializing with the locals than helping us.
In fact I asked, and she promised to bring me another water three times before I finally just gave up and finished my food. We got a to-go box for the rest of the pizza and I immediately took a big gulp in the parking lot from the cup in my truck.
It's little things like that which kind of make people not want to go back to places. It's too bad really, the pizza was pretty great even though it wasn't exactly what I was hoping for...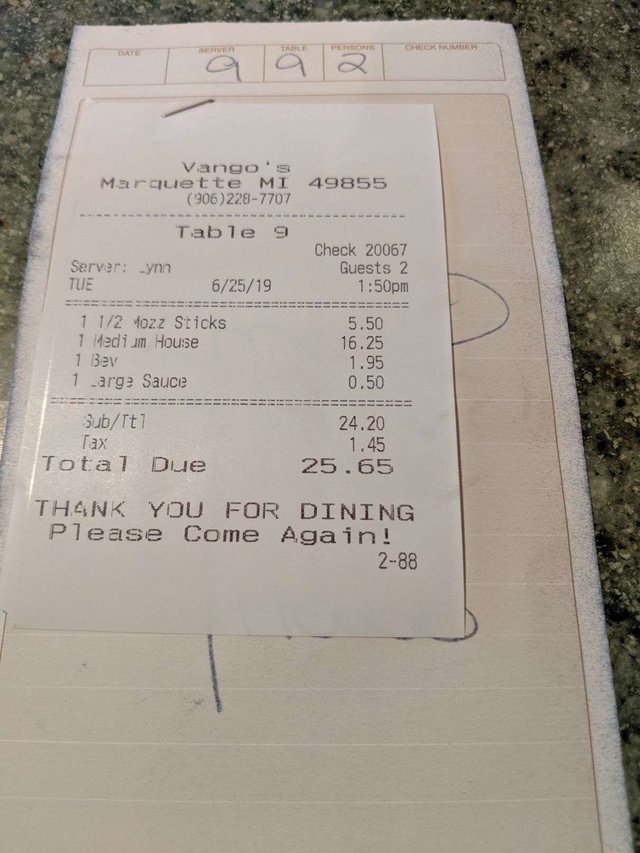 The cost was very managable for two people. It gave us plenty to fill our bellies for lunch and a nice snack to munch on the next night around the camp fire.
Perhaps one day I will be able to do a proper review on Congress Pizza, if I never get back, Vango's does make a decent pie, though I'd probably get it as take out next time!
---
Restaurant Information
Vango's Pizza & Cocktail Lounge



927 N 3rd St, Marquette, MI 49855, USA
---
Bozz Eats: Vango's Pizza in Marquette, MI
This post participated in the Tasteem contest Pasta vs Pizza