RE: Your Monthly Hive Report 📝📊 - April 2021
---
I hope it's useful :)
---
Dear @jfang003

In April (2021), you authored 44 top level posts comprising of 163492 characters. You also entered 4967 comments onto the Hive blockchain totaling 1314563 characters of text.

You used 4 different categories for your content and hive-193552 was the most popular, chosen 29 times.

The post titled Engagement is rewarded on LeoFinance and 600 Leo Power Achieved earned the most comments with 65 replies.

The post shared with the community the most was rising-star-s18-easter-bass-giveaway-and-results-of-s19-easter-egg-guitar-giveaway which was Re-blogged 5 times.

In April, you cast 2817 votes, 2 of these were downvotes, and 0 votes were cast to self.

Your average vote weight (to the nearest whole number) in April was 14%.

You spoke to taskmaster4450le the most, leaving 1170 comments and taskmaster4450le spoke to you the most with 1086 comments.

You upvoted taskmaster4450le the most, 146 times, and chose to issue 1 downvotes to shawn981v.

Finance

Last month, you transferred 0.000 HIVE to @honey-swap and withdrew 0.000 HIVE. You also sent 5.000 HIVE to @leodex, and received 0.000 HIVE.

You earned 4997.335571 VESTS via Curation, which is approximately 2.631737 Hive Power.

And as an author, you earned 36.381000 HBD, 0.000000 HIVE, and 119665.512842 VESTS (approximately 63.019210 Hive Power) in April.

Finally, abh12345 (and his alts) upvoted you 138 times in April 2021!
---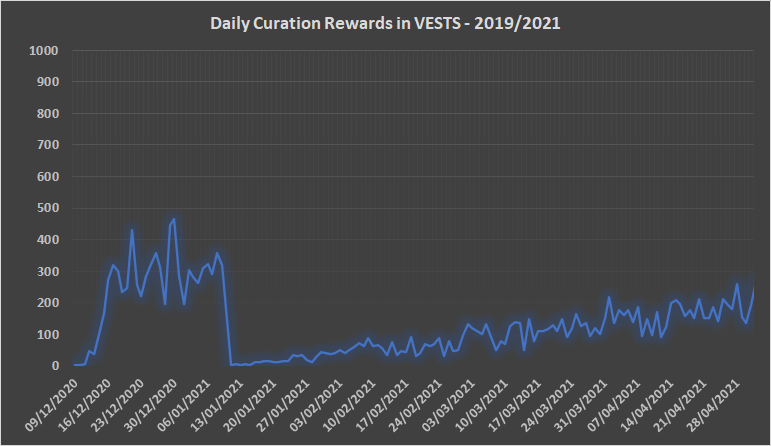 Posted Using LeoFinance Beta
---