Leo #Threads for the Business and Marketing
---
@leofinance team has launched a new microblogging dAapp called #Thread and its decentralized alternative to Twitter. These days Twitter is very much popular but this is owned by a company so they can do whatever they want to. Similarly, we have youtube which is a very big platform but again its owned by Google so they have the authority to make any chnage that they want to do. There are some video streaming platforms in web 3.0 that are claiming to be the decentralized alternative to YouTube but I have not seen any alternative to Twitter. Twitter is a leading microblogging platform and now we have got Threads which is the only alternative available to date.
Thread is just a newborn baby and over time its going to get lots of innovation and even a bigger user base. I see that this dappp will become so big and with this businesses can consider promoting their products and services. As of now any platform that has got a big and active user base is considered a valuable platform to promote businesses and we can see the same happening on Twitter. Advertisement is one of the biggest sources of revenue and Twitter earns a lot throuhg this medium similarly, leofinance can also generate revenue through this method.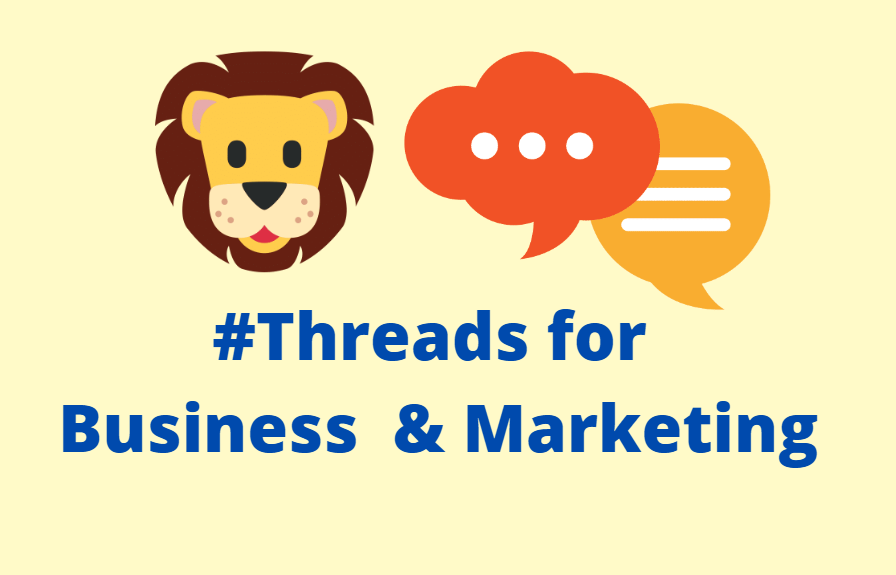 LeoFinance has got a vibrant community of users and now with thread this will get more active users because not everyone is good at writing but microblogging is easy for everyone. I mean to say that now many existing leo users who are not creating content will also get active and this is good.
More eyeballs on the threads will bring more attention by the people outside of the hive network. This is needed and once it starts happening with a good number of people getting onboarded then we can expect more investment and advertisement revenue.
More engagement and more posts in the threads will grow over time since there is no such requirement to meet the minimum words criteria. Even a picture is good enough to post and trend with more engagement to bring attention to this.
Getting something on Twitter is not easy because the user base is huge but here in threads, the situation will not be the same as on twiter however impact will surely be effective.
Censorship is one of the biggest threats these days on Twitter but with Threads, businesses can rest assured that whatever they post will not be censored.
---
@khaleelkazi has started asking for community suggestions for the required features and this is going to add so much value. More features will make it easier and even better for microblogging. If you look around then you will see that now people are going away from Facebook to Twitter because people like to read small content. Things are getting smarter and time is the constraint for many people and this is why reels and short video apps are gaining more attention.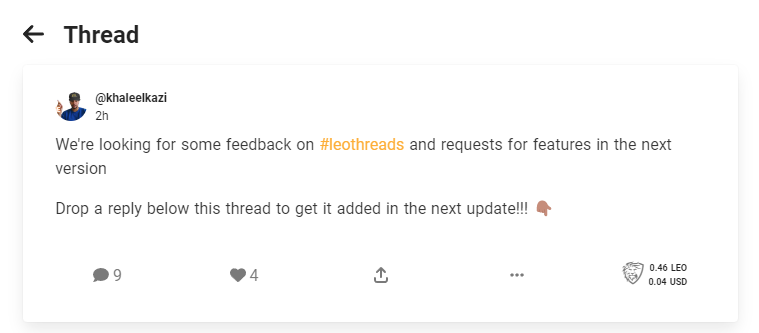 link- https://leofinance.io/threads/@khaleelkazi/re-leothreads-2q83tp
I am glad that the @leofinance team has taken the right decision at the right time and this is also going to create an increased demand for Leo tokens. Its obvious that whoever will come here, try to have a bigger stake so that he can have more influence on the platform. So the future is bright for microblogging on Threads. Obviusly more individuals will come here but once business will start getting on board then the sky is the limit for Leo.
Thank you.
Posted Using LeoFinance Beta
---