Hive Pending Rewards - TELLING A WHOLE STORY
---

On-chain data is always an eye opener and that's what really differentiates crypto from traditional money. This post was somewhat triggered by certain rewards complaints have seen over my stay on Hive, it's almost like never ending and something tells me, it never actually will.
Hive is really building an economy of abundance, as the space scales up in due time, we could just get to see people earning millions on a weekly or possibly daily basis. I know very little on how the rewards pool works, in terms of daily allocated funds, but if my speculations are right, the voting curve and vesting volume determines the allocated daily rewards, this means that it isn't programmed to remain stagnant, but to expand as the industry scales up. I looked into (https://hiveblocks.com) a few minutes ago and look what I found;
367,187.189
In seven days, HIVE has got more than half a million dollars to distribute, wait hold up!
Are you telling me we're just a few steps away from distributing a million a week? Meaning $52 million a year?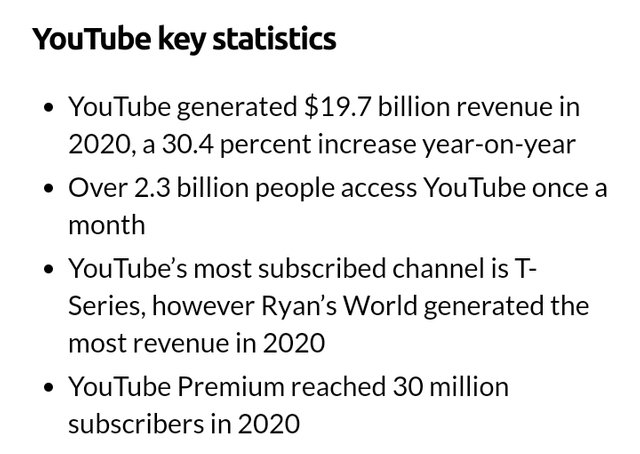 When we compare this statistics; Hive: The Growth And Change In 2021 with the one above, 12k daily users means 372k monthly top, currently. That's like just 0.0162% of YouTube users checking in once a month. If we try to go down, it's definitely crazy! Do you know that if you do a little math of dividing $19.7 billion by 100, then multiply by 0.01% it's about $1,970,000? Currently Hive pays more than this in a month, and that's 0.01% of YouTube revenue( that's a year). Let's think about this, we are just 0.0162% of YouTube users, and we're paying out more than 0.01% of YouTubes yearly revenue, isn't that crazy?
That's definitely crazy because out of billions of monthly users checking in, Hive is still under the thousands mark, so imagine an economy where Hive has billions of users? That's crazy to think of. May I just throw it out there that this number of revenue excludes sub layer projects which are beginning to heat up? We ain't talking Leofinance, we ain't even adding up Splinterlands earnings, not any second layer earnings, this is the definition of an enormous economy!
I was always wondering if Hive could pay more than YouTube, and now, I definitely have my answers. You barely earn 5$ for 1000 views, so imagine 1,000 accounts with 1,000 HP, upvoting your contents with 100%, you'll earn well above that! You know these are things we never stop to check, it's as big as that. Joining Hive wasn't a mistake, the ecosystem is quite undervalued for the developments on going. And may I just point out that the revenue isn't exactly what is being paid to its users, Hive unlike YouTube, gives it back in full fold unless set otherwise, this industry is larger than what many see it as…
Posted Using LeoFinance Beta
---