My Hive Goals - Weekly Progress Report
---
I'm thinking that the progress was good as always. I'm getting a good feeling about Splinterlands now because it is giving me a decent passive income these days which is close to a decent value that can give me my financial independence soon. I consider splinterlands as a good source for my financial independence. I'm thinking of having several sources to give me a consistent income after I reach my financial independence and I believe Splinterlands can be one such thing.
Hive is also a great passive income opportunity. Especially there are two passive income opportunities inside Hive in particular that give close to 11% APR for our investment. The first is in the form of Hive Power and the next is in the form of HBD. I have been slowly trying to increase both.
27,000 Hive Power
This was a goal that I added last week considering the fact that I already reached my previous goal and wanted to push a little further before the end of the year. I'm very confident about this goal because there are still 2 more months left before the end of the year and I might as well think sometimes that I can even make 30k Hive power before the end of the year if things are favorable on my side. But I don't want to push myself very hard on that. Let's see how the 27k goal goes first and then try for some more.
I'm guessing that the author rewards were really great last week. 120 USD from author rewards and 33 USD from curation rewards is a great thing. I'm guessing that I'm slowly approaching my goal of reaching 100 USD per week from curation rewards. As my HP increases the curation rewards will also gradually increase. Let's see how it goes.
I'm guessing Hive is becoming more like a Play2Earn platform more than a blogging platform. The main reason is that the rewards from playing games are better than the rewards we get from blogging. At least that is the case for some people. There are still people grabbing a decent reward from curation and author rewards as well.
2500 STEM Power, 2500 CTP Power, 500 CUB, 12k SPS and 1000 POB stake
I completed my CTP power goal and that is no longer a concern now and CUB goal was also reached and this week I have also completed my 12k SPS goal and I'm all ready for the packed sale starting tomorrow.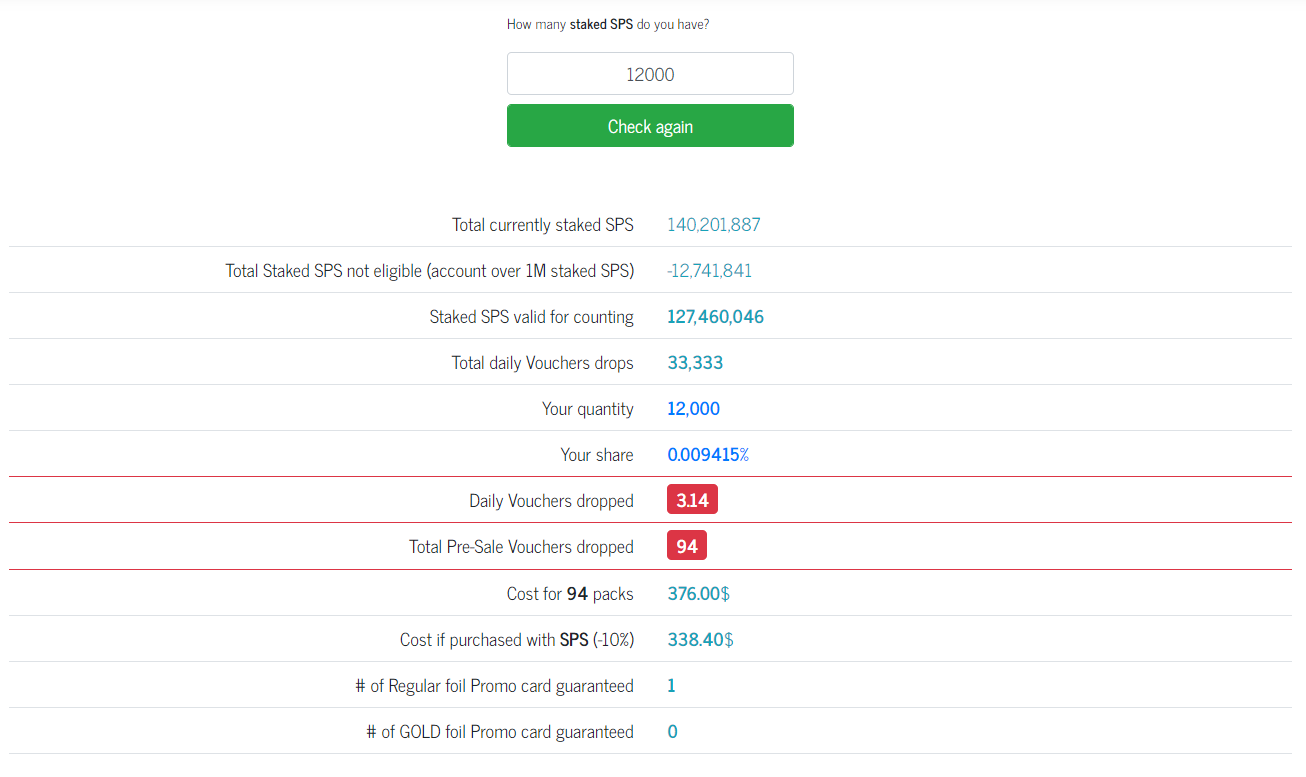 At the current staking rate, I would be getting close to 3.14 Vouchers from daily drops based on my stake. I'm not planning to increase my stake as of now. I still haven't decided what I should be doing with the vouchers I get. I can either sell it for a good price in the market or just hold them and purchase packs. I'm targetting to purchase close to 100 packs at least and it can take close to 3 months to purchase. So, I don't have any idea what I should be doing.
This week's goal status
I have gradually cleared all my goals for the year that I set for myself. Now I only have 3 goals left and mostly after I finish this before the year-end, I will try to come up with a set of goals that are a little more challenging and also achievable.

---
---
Posted Using LeoFinance Beta
---