Splinterlands - Another card Maxed out today Gargoya Lion
---
Now, this is a big relief. I was able to max out another card in my collection today which is Gargoya Lion. I don't have to worry about collecting this card anymore. I had been slowly maxing out the new reward cards that arrived recently one by one. I already maxed out my Pelacor Bandit and posted an article on the same.
I'm sure these new reward cards can go out of supply and when that happens, there is a high possibility that these cards can get costlier. I wanted to make use of the current opportunity where the supply is very high and max out these cards. I understand that even for a level 10 card the DEC burn value is very less. I guess that's the case for all the new cards that we are currently getting. Maybe the rare ones will have a better burn value if I'm not wrong.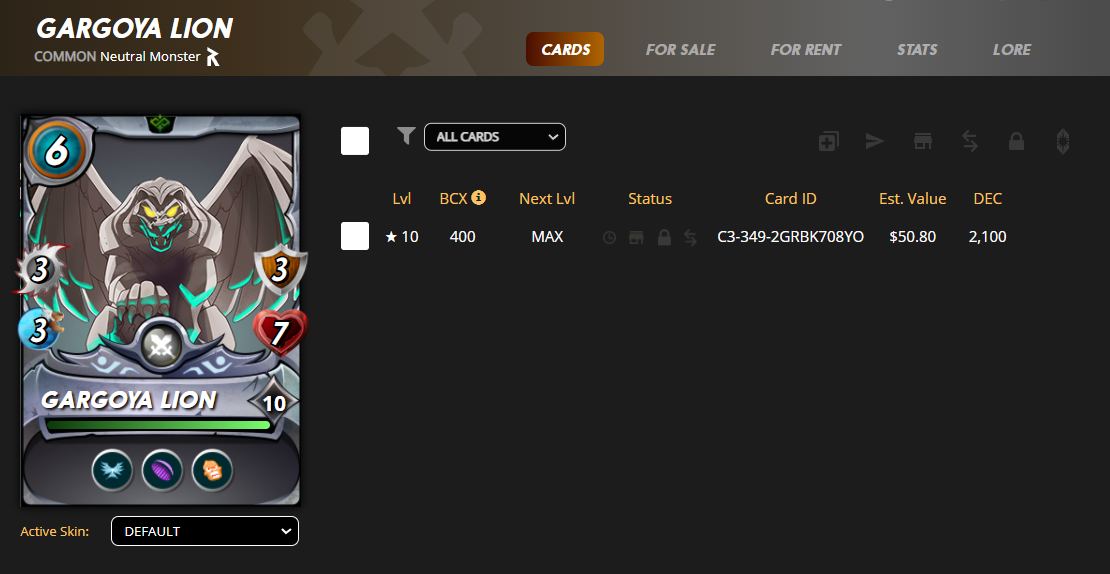 I have to be very thankful that I did not sell any of my cards before a few months. Nobody would have predicted the potential of the old cards. But I do feel that I missed the opportunity to max out all my other cards. Some of the cards are no way near now. We cannot even afford some of the cards. Probably only some whales will be able to purchase the cards. But still, I'm trying my best to upgrade some of the cards now.
Off late I have been purchasing some of the cards with my rental income and game income to increase my total owned BCX. Probably with the passive income, if I calculate the rewards after like few years, I wish to see a decent value from the game. I already think that in the last few months the income from the game was really amazing. Nobody would have expected to earn this much DEC and SPS from the game.

I'm getting the above as rental income from the game. Towards the end of the season, it is going to be even higher. I decided to rent out all my cards in the collection. I didn't want to spend time playing the game. It was really hard for me to play the game every day. Now that I have rented out all my cards, I can peacefully enjoy the passive income this game will give me. I'm just missing the fun of playing the game with all the new cards but I hope that's okay to sacrifice for better rewards. We have to follow the strategies that work out well for us. Personally for me playing the game every day is not easy, so I decided to quit playing and enjoy the rewards in the form of passive rental income.
---
---
Posted Using LeoFinance Beta
---