Approaching the end of another brilliant Splinterlands season
---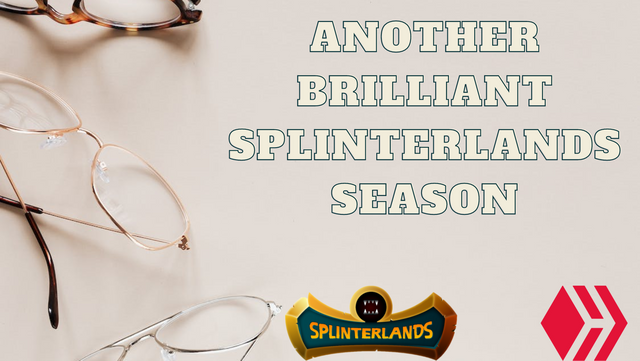 Brawling predominantly in the Wild silver league has been more rewarding than I ever expected it to be. I had no idea what to expect in the league and so far, things have progressed quite nicely.
Despite being in the Silver league for most of the season, I actually accumulate Gold chests and this is all thanks to the changes in the reward system in Splinterlands. I wasn't exactly pleased about this change in the beginning but after navigating two seasons in the system, I have finally gotten a hang of it and learned to appreciate it.
At the time of writing, I have a Silver level deck of cards but a gold level collection power. So what I do is spend most of the season brawling in the Silver league, and then move to Gold league at the final moment so that I can start the next season in the Silver league.
I've contemplated investing some money into my deck and getting me brawling at the Gold league but that's going to require quite the investment and I, unfortunately, don't have the funds right now. I also wouldn't want to rely on rentals for the climb because of the uncertainty about how long assets stay in your possession.
More chests than ever
With 24 hours of the season still left to play, I've already gotten up to 45 Gold chests and there will probably be a few more to come before the season ends. This is easily my best-ever season since I returned to playing Splinterlands.
The best-case scenario is that I'll finish the season with 50 Gold chests but that would require doubling down at this stage of the season. I doubt I'll actually be able to pull off 50 chests but I'm going to try.
In any case, in terms of quality of reward, this season has offered a mixed bag with rewards varying from extremely underwhelming to impressive. On bad days, it is been potions galore and on the best day of the season, I got one legendary and one epic monster from 12 daily quest Silver chests.
The dollar value of reward monsters is quite underwhelming but it's still nice to get the shakes from chests. I don't think I've actually seen Jared Scar feature in anybody's team in recent times but like I said, I got the shakes and that's all that matters.

Posted Using LeoFinance Beta
---