GLX token maintains momentum in the market
---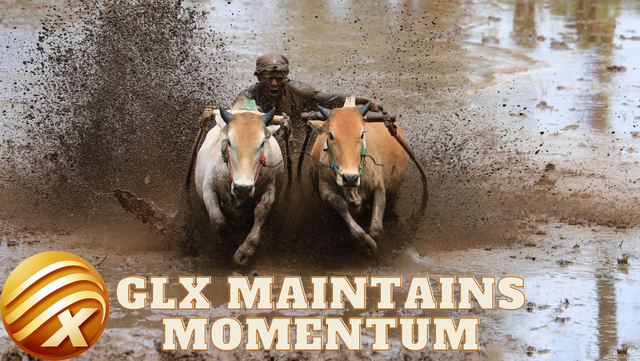 There seems to be a lot more interest in Genesis league sports than SPlinterlands itself. This is evident in the current market price of GLX tokens but that's not all.
The incoming GLX token airdrop for pack owners has also led to an increase in the pace of pack purchases. In the last 24 hours, for example, upwards of 20K packs have been scooped up, indicating an increase in demand.
Pack owners are scheduled to receive a share of 7.5 Million GLX tokens that will be airdropped at the end of this first round of sales. In the next round, there will also be another airdrop for the pack owner, so the rush for packs isn't exactly unexpected.
I guess what has surprised me the most is how Genesis League Sport was on the back burner for a while and then suddenly sprang up out of the blues. These days, GLX is pretty much what everyone talks about and the token has been pumping aggressively to boot.
Out of the blues
I must admit, the rise has been quite impressive and I imagine that if the crypto market was in a better position, we would have been seeing some crazy numbers in the charts. So, considering the state of the market, it is fair to say that GLX is performing at an astronomical level.
I honestly didn't think the token would do as well as it is doing and I also didn't think I'd be in a position where I'll be earning over 3000% APR from simply staking the asset.
At the same time, I'm not getting carried away by the current success and making sure I maximise the opportunity by diversifying my earnings.
This GLX token reminds me of the early days of SPS when the token traded close to $1 and I reckon without this annoying bear market, GLX would have probably hit those heights. However, whatever rises fast has the potential to crash back down, so I'm always keeping my head on the swivel.
The thing is, I can't see the GLX token dropping significantly any time soon. Considering the entire crypto market is neck deep in yet another existential crisis, it is safe to say that this is the " hyped up bear market valuation" of GLX token and that imagination strikes me with a jolt of excitement that can only be compared to the early days of the SPS airdrop.
I believe that when the hype settles in a couple of weeks, GLX token price will be knocked down a few cents and that will open up a buy window that I certainly want to take advantage of.
Despite buying a couple of GLG packs, I still can't confirm my participation in the game but I know that I am certainly going to be actively participating in the governance side of things. Whenever an opportunity presents itself, I'll buy more GLX tokens and transform Genesis League Sports into a source of passive income.

Posted Using LeoFinance Beta
---