Potential domino effect of an SPS listing
---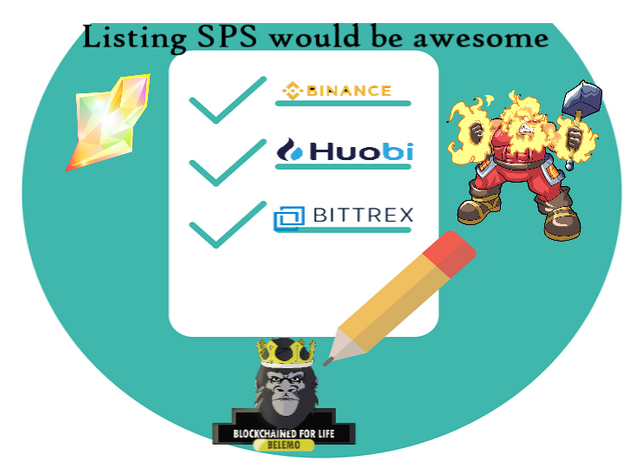 There have been some conversations about SPS token getting listed on an external exchange and just the thought of it is very exciting. For what it's worth, there's been no official declaration of a listing on the horizon but the fact that these conversations are propping up means that it's likely.
NFT is in the spotlight, and even though there's some weird shit going on, the technology still holds immense value. I believe NFT in gaming is one that will eventually take center stage in the scene and through Splinterlands, the good people of Hive will have their piece of the pie.
Moonshot
So while it's still not yet confirmed, the potential listing of SPS on an exchange like Binance or Huobi will do wonders for the Splinterlands ecosystem. Right now, there is already a frenzy about assets and the game is in the limelight.
Many people are talking about Splinterlands and a lot of them are from outside of the Hive bubble. The game is gaining serious traction in mainstream social media and with that comes the big money.
If we were to use the effect of this SPS airdrop as a barometer to gauge the potential of SPS airdrop, then I can't help but wonder what would happen when Binance officially makes SPS available for the general public.
In a bunch of conversations with my friends, we've talked about the value could rise. I've conservatively predicted a $4-8 spike because I'm trying not to get ahead of myself. However, imagine we do even a fraction of what Axie infinity did and get as high as $15-20, that would be insane.
Listen, there's no other way to put this so I'll just say it how it's on my mind. A price move like that will give me an erection for at least 10 weeks straight.
What are the odds?
I don't know the odds of the price rising to this point in the event of a listing but I do know that the chances of a listing are kind of high. The Splinterlands team is in the business of providing quality service and opportunities for their investors, so I'm not doubting their capacity.
It will require a bunch of paperwork and all those other internal requirements that need to be sorted out. Things that I know Splinterlands will have no issue handling because, well, look at how far the game has come.
What else to be excited about?
There's something interesting about the Splinterlands ecosystem's value system. I've noticed that the value tends to trickle down all associated components of the platform.
This means that a potential surge in the price of SPS due to a listing on an exchange like Binance could invariably lead to a pump in the price of DEC. This might not be entirely beneficial for me, since I'm invested in the DEC-BUSD pool to earn SPS tokens but it certainly does make the game even more rewarding.
A pump in DEC value also affects the general market price of monsters in the game. Right now, the price of NFTs in the game is already through the roof and a surge in the price of DEC would invariably lead to even more rise to cards, land, totems, packs, including the incoming Chaos Legion pack and all the other cool stuff in the game.
Interestingly, there's also the fact that SPT tokens, the relatively quiet member of the Splinterlands bull run, will also see substantial movement. I don't think it has ever been this profitable to post about Splinterlands on Hive, and if SPS gets listed, it'll even become more profitable.
Hive wins
At the end of the day, all this value will still somehow reflect on the Hive ecosystem as a whole. Stat has shown that since the Splinterlands airdrop kicked off, the number of accounts created has been on the rise.
It's only natural for people to gain interest in the blockchain where the best blockchain game is run. If, as expected, more people take interest in SPS tokens because of the listing, then it's also very likely that they'll follow the crumbs that'll lead back to Hive blockchain.
More people will find out that they can invest in a game, earn from talking about the post, invest even further in the ecosystem, and become members of one of the most awesome communities in crypto land.
It still sounds like wishful thinking but that's how most awesome opportunities are found until they come to life. Until then, I'll be keeping my fingers crossed, stacking SPS, playing Splinterlands, and doing what I can do to grow my portfolio.
Please check out my Freelance gigs:
Contact & Support
Discord: belemo#9593
Twitter: https://twitter.com/belemo__
Telegram: uncleskipper
Email: [email protected]
ETH and BSC wallet: 0xC75E34E3ee9a343041B3322E1bD97b4940Ed721d
Bitcoin Address: bc1q635vre2jj9zhde9cyvflyz4h9c0p57gg3s3yre

Posted Using LeoFinance Beta
---