Unexpected expenditure
---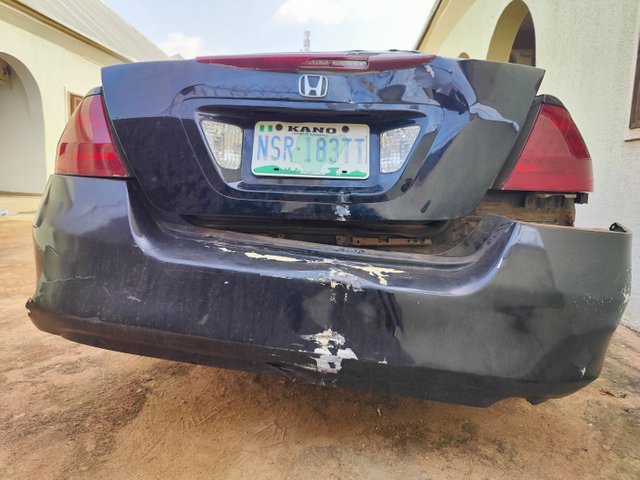 Yesterday I went out to run some errands for my wife that involved visiting two of my friends to fill out a form. The day ended with us drinking a few beers and one of my friends bashing my car against an electric pole.
For what it's worth, this is something that I should have seen coming. The first red flag was when he entered the car and stepped on the throttle very hard, instead of the brakes.
In hindsight, it was a terrible idea to let someone drive my car. When he said he wanted to drive, I felt slightly uneasy but I still let him because I prefer other people driving me most times.
In any case, immediately he got into the car, he over throttled, then afterwards, he rear-ended the car into an electric pole. Felt a slight bump in my head but no real injuries to anybody.
Unnecessary bill
Now I have an unnecessary bill on my neck to sort out. The trunk of my car refuses to close, and as you can see from the image above, the back is rekt.
I'll also have to fix the brake and parking lights while at it. Luckily for me, there was no damage to any electrical components but I still have to fix the lights.
I also have to go to a panel beater to fix the number and the trunk. I don't think I'll have to change anything in the trunk, it'll just be given a beat until it's straightened out.
In any case, this event is going to push me back a couple of thousands of Naira and my time as well. It is an unnecessary expense that I could have avoided.
At the same time, I kept thinking about how things could have been much worse. Like, if we had gotten to the road or something like that, he could have crashed the car into a wall or something and got someone killed.
I'm grateful that it didn't get to that. After he rear-ended the poll, I took the car and just drove.
I'm going to take some responsibility for the event and pay for part of the bill. However, my friend is also going to pay for his part.
After publishing this post, I'll be heading to the mechanic workshop to get an evaluation of how much it'll cost. I just know it's going to be a fucked up amount that I can't afford right now but we'll see.
Somewhere down the line, I might even have to respray the back of the car. It needs to be aesthetically appealing because I intend to sell it to fund our exit from Nigeria.
Shit happens and I'm glad it's a problem that money can fix. However, my conclusion from this event is that for as long as this car is mine, only I and my wife will drive it.

Posted Using LeoFinance Beta
---