What next for Celsius?
---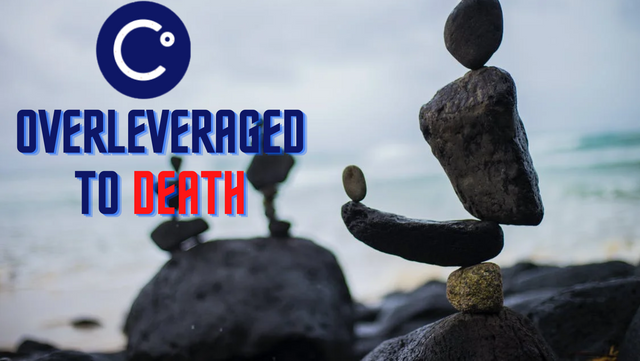 Reports have emerged that crypto lending platform, Celsius, is on the verge of filing for bankruptcy. Numerous outlets have covered that crypto lending company has opted for the service of financial advisors on the best approach to take.
Cointelegraph covered that;
According to a Friday report from the Wall Street Journal, Celsius hired an unknown number of restructuring consultants from the firm Alvarez & Marsal to advise the platform on potentially filing for bankruptcy. The report followed one from June 14, which said Celsius had hired lawyers in an attempt to restructure the company amid its financial issues.
The vultures have already started circling, with numerous Tweets and sources claiming that Goldman Sachs has offered to buy up whatever is left of Celsius.
It hasn't been mentioned yet but I won't be surprised if SBF of FTX also throws in some support Celsius.
Leverage
The moral of the story is don't let yourself be overleveraged. Especially if you're a crypto company offering lending service.
The crypto market is notoriously volatile and lending companies take huge risk as it is. When you throw in a bear market into the fold, they're pretty much staring down the barrel of a loaded gun.
The crypto market is relatively young and as far as I'm concerned, we don't have enough data to make statements in absolutes. Which adds even more risk to the already risky situation.
I believe that even in the event of Celsius' demise, there will still be more lending companies springing up. However, companies will have to tweak their risk tolerance to prevent a repetition of Celsius.
What next for Celsius?
The CEO of Celcius, Alex Mashinsky, will probably be having crunch talks with advisors on the next step to take. It is a dicey situation because you just know that barring a miracle, this won't end well for him.
Government authorities have already started sniffing around the situation. You just know that someone will have to answer for this event.
On June 16, Texas State Securities Board director of enforcement division Joseph Rotunda told Cointelegraph that regulators in Alabama, Kentucky, New Jersey, Texas and Washington were "looking at the issue involving the frozen accounts" at Celsius. source
Since the 13th of June, Celsius announced to investors that withdrawals will be halted due to extreme volatility. According to the blog;
We are taking this action today to put Celsius in a better position to honor, over time, its withdrawal obligations.
Investors are definitely not going to be interested in all that though. The only thing that's obvious is that Celsius promised, didn't deliver and now, people can't even access their funds.
Hopefully, most people use blockchain wallets and only kept a bit of their portfolio on Celsius. In any case, this is certainly not going to end well for somebody at Celsius, especially when the lawsuits start coming in.
Even if by some miracle Celsius survives this market, their reputation has already been tarnished and only an extremely brave person would be comfortable with using their service.

Posted Using LeoFinance Beta
---