Let's Talk Inflation, The Fed and The Markets
---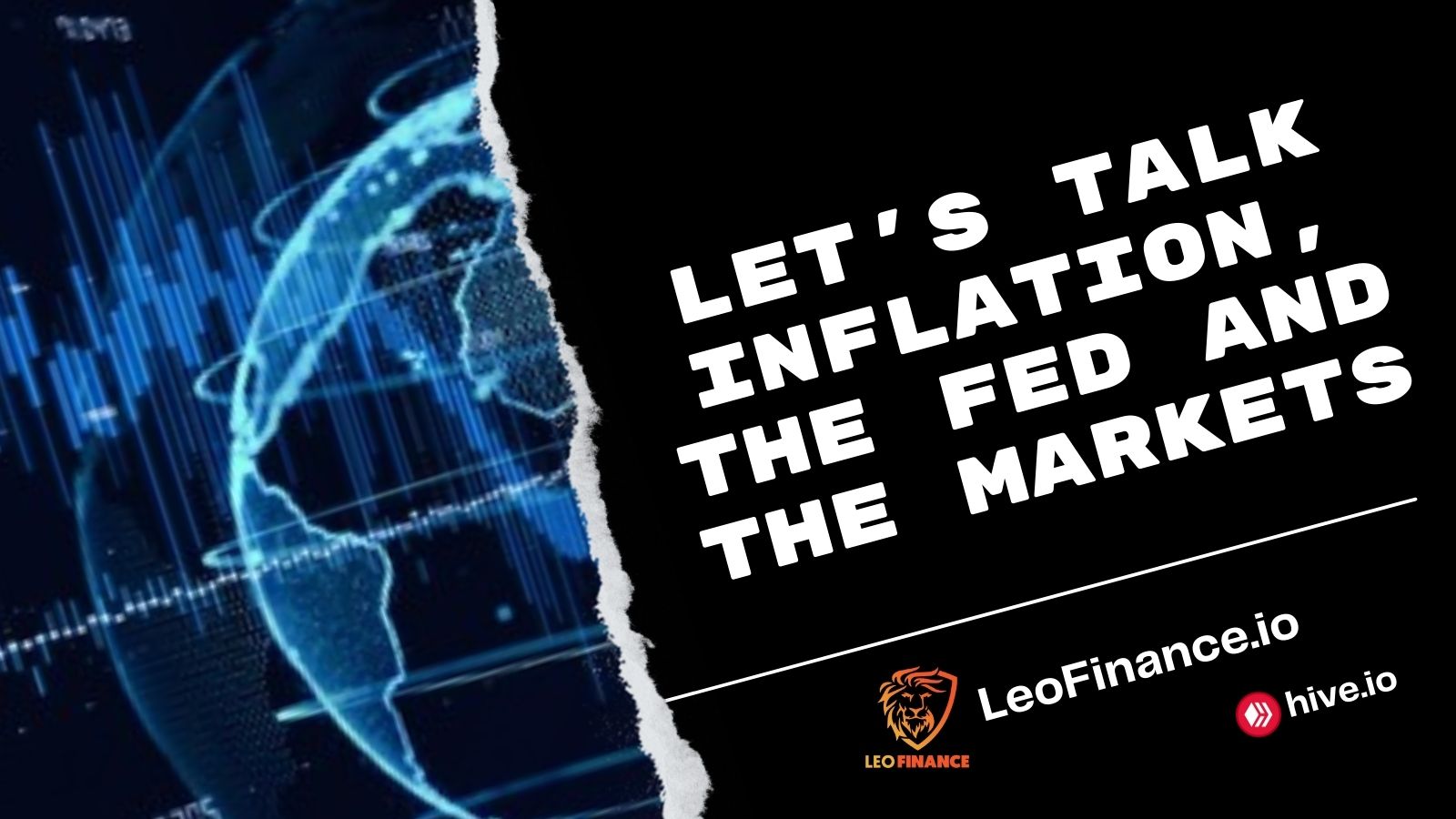 Let's Talk Inflation, The Fed and The Markets
Personally I feel we are going to feel this rate hike much more then the last few this year. As I wrote about before the rate hikes up till the last one simply brought us back to the levels they were pre-covid. This last one now skyrockets us past that and with that the also misunderstanding by the FED that inflation this time around is not because people are out buying everything up like hot cakes. The issue is business are trying to recover and grow again from the 2 year lock down that crushed many of them. We are now feeling a combined effort of 2 years of lock down, an over inflated pumped up stock exchange, a new world war (yes it's a world war as just about every country is involved in some way) and now drastic increases in FED rates.

Inflation
By definition inflation is the increase in price of services and product over time which lowers the value of your money today. If you have your money in a savings account earning 2% and inflation is 8% for that year you will actully be able to buy 6% less of what you want then you could today. But here's the kicker that's general. Inflation in certain sectors could be much higher. The things the government considers necessities such as oil, food etc are not counted into this CPI report. Food and oil have both skyrocket far beyond that 8% inflation number.

FED Rates
The FED looks only at inflation and makes adjustments to the rates in order to offset that. It causes pain in markets both stock and crypto now as crypto has more ties than ever to the stock market, less demand for consumer products and the real kicker higher unemployment rates which are now expect to go near 7% by years end of which we are ticking our way back up to 4% currently.

The Inflation Rate
Currently the US inflation rate is sitting at 8.3% it was expected by many that the inflation number would come down to 8% for the month of September. In fact month over month we actully saw inflation increase by 0.1%
Sure that doesn't sound like much but when you're sitting back looking at it all that inflation number should have come down right?
Wrong...
In fact the big ones that aren't counted such as Food is up 0.8% in august and Medical care also up 0.8% 7x larger than the month over month CPI numbers.
The FEDs message
The FEDs message has always been to target a 2% inflation rate year over year. For the most part they have done a good job of that but then SHTF and major issue after major issue started to effect the markets. Personally I feel it's out of the FEDs hands and 2023 and towards the end of 2022 are going to be extremely messy in terms of unemployment and just a huge wake up call for many. Those pains we should have felt for those two years of lock down are now going to bite us in the butt this year and next. The good news I personally feel if you make it out of next year on top you're going to be sitting pretty.
The Next Meeting for the FED is slated for November and they are already predicting they will slam in another 75 base points to the rate. This is going to make the end of 2022 start to paint the picture of what 2023 is going to look like in terms of things screaming to a halt. It's also expect another 50 points will come the month after in December. That's already putting us at least 125 points or 1.25% increase in 2023 the kicker. What they do today we wont really feel for about 6 months to a year thus making 2023 a rough ride. That ride however could last into partial 2024 and mean we wont rally feel another rally on anything till 2025.
What are you thoughts on the outlook of the rest of this year and 2023?
Posted Using LeoFinance Beta
---