Leofinance is the king of tokens !
---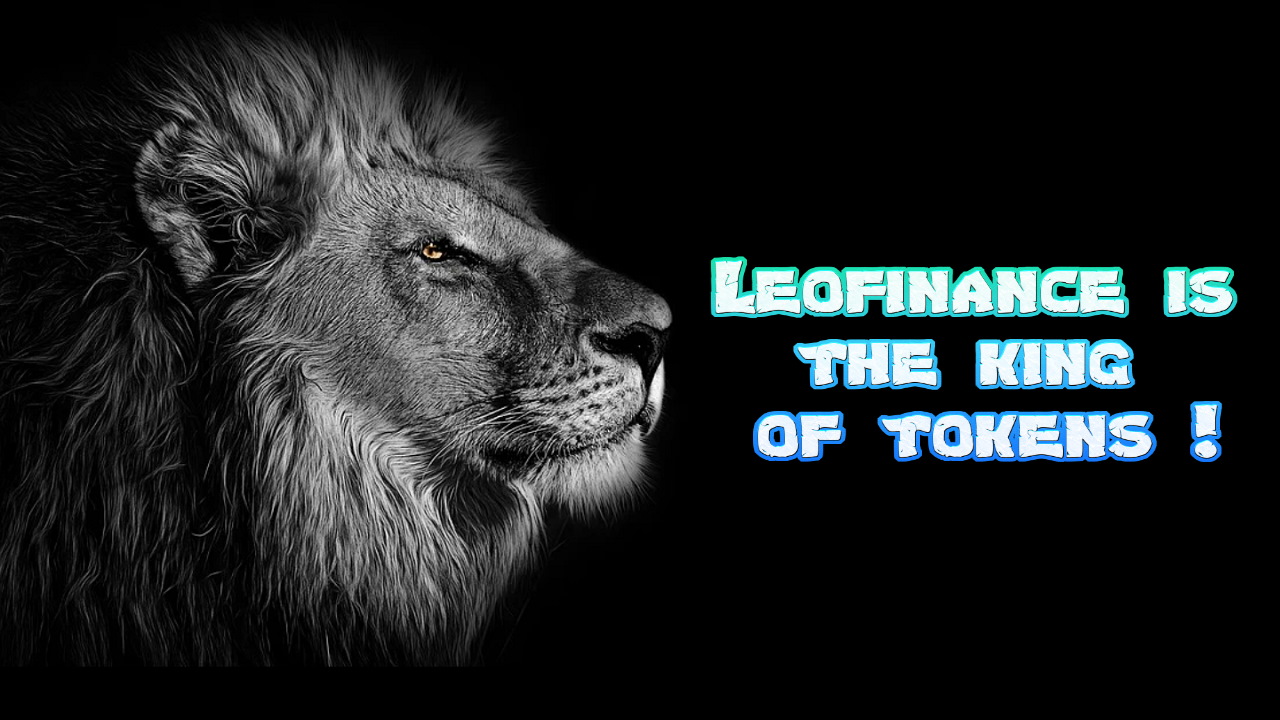 This is my entry to the following contest : Tribe Token Talk !
It's a great time to participate in a contest about Leofinance because I hit 500 LEO Power today. ☺
Why I like it :
---
I like Leofinance community because it's all about investment, trading and learning about new opportunities in crypto world. There are so many great content creators there and those who are sharing really valuable information about how crypto they are investing in works and why they see the potential in it.
Why I like to create on it :
---
My content is various, but I like to create sometimes on Leofinance when I want to share my experience about investing or trading, and when I have questions about anything related to crypto. Something I don't know about like DeFi and NFT. I think Leofinance is one of the best place to create on when thinking about crypto investing or trading.
The best curators and creators on LEO :
---
I'm not that active on Leofinance, but I know many great curators and curators on Leofinance. Of course, we should always mention @onealfa.leo and @trumpman because they are great curators and loyal investors in Leofinance. And the best creators I know are @belemo and @bitcoinflood.I always like the information they both share and try to not miss their posts.
Why I stake LEO Power :
---
I personally stake Leofinance because I know that I'll curate content about investment and trading. Because I'm sure that every crypto member should at learn know the basics of those topics. And of course I like to see such topics rewarded. As well, I stake LEO to see more people joining it. I mean all those I'm curating because I do my best to always find new people to curate. If they see some support, they for sure will keep creating on the tribe, and it may help the price of the token grow, and I'll be happy as an investor in it.
How Leofinance is helping hive :
---
Of course Leofinance is helping hive blockchain a lot. When more people will know about it, they will join hive. And the more Leofinance is promoted the more people will know about hive. They may even learn about other tribes that way and all the communities here. So, Leofinance is brining value to all hive blockchain and all creators and curators on it.
The future of the token :
---
I think Leofinance has a great future because most hive community members know about it. Because most of them just in love of it. And the team behind the token is awesome. They created a great and fast interface to use. And they have so many other projects that may help the token became so demanded in the future.
How to be successful on the tribe :
---
To be successful in Leofiance is very easy. Firs of all, when creating there try to do your best to create content only about investment, trading and crypto. So, every curator will be happy to see you respecting what's supported by the community. It's of course good to have some LEO power to curate, so you always have to keep an amount to support other members of the community. As well the activity in the tribe is so appreciated, so at least commenting a few content creators there per day will bring you for sure good results.
The projects I like created by the team :
---
And finally, the projects I like on Leofinance are :
hivestats.io because I like to check my stats and how I'm doing on hive and other tribes.
leodex.io/ because I like to check there the richlist, to see where I am at on tribes. I like it better than hive-engine.rocks because it shows the power we have even if we are delegating it.
And of course cubdefi.com and leofi.io/. Because I like how the team are supporting what's trending in crypto world.

I enjoy being a part of Leofiance community because I see a lot of value in it.
So, if you are not yet active there, I advise you to give it a try.
---
Posted Using LeoFinance Beta
---