#MyHiveGoals - New Investments & Weekly Progress Update
---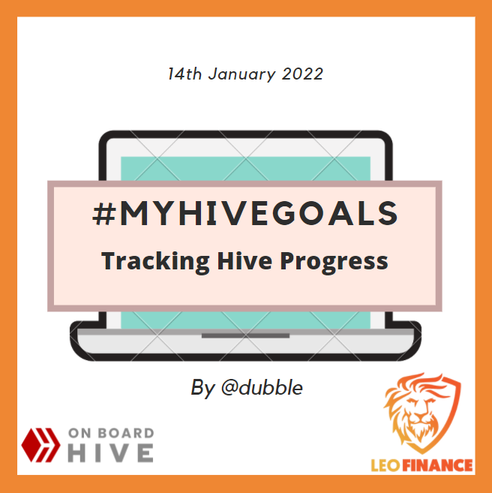 I am using HiveStats.io to track all my progress within Hive, I recommend you all to check HiveStats out and set some goals for yourselves!
I've seen my Author rewards become steady again as over the holidays my earnings took a big dip, I've been attempting to write more and provide high quality posts I would love to set myself a goal of actively posting at least twice a day, but sometimes my brain just can't think of anything worth-while to write about!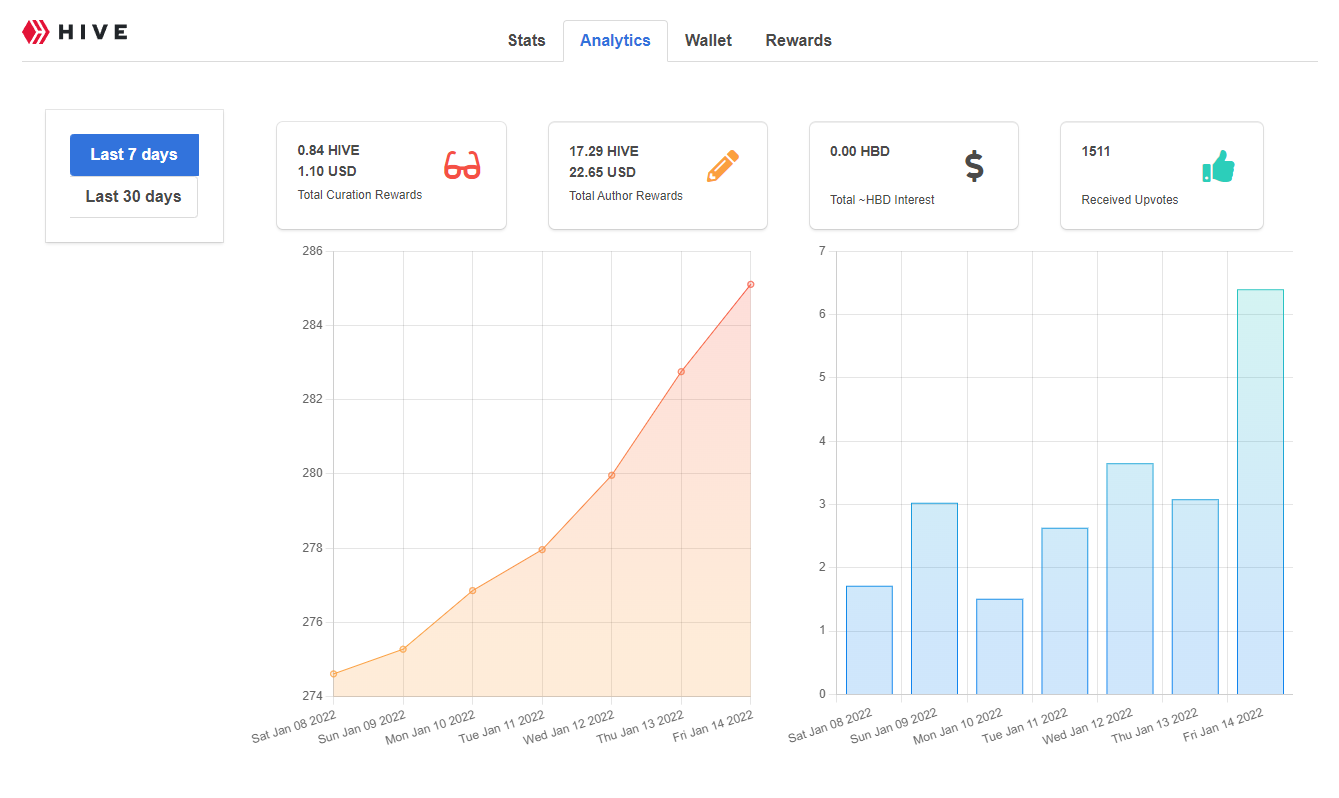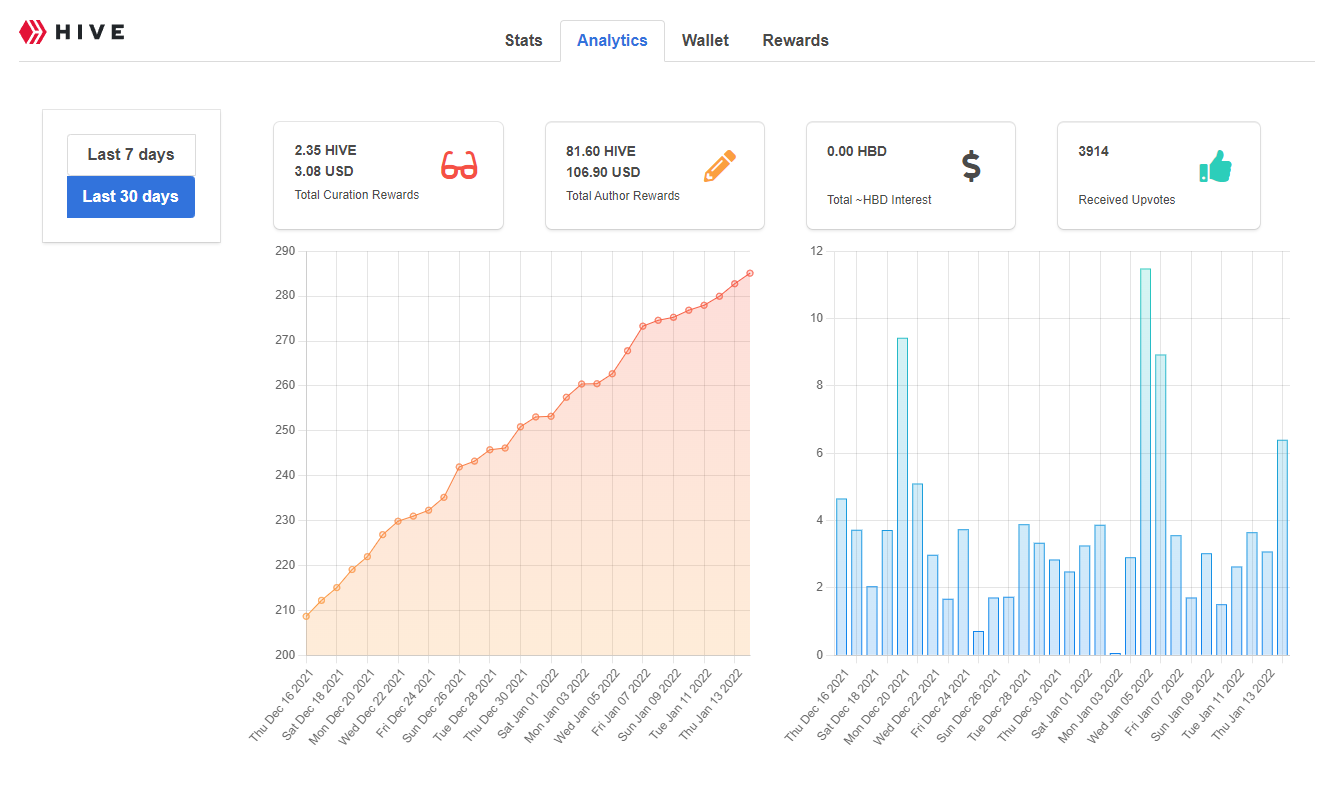 I averaged 2.47 Author rewards per day the last week which definitely is an improvement from last week, I would like to see this trend hold and increase more so if I can branch myself out more within Hive and make find a worthwhile topic to write upon.
My 30 Day graph has shown I've almost earned 80 HP which I am extremely happy about! That shows I've been making great progress towards my goals even with a slow month! I would love to see myself increase that number to 100+ Author rewards per month, as well as growing my curation rewards at the same time from said HP.
I've also been putting more of my post pay-outs into 50/50 splits between HP/HBD as I would like to set another new goal at the start of the month to see how much I can deposit into savings from a whole month of split payouts.


I've seen my Curation rewards increase quite a bit the last three days, unsure as to why. I won't complain though and I hope it keeps up! Earning 20% of a Hive via curation per day to me is fantastic, I cannot wait till I've powered up enough HP to earn 1.00 daily.
Author Rewards I would love to see a base 2.00 Hive per day earned but I can't commit to any goal like that as its unpredictable if any of my posts that day get upvotes or not.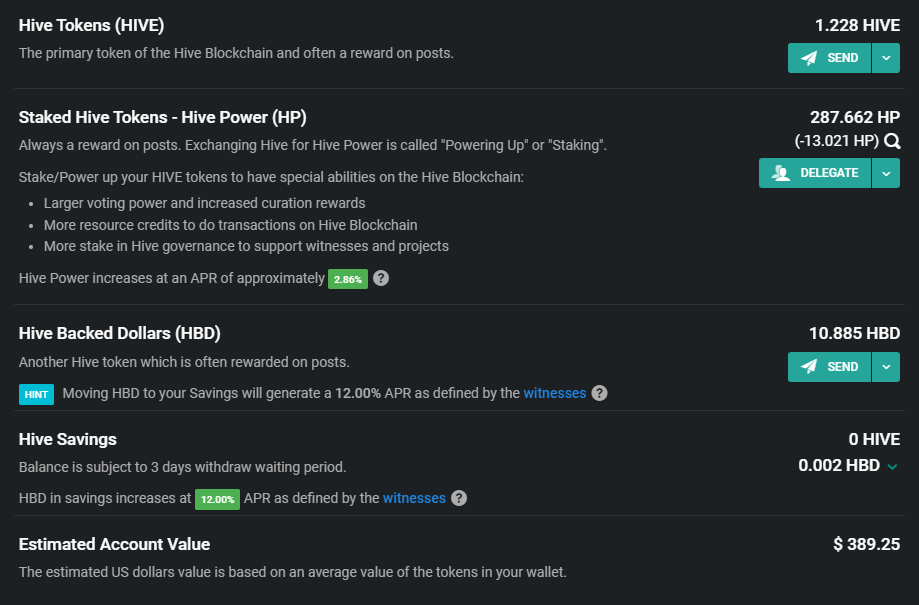 Last week I mentioned how I wanted to purchase 1 Cartel token with my holdings, at the cost of 10 HBD per token, I was left with 4 and over the past week have earned an additional 6 HBD which again I plan to spend tonight to acquire another Cartel token!
Last weeks stats-
Hive Tokens - 0.024 HIVE
Hive Power - 273.823 HP
Hive Backed Dollars - 14.204 HBD
This weeks stats-
Hive Tokens - 1.228 HIVE
Hive Power - 287.662 HP
Hive Backed Dollars - 10.885 HBD
Increased-
Hive Tokens + 1.204 HIVE
Hive Power + 13.839 HP
Hive Backed Dollars + 3.319 HBD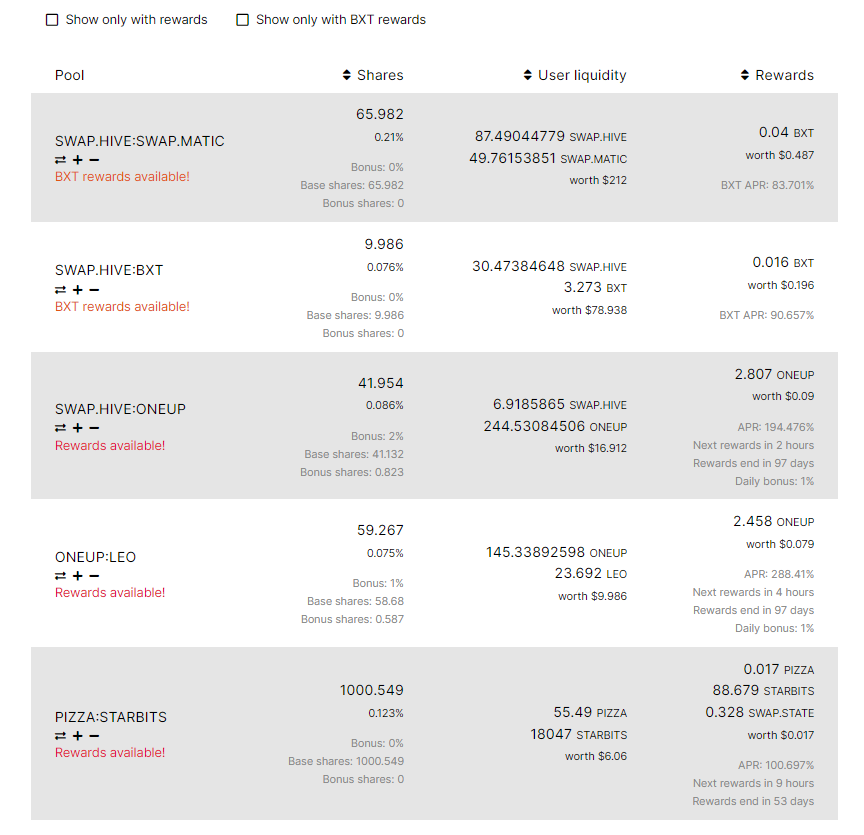 I withdraw my LP for the PIZZA:ONEUP pool and decided to dump the ONEUP into two different pools and use the PIZZA to pair up with STARBITS again!
So the rewards for the SWAP.HIVE:ONEUP pool ended two days ago, with new rewards being implemented and a new 1% daily base share bonus I topped up my holding a tad to increase my gains over the new 100 days I plan to stay within this pool!
I also joined the new ONEUP:LEO pool! I purchased myself 24 LEO from the open market and with the remaining ONEUP I had from the PIZZA pool, paired the two together. Again with a daily 1% base share increase!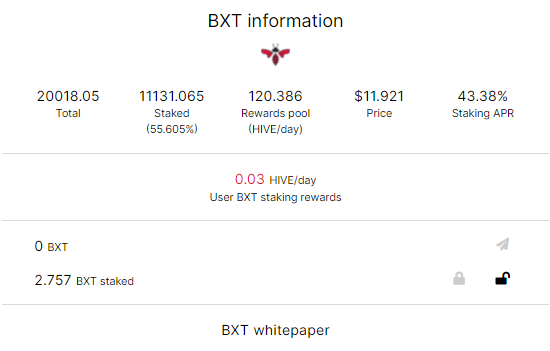 Within this week I've added a total of 0.41 BXT more to my holdings, of course staked instantly to reward me with distribution fees from the HIVE.SWAP:HIVE exchange fees.
MY HOLDING ASSETS-
BXT

+0.41 BXT - Total BXT 2.76 - Value $36.12
ONEUP

614.53 ONEUP Staked to myself, 377.48 ONEUP Delegated = 992.02
389.86 ONEUP Pooled
Total ONEUP - 1,381.88 - $51.91
+111.46 This week.
BEE

Total BEE - 10.42 - Value $5.97
+0.9 BEE from last week
CENT

Total CENT - 224.71 - Value $2.04
+34.39 CENT from last week
PIZZA

Total PIZZA - 32.99 STAKED + 55.49 Pooled PIZZA = 88.48 - Value $6.13
+6.47 PIZZA from last week
CTP

Total CTP - 34.42 - Value $0.67
+14.10 CTP from last week
SPT

Total SPT - 1,744.94 - Value $5.03
+25.34 SPT from last week
LEO

Last week - 15.631 LP
Today - 20.212 LP
Earned - 4.581 LP
Need to try stack more LEO Before Project Blank happens!
SPS

I am gaining around 2.8 SPS daily from my DEC holdings, hopefully hit the 300 mark within the next 10 days.
THANK YOU FOR READING!
Posted Using LeoFinance Beta
---