This is how Web3 will be Regulated:
---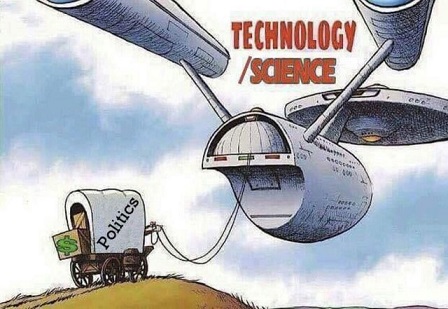 I got massively triggered yesterday when I came across an article titled:
Why is this triggering?
Because it just constantly reinforces the fact that even the millionaires and billionaires involved in crypto don't understand what's going on here.
What is a16z?
Venture capital firm Andreessen Horowitz.
They have a lot of stake in Maker last I checked, so they have a big vote when it comes to MakerDAO governance. MakerDAO is the governing body of creating DAI using crypto collateral on Ethereum. This is likely a big reason why USDC was permitted to be used as collateral for minting DAI (a huge mistake because USDC is centralized and is regulated by bankers)
In any case, a16z (just noticed their are 16 letters between the a and the z... nerds) is a venture capital fund with a lot of stake in crypto, and they are going to give the government tips on how to regulate WEB3.
The problem with this?
Web3 is essentially defined by self-regulation. A16A clearly sees themselves of part of this equation. They are not. What is actually going on here is WEB2 pretending to be WEB3 and asking for regulatory clarity from the government because it's obviously centralized tech. Decentralized tech can't be regulated.
Let's looks at some quotes, shall we? (don't read these)
Andreessen Horowitz (a16z) plans to meet with leaders in Washington to lay out its vision for how the U.S. should regulate crypto and the next iteration of the Internet, popularly known as Web3.
Nothing statement
The firm believes that U.S regulators and policymakers should take advantage of the tools Web3 provides to build an Internet that is better at "unlocking opportunity, securing data, and solving critical challenges for society."
Nothing statement
The firm defines Web3 as a suite of technologies that "encompasses digital assets, decentralized finance, blockchains, tokens, and DAOs," and believes realizing its potential depends on smart policy.
Nothing statement
In the agenda released Wednesday, a16z suggests Web3 technologies can restore trust in institutions and expand access to opportunity but require a forward-thinking approach from policy leaders.
Nothing statement
"Good regulation establishes a framework for how innovation can benefit society while managing the real risks that might otherwise harm consumers. It's time to define that vision. It's time to build a better Internet."
Nothing statement
"There are likely few areas that will be more consequential in determining the long-term success of a country in the 21st century than the quality of its digital infrastructure. And in the United States right now, we're not only losing this race, but it's unclear that many of our policymakers even recognize that there's a competition underway."
Nothing statement
Over the last few years, Andreessen Horowitz has positioned itself at the forefront of the digital assets revolution, investing millions into projects that have become household names, including the play-to-earn game Axie Infinity, the NFT marketplace OpenSea, and the blockchain gaming development studio Dapper Labs. The firm has also expanded its crypto-focused team, hired ex-CFTC officer Brian Quintenz as an advisory partner, and poached two key employees from Facebook's Novi wallet project.
"This is why you should listen to us."
Another nothing statement.
Notice what isn't talked about?
Anything related to how they are going to "regulate Web3". Seriously, such morons. It's like listening to a filibuster on the Senate floor wasting hours of everyone's time talking about nothing. That is exactly what it is: a complete waste of time blowing hot air running in circles.
On a certain level I have to wonder if these corporate vipers know exactly what they are doing and are simply stalling the government long enough to the point where it doesn't matter anymore. Corporate interest will just keep shining government on until real decentralization takes over.
Unfortunately in my heart I know this is not the case. Venture Capital firms could never understand what's going on here, and they only see this entire movement as a money making ploy who's purpose is to go x1000 in the biggest score of their lives. Their only interest in regulatory clarity is to shore up their defenses and make sure their own money is protected. They couldn't care less about "customer protections" or "paying taxes". They are corporate; this is 100% about the money. THEIR MONEY!
Conclusion
This is how Web3 will be Regulated: It won't.
Regulation is about control, and the communities themselves control the DAOs. The smart-contracts are unbreakable and regulate themselves. The people are in control of their own governance and that thought obviously terrifies the regulators and politicians. Get over it dinosaurs; you're done, son. Keep filibustering while the rest of us build. See what happens.
Posted Using LeoFinance Beta
---