2023: HIVE Power Up Day (PUD) and Community Engagement [EN/FR]
---
It is my first post in 2023 and also a small step towards my monthly goals fulfillment program (MGFP), I'll talk about MGFP later since this post is all about being on HIVE networking and being of some value to the HIVE community.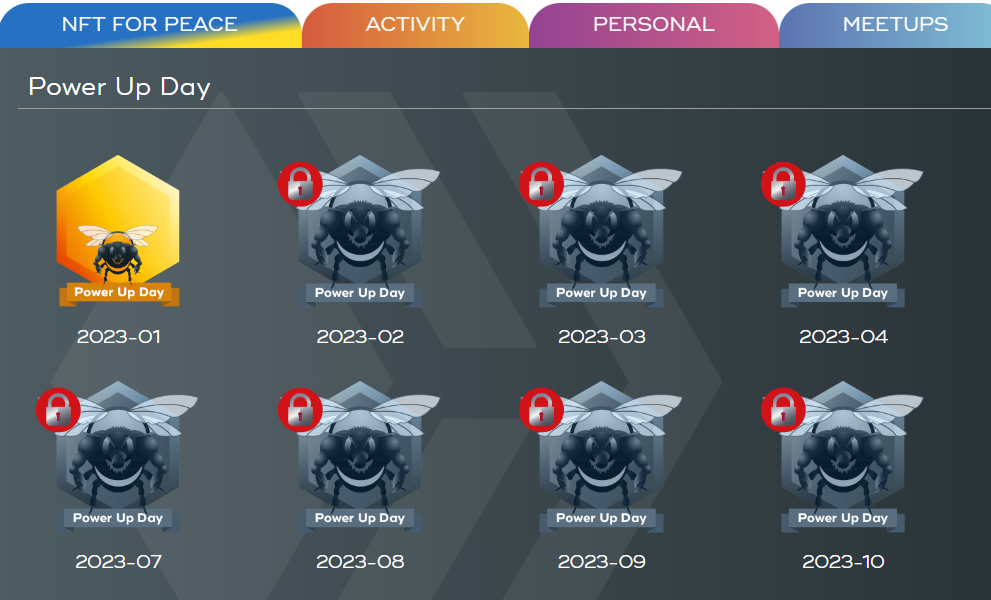 HIVE ENGINE provides a scalable network that opens 1000s of paths for users and developers to enjoy its benefits without worrying about transaction fees and other tolls, no other network offers such openness as HIVE does.
As users we are enjoying HIVE perks and getting benefits out of its reward pool and also enjoy profiting from other 2nd layer tokens. The HIVE network is all about community and those who provide value back to this community are praised for their dedication and engagement.
Hive Buzz is a project that focuses on various engagement exercises for Hiveans. Its dedicated team has created simple tasks to promote an interactive HIVE experience. Users who complete tasks receive a Hive Buzz Badge as a recognition of their time and efforts put into engaging on the HIVE network.
Regular users also receive monetary benefits in form of upvotes and curation rewards. These rewards come from the HiveBuzz team and other HIVE members. When users receive upvotes, they also increase their reputation levels. Reputation level reflects a user's dedication across the community.
If you like to be known and earn better rewards from the community, it is vital for you to engage and provide value back to the community. You can write informative original content, make interesting videos, start a layer-II project for games & other beneficial activities, be of assistance to HIVE development team, or do anything that makes this community stronger. There are so many ways you can support the HIVE community and create great value.
Powering up HIVE is one of the easiest activities that one can do every month by adding 10 or more HIVE into stacking. Every month many users take part in this initiative and earn cool badges.
HIVE Power Up Day is celebrated on 1 of every month, if you like to participate just add some liquid HIVE into stacking and that's all. You'll receive a comment from @HiveBuzz informing you about your successful participation in PUD.

Message in Comment Section from HiveBuzz About Receiving PUD Badge
These badges show a Power-Bee, size of the power-bee depends on HIVE stacked by you, the bigger the stack bigger the power-bee.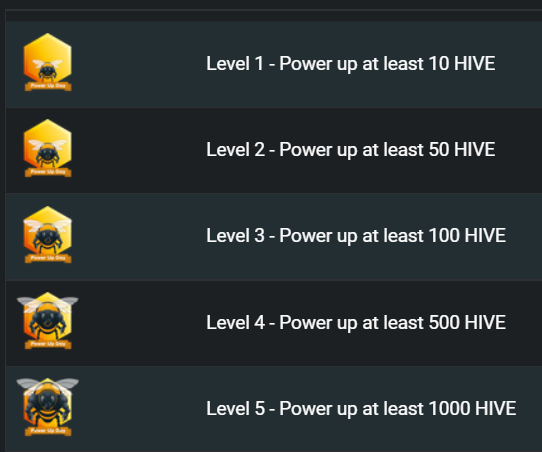 PUD Levels and size of Power-Bee Badge. Source: https://peakd.com/hivebuzz/@hivebuzz/pud-202301
When you receive a badge it appears in https://hivebuzz.me/@yourhiveid, replace 'yourhiveid' with your HIVE name.

A PUD badge received appears in https://hivebuzz.me/@yourhiveid
@HiveBuzz also sends a message on 2nd day of the month informing you about your PUD achievement and assigned badge.

Hive Buzz adds a comment in your recent active post about your new PUD badge
If you have published a post on the HIVE network, HiveBuzz will inform you about the badge by adding a comment to it and showing the PUD badge.
To engage in this PUD activity, all you need is 10 or more HIVE in liquid form, then use any wallet service to stack those HIVE as HIVEPOWER (HP), that's it. Do this activity every 1st day of the month and enjoy a new badge each month.
More HP means more rewards, when you vote on a post both you and the author receive around 50% share from the reward pool. So, keep doing this interactive activity every month and support the HIVE community.
Version Français
C'est mon premier post en 2023 et aussi un petit pas vers mon programme d'atteinte des objectifs mensuels (MGFP), je parlerai du MGFP plus tard car cet article concerne le réseautage HIVE et sa valeur pour la communauté HIVE.
HIVE ENGINE fournit un réseau évolutif qui ouvre 1000 chemins pour que les utilisateurs et les développeurs puissent profiter de ses avantages sans se soucier des frais de transaction et autres péages, aucun autre réseau n'offre une telle ouverture que HIVE.
En tant qu'utilisateurs, nous profitons des avantages HIVE et tirons des avantages de son pool de récompenses et profitons également d'autres jetons de 2e couche. Le réseau HIVE est axé sur la communauté et ceux qui apportent de la valeur à cette communauté sont félicités pour leur dévouement et leur engagement.
Hive Buzz est un projet qui se concentre sur divers exercices d'engagement pour les Hives. Son équipe dévouée a créé des tâches simples pour promouvoir une expérience HIVE interactive. Les utilisateurs qui accomplissent des tâches reçoivent un badge Hive Buzz en reconnaissance de leur temps et de leurs efforts consacrés à l'engagement sur le réseau HIVE.
Les utilisateurs réguliers reçoivent également des avantages monétaires sous forme de votes positifs et de récompenses de curation. Ces récompenses proviennent de l'équipe HiveBuzz et d'autres membres de HIVE. Lorsque les utilisateurs reçoivent des votes positifs, ils augmentent également leur niveau de réputation. Le niveau de réputation reflète le dévouement d'un utilisateur au sein de la communauté.
Si vous aimez être connu et gagner de meilleures récompenses de la communauté, il est essentiel pour vous de vous engager et de fournir de la valeur à la communauté. Vous pouvez écrire du contenu original informatif, faire des vidéos intéressantes, démarrer un projet de couche II pour des jeux et d'autres activités bénéfiques, aider l'équipe de développement HIVE ou faire tout ce qui rend cette communauté plus forte. Il y a tellement de façons de soutenir la communauté HIVE et de créer une grande valeur.
** Alimenter HIVE ** est l'une des activités les plus faciles que l'on puisse faire chaque mois en ajoutant 10 HIVE ou plus dans l'empilement. Chaque mois, de nombreux utilisateurs participent à cette initiative et gagnent des badges sympas.
HIVE Power Up Day est célébré 1 de chaque mois, si vous aimez participer, ajoutez simplement du HIVE liquide dans l'empilage et c'est tout. Vous recevrez un commentaire de @HiveBuzz vous informant de votre participation réussie au PUD.

Message dans la section des commentaires de HiveBuzz sur la réception du badge PUD
Ces badges montrent un Power-Bee, la taille de l'abeille de pouvoir dépend du HIVE empilé par vous, plus la pile est grande, plus la puissance abeille est grande.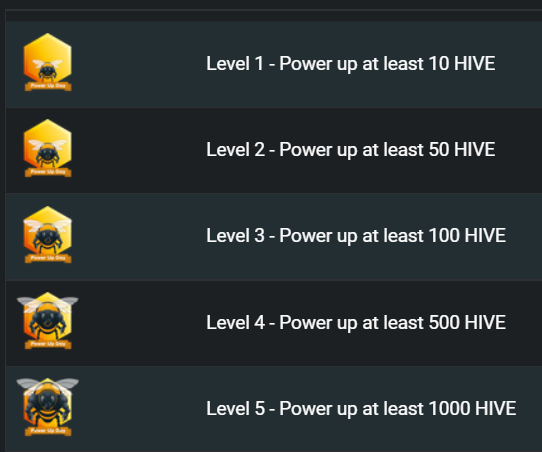 Niveaux PUD et taille du badge Power-Bee. Source: https://peakd.com/hivebuzz/@hivebuzz/pud-202301
Lorsque vous recevez un badge, il apparaît dans https://hivebuzz.me/@yourhiveid, remplacez 'yourhiveid' par votre nom HIVE.

Un badge PUD reçu apparaît dans https://hivebuzz.me/@yourhiveid
@HiveBuzz envoie également un message le 2ème jour du mois pour vous informer de votre réussite PUD et du badge attribué.

Hive Buzz ajoute un commentaire dans votre récent post actif concernant votre nouveau badge PUD
Si vous avez publié un message sur le réseau HIVE, HiveBuzz vous informera du badge en y ajoutant un commentaire et en affichant le badge PUD.
Pour vous engager dans cette activité PUD, tout ce dont vous avez besoin est 10 HIVE ou plus sous forme liquide, puis utilisez n'importe quel service de portefeuille pour empiler ces HIVE comme HIVEPOWER (HP), c'est tout. Faites cette activité tous les 1er jours du mois et profitez d'un nouveau badge chaque mois.
Plus de HP signifie plus de récompenses, lorsque vous votez sur un message, vous et l'auteur recevez environ 50% de part du pool de récompenses. Alors, continuez à faire cette activité interactive tous les mois et soutenez la communauté HIVE.
Author: emaxisonline
Image: Poster made with Canva.com, hivebuzz.me, and Logo taken from LeoFinance.io
Translated with Bing.
Posted Using LeoFinance Beta
---