Happy new month to everyone, am new here and today I am very happy to be accepted into this wonderful community. Today, I want to talk about the basic potentials to succeed in your life and any business you want to do or start.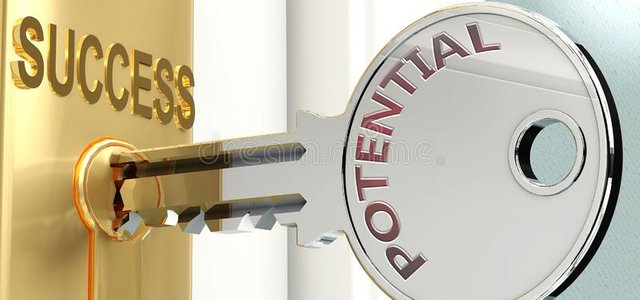 image source
In today's life, many people do not seat down to think and follow steps that will guide them to succeed in whatever the one to do, all they know is that the first thing the need is Money.
Of course money is necessary in whatever anyone wants to do to succeed but they are things that do come before money is involved.
And there are as follows;
Time: this is the first and most vital thing anyone needs to succeed in whatever he/she does. Someone may be surprised and ask why is time the first. Time is money don't forget, and it is also life and that is why you must know how you squander your time so as to give account for your life.
Now take a look at a business man who do not have time for his business, do you think that business will grow?
Ideas: as a person that is about to start a business, you must have ideas about what you are about to do. So as to know the dos and don'ts of the business you are about to venture into.
Skills: this is a necessity, being skillful in your line of business also draw people's attention to your line of business. So get skilled to be a boss in that business you are venturing into. Remember as the birds needs wings to fly, you also need skills to succeed as well.
Opportunity: always be on the watch for any given opportunity to advertise yourself and what your business is all about. Every opportunity you have make good use of it so as to improve the value of profit you get as well.
Money this is the part many people were waiting for, yes money is needed for any business growth, but the question is how is this money implemented? Maybe in your business, you may be seeing profitable returns but what do you use it for, is it to hang out with friends or you use it to improve your business and also invest for the future, these are things we should look at to make our business grow.
Vision Target something, invest towards it and also be patient with it don't think you can not succeed I that small scale business. My dear don't be confuse you can make if you do the things listed here.
Acquire Knowledge In all you do always be updated in that business, what others are doing to make their business grow. Don't forget you can also gain knowledge from the scriptures as well. Do research on people doing the same business as you, also ask questions and for sure you will have direction to your goals.
Once again I want to say a big thank you to God and the administrators of this great community for their warm welcome and acceptance for me to be a member of this great community.
I want to appreciate the members as well for their understanding and their efforts to keep this community moving forward, once again thank you all and have a lovely day.
Thanks for stopping by, Good day.
Posted Using LeoFinance Beta