Quick Guide to Cryptocurrency for New Users
---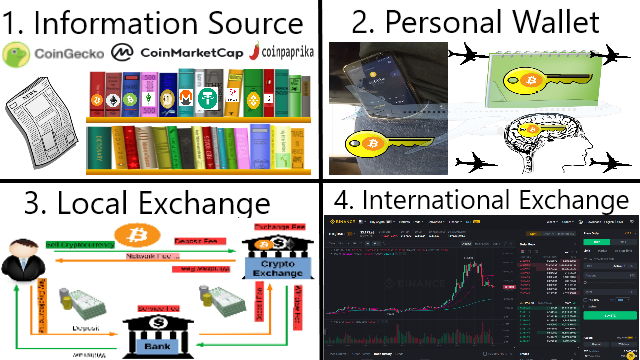 The first time I explained about cryptocurrency, I explained in details which can cover a whole book. Unfortunately, the feed back I got was that most people do not want to hear my long story initially but want a quick guide of how to participate in the space where only after that some maybe interested in knowing more. Therefore in this article, I covered the minimum necessities to start using cryptocurrency which should not take more than an hour to practice.
1. Cryptocurrency Information Sources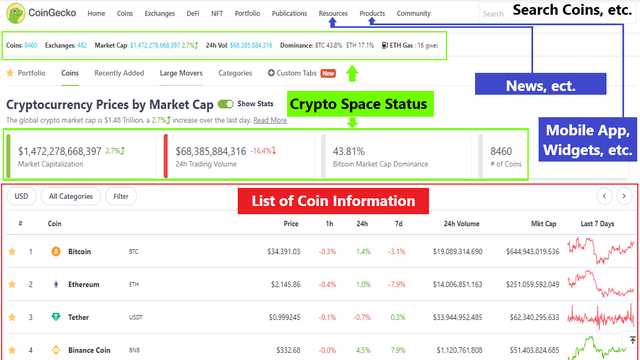 People who only heard about Bitcoin and cryptocurrencies probably only knew them from TV news, social medias, and rumors from their circles. Not knowing where to get the details about certain coins is probably the first wall that procastinates people from entering the space. Good thing today there are many cryptocurrency information sources and databases. My favourite is Coingecko but there are ohers out there such as Coin Market Cap and Coin Paprika that provides:
Status of the whole cryptocurrency market.
Crypto related news.
The price histories of many coins.
Details about each coins.
Portfolio tracker.
For new users, I recommend to click this link to try Coingecko and download the app to your smartphone.
2. Cryptocurrency Wallet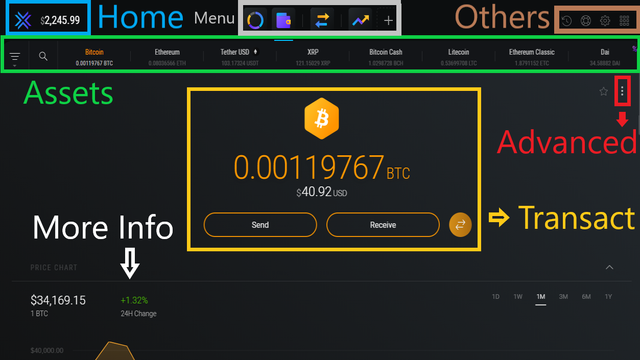 After getting information sources to know about the cryptocurrency space, to truly enter the space we need a cryptocurrency wallet. For new users on computer desktops I recommend Exodus multiple cryptocurrency wallet, Atomic Wallet for staking coins, and Metamask browser extension to enter decentralized finance (DeFi). A personal wallet is used for:
Send and receive and access your coins.
Full ownership of your coins by keeping your private keys and seed phrases yourself.
Open your transactions to the public for transparent coins.
Staking coins.
Enter the DeFi space.
No registration, no verification, just download, install, and use.
For new users, I recommend to click this link to install Trust Wallet only on smartphone to send and receive multiple cryptocurrencies, staking, and entering the DeFi space.
3. Cryptocurrency Local Exchange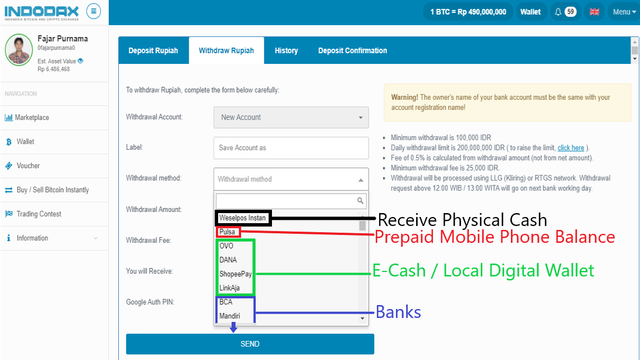 The fact remains that cryptocurrency have not been adopted everywhere and the users needs to cash out to the current financial system to buy goods and services or the new users who wants a quick way to buy cryptocurrencies, all of that can be done through local cryptocurrency exchanges:
To deposit cash and buy cryptocurrencies.
To sell cryptocurrencies and withdraw cash.
To perform trading.
While I was in Japan, I recommend using BTCBOX, and in Indonesia I recommend using the first and most popular exchange Indodax and an emerging exchange that have more DeFi chains withdrawal Tokocrypto. However, I lack knowledge of local cryptocurrency exchanges in each countries and therefore help me by leaving a comment of the local cryptocurrency exchanges you preferred in your country.
4. Cryptocurrency International Exchange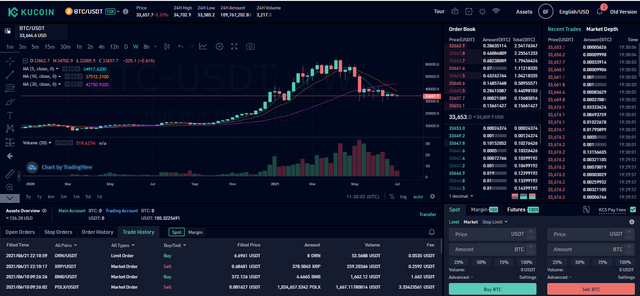 After owning our first coins, we can participate in the open cryptocurrency space, and one of them is to invest or trade more coins in an international exchange and my preference nowadays are Binance and Kucoin because they are the most popular and do not require know your customer (KYC) verification for small transactions and withdrawals if I remember correctly is under $1000.
Buy crypto from your local exchange and deposit them into an international exchange to start using.
A huge list of coins are available on international exchanges.
Higher liquidity because there are more users from all over the world.
More financial products, other than trading there are futures trading, earning interest, crypto credit cards, and participate in promos.
If you are very literate in information communication technology (ICT) like many Millennials and Generation Z today, then you probably do not need the further details. Like myself, I just need what application to install and I will explore myself. However, for those who are not ICT literate like the older generations, I will prepare the details in separate articles. I originally wanted to stack them here, but 40 images is just too much. Serious learners will probably be pleased but most people will probably be overwhelmed which is not a good marketing for crypto. Therefore, stay tune as this article will updated with hyperlinks to the detailed guide. Since most people today preferred to use smartphone, I will cover all of the detail guides screenshots in smartphone. Even my parents, uncles, and aunts are trading stocks and cryptocurrencies today, all because the applications are available on their mobile device where if the applications are only on desktop, they probably would have been too lazy to try.
Panduan Singkat Mata Uang Kripto untuk Pengguna Baru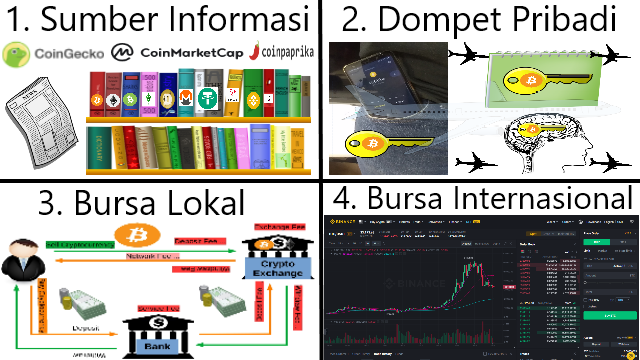 Pertama kali saya menjelaskan tentang mata uang kripto, saya menjelaskan secara rinci yang dapat mencakup seluruh buku. Sayangnya, komentar yang saya dapatkan adalah kebanyakan orang tidak ingin mendengar cerita panjang saya tetapi menginginkan panduan singkat tentang bagaimana caranya masuk ke dalam mata uang kripto dimana setelah itulah mereka bisa tertarik untuk mengetahui lebih banyak lagi. Oleh karena itu dalam tulisan ini, saya membahas kebutuhan minimum untuk memulai di mata uang kripto yang tidak akan memakan waktu lebih dari satu jam.
1. Sumber Informasi Mata Uang Kripto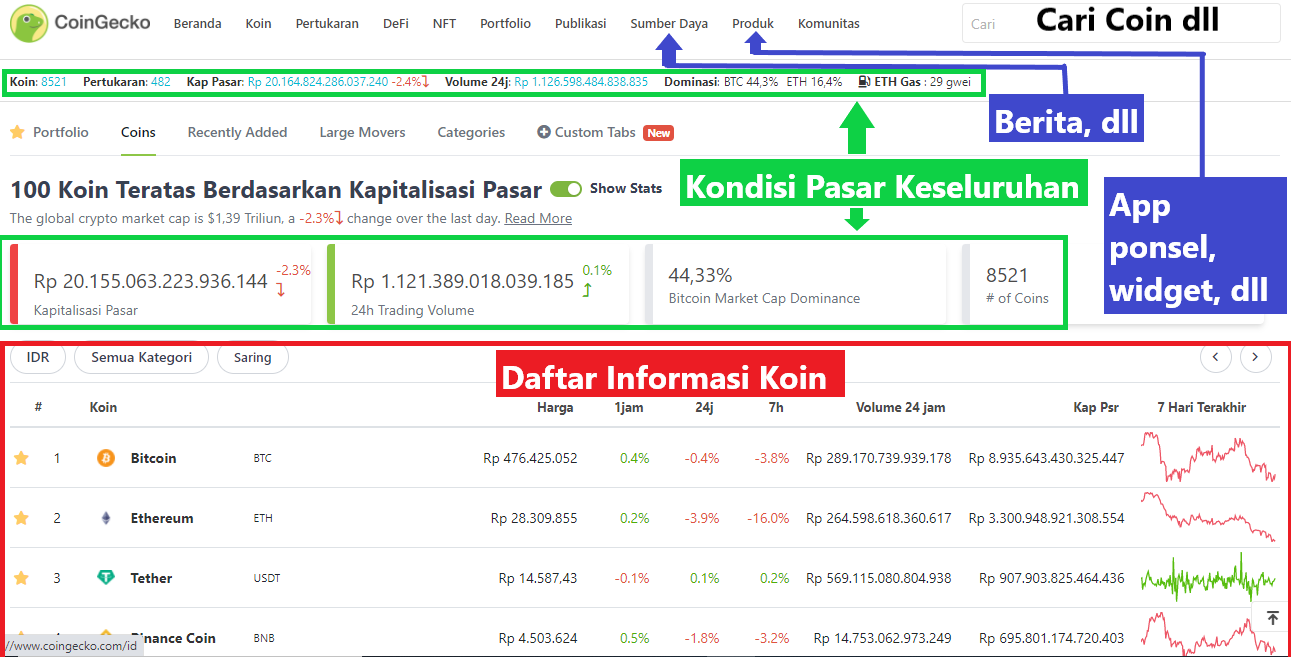 Orang yang baru mendengar tentang Bitcoin dan mata uang kripto mungkin hanya mengetahuinya dari berita TV, media sosial, dan rumor dari lingkaran mereka. Bisa jadi karena tidak tahu di mana mendapatkan informasi merupakan tembok pertama yang membuat orang malas untuk terjun ke mata uang kripto. Untung hari ini ada banyak sumber informasi dan basis data mata uang kripto. Yang paling sering saya gunakan adalah Coingecko tetapi ada juga yang lain seperti Coin Market Cap dan Coin Paprika yang menyediakan:
Keadaan seluruh pasar mata uang kripto.
Berita terkait kripto.
Riwayat harga banyak koin.
Detil tentang setiap koin.
Pelacak portofolio.
Untuk pengguna baru, saya sarankan untuk mengeklik tautan ini untuk mencoba Coingecko dan mengunduh aplikasi ke ponsel cerdas Anda.
2. Dompet Mata Uang Kripto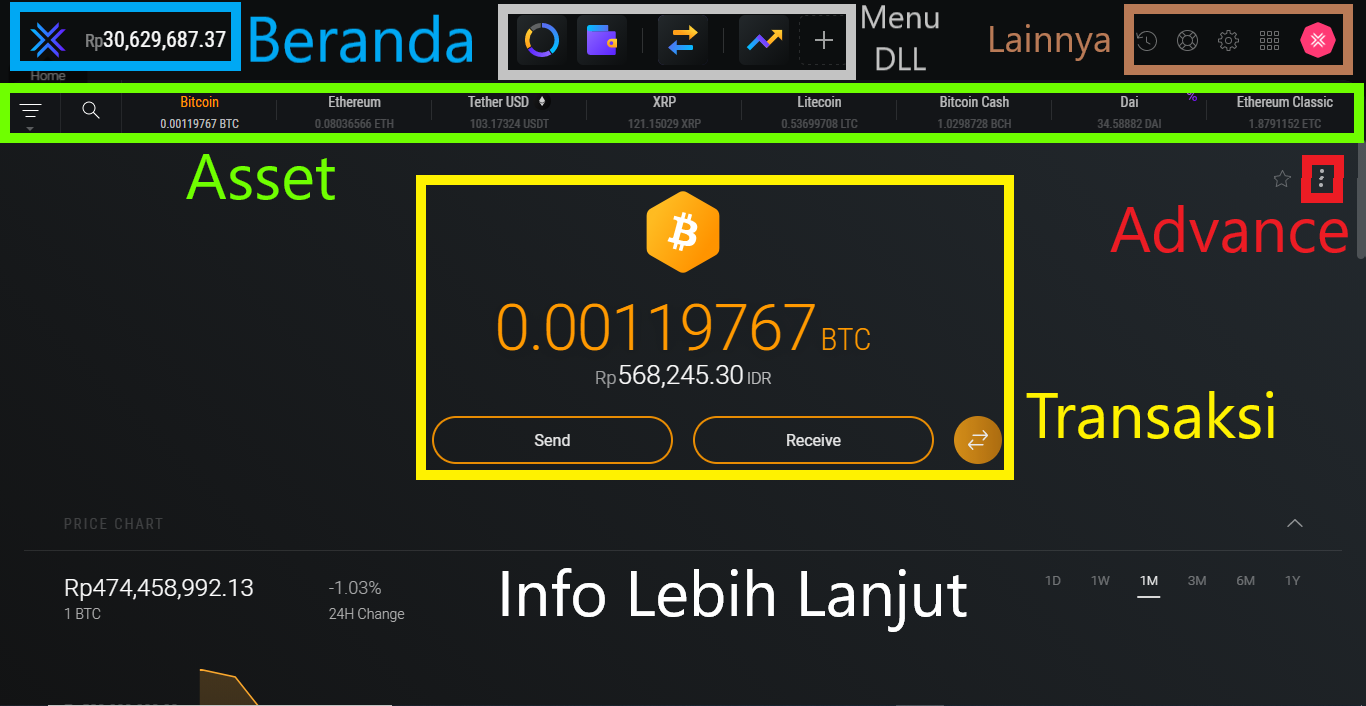 Setelah mendapatkan sumber informasi untuk mengetahui tentang ruang mata uang kripto, untuk benar-benar memasuki ruang tersebut kita membutuhkan dompet mata uang kripto. Untuk pengguna baru di desktop komputer, saya merekomendasikan Exodus yang mendukung banyak jenis koin, [Atomic Wallet](https://atomicwallet.io/join?kid =17KP6Z) untuk staking koin, dan ekstensi browser Metamask untuk memasuki keuangan terdesentralisasi (decentralized finance atau DeFi). Dompet pribadi digunakan untuk:
Mengirim dan menerima serta mengakses koin kita.
Kepemilikan penuh atas koin kita dengan menyimpan sendiri kunci pribadi dan frase awal.
Membuka transaksi ke publik demi transparansi.
Staking koin.
Masuk ke ruang DeFi.
Tanpa registrasi, tanpa verifikasi, cukup unduh, instal, dan gunakan.
Untuk pengguna baru, saya sarankan untuk mengklik tautan ini untuk menginstal Trust Wallet hanya di ponsel cerdas untuk mengirim dan menerima beberapa mata uang kripto, staking, dan memasuki ruang DeFi.
3. Bursa Lokal Mata Uang Kripto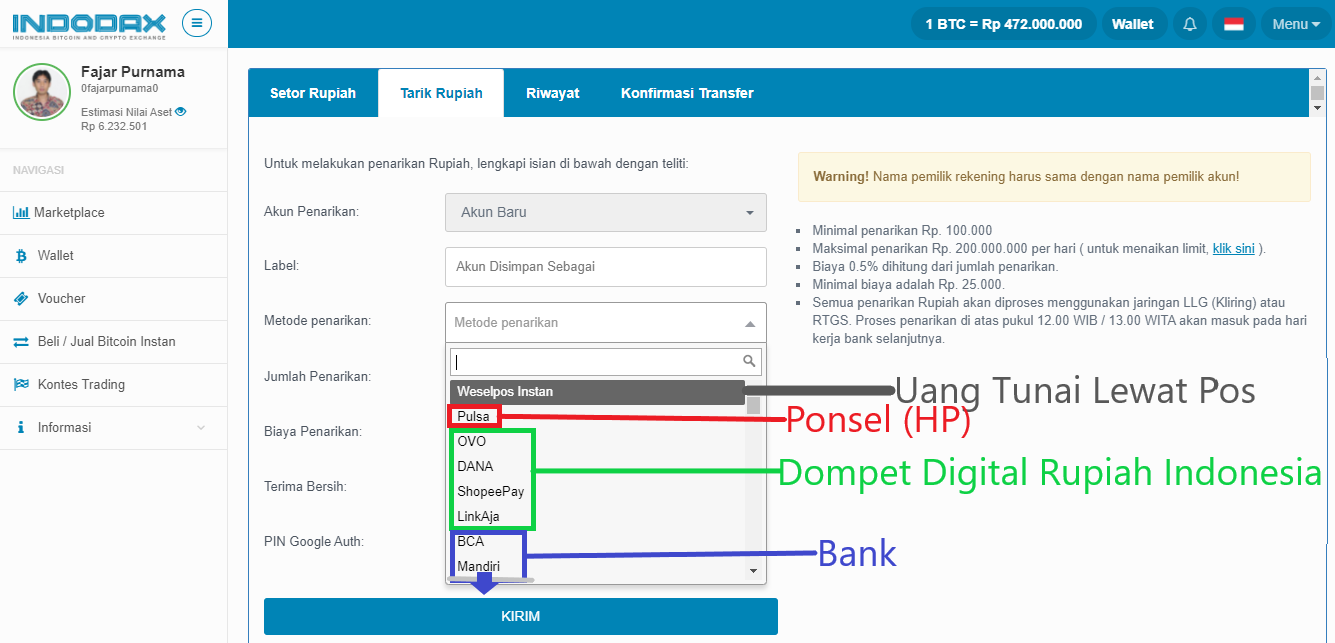 Faktanya tetap bahwa mata uang kripto belum diadopsi di mana-mana dan pengguna perlu mencairkan ke uang tunai untuk membeli barang dan jasa. Selain itu, untuk pengguna baru yang menginginkan cara cepat untuk membeli mata uang kripto:
Untuk menyetor uang tunai dan membeli mata uang kripto.
Untuk menjual mata uang kripto dan menarik uang tunai.
Untuk melakukan perdagangan.
Di Indonesia saya sarankan untuk menggunakan bursa pertama dan terpopuler yaitu Indodax dan bursa baru yang memiliki penarikan ke banyak rantai DeFi yaitu Tokocrypto. Untuk cara penggunaan Indodax, silahkan buka BAB 3 dari buku saya yang berjudul mata uang kripto 101 untuk pengguna.
4. Bursa Internasional Mata Uang Kripto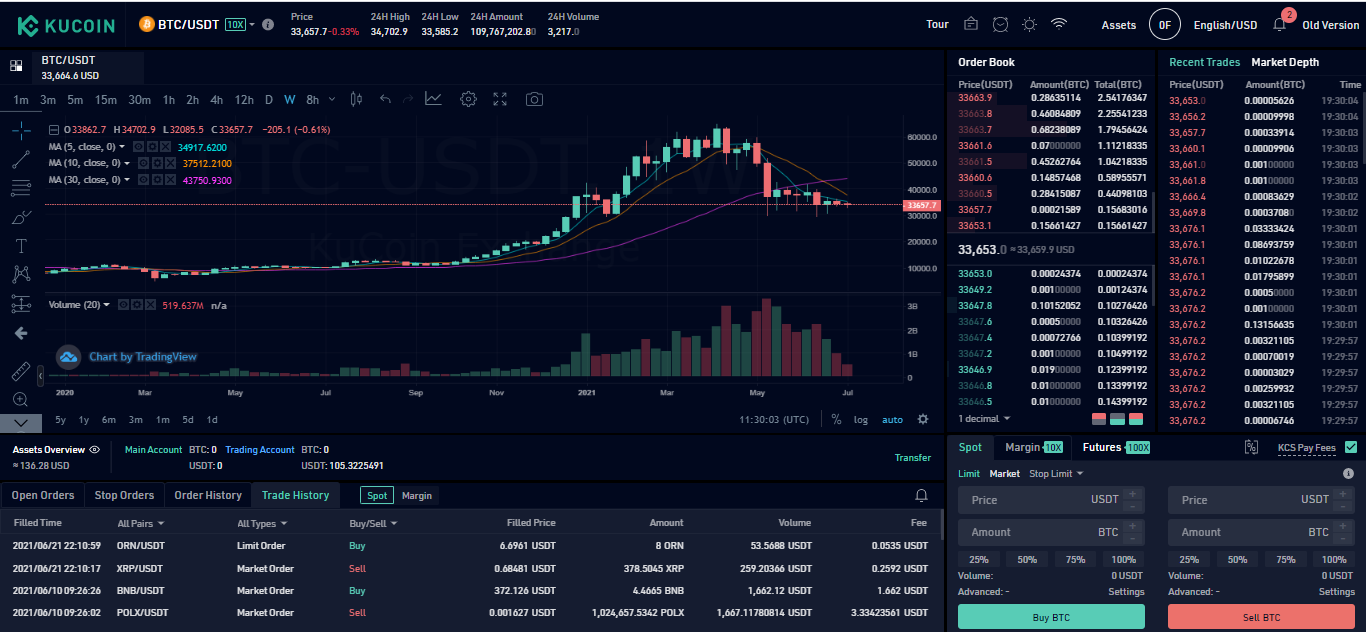 Setelah memiliki koin pertama, dapat berpartisipasi dalam ruang mata uang kripto terbuka, dan salah satunya adalah menginvestasikan atau memperdagangkan lebih banyak koin di bursa internasional dan pilihan saya saat ini adalah [Binance](https://accounts.binance.cc/ en/register?ref=36878461) dan Kucoin karena mereka adalah yang paling populer di dunia dan tidak memerlukan verifikasi identitas (know your customer atau KYC) untuk transaksi kecil dan penarikan seingat saya di bawah $1000.
Beli mata uang kripto dari bursa lokal dan kirim mata uang kriptonya ke bursa internasional untuk memulai.
Banyak koin tersedia di bursa internasional.
Likuiditas lebih tinggi karena ada lebih banyak pengguna yaitu dari seluruh dunia.
Lebih banyak produk keuangan, selain perdagangan ada perdagangan berjangka, mendapatkan bunga, kartu kredit kripto, dan berpartisipasi dalam promo.
Jika Anda sangat melek teknologi komunikasi informasi (TIK) seperti banyak Milenial dan Generasi Z saat ini, maka Anda mungkin tidak memerlukan detil lebih lanjut. Saya hanya perlu mengetahui aplikasi apa saja yang perlu di instal dan saya akan menjelajahinya sendiri. Namun bagi yang belum melek TIK seperti generasi tua, akan saya siapkan detilnya di artikel terpisah. Saya awalnya ingin menumpuknya di sini, tetapi 40 gambar terlalu banyak. Pelajar yang serius mungkin akan senang tetapi kebanyakan orang mungkin akan kewalahan dimana hal tersebut bukan merupakan pemasaran yang baik untuk kripto. Oleh karena itu, pantau terus karena artikel ini akan diperbarui dengan hyperlink ke panduan terperinci. Karena kebanyakan orang saat ini lebih suka menggunakan smartphone, saya akan menyediakan screenshot-screenshot smartphone. Bahkan orang tua, paman, dan bibi saya berdagang saham dan mata uang kripto karena aplikasi tersedia di perangkat seluler mereka di mana jika aplikasi hanya di desktop, mereka mungkin akan malas untuk mencoba.
Mirrors
---