Final sportbetting results: Jupiler Pro League
---
On Sunday the last games of the season 2020-2021 where played. Club Brugge was crowned champion but Genk did come close, very close. Ending the season with the same amount of points after the Play Offs but due to the fact that Brugge did win the regular season, they are the overall winners.
It wasn't an easy season. Full of strange results and it did show how much impact supporters can have on a game. The home advantage did just vaporize!
Results
I am only counting the results of the bets I did place on Copytip. I just did stop betting on other bookies.
In total I did place 52 bets on the games from the Jupiler Pro League. Not a lot, but I did start betting again early Feb. So more than a decent amount of bets.
25 of those bets were winners, 3 did end up in a push and 24 were lost bets. The great thing is that the average odds where very healthy above 2, with 2.017.
This all did result into a small loss of 8.91 euro. The win rate has to increase next season, no doubt about it.
My biggest win streak was 6 winning bets in a row. The longest non winning streak was luckily only 3.
My biggest loosing bet was a 20 euro bet. Way above my base stake. But hell yeah I would play this bet again without blinking my eyes. Genk always should have won this bet. But should, could and must have are one of the most used words when a punter is looking back at his bets!
If I do look at the strategy of the Jupiler Pro League, it does record a small profit. This is due to a fact that a loosing bet for the Serie A was mistakenly recorded in the JPL Strategy, while on the other side some bets on the JPL were place at the Football Money Maker Strategy.
So for next season I will start a new strategy for the Jupiler Pro League.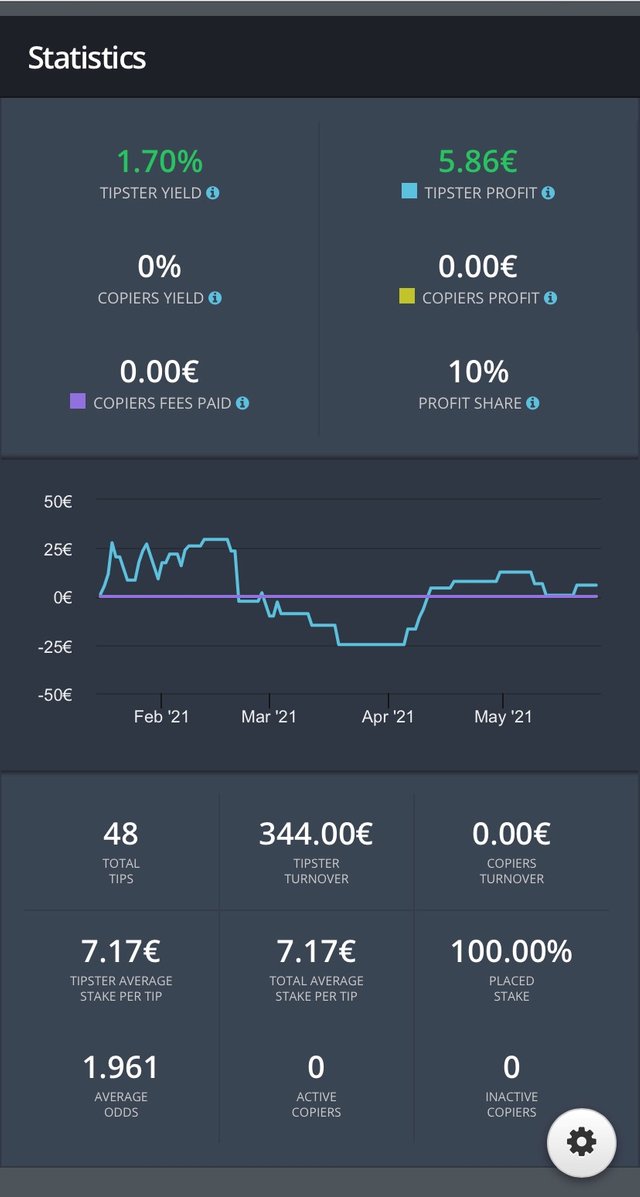 More important than the profit or loss are the fact that I did learn a lot and that I did enjoy myself!
So up to next season!
Cheers,
Peter
Posted Using LeoFinance Beta
---