Splinterlands:: License Reward Claim - How much $SPS & $VOUCHER - I get via License Node?
---
Hey All,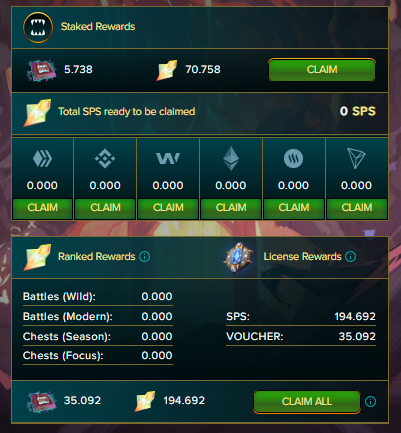 Finally, I got to claim my rewards for HOLDing a License node. Earlier, we used to get only VOUCHER tokens that used to credited every 24 hours. But now we also get $SPS which is the governance token of the game Splinterlands and that too in the staked form. Which means when you claim your License rewards - $SPS is staked and $VOUCHER is immediately available either you can enter any $VOUCHER pool or use it for buying packs, swap with with other tokens etc.
So how many License Nodes do I HOLD? Not many just 1 as seen from the following image. I was a bit unfortunate not able to buy during the first round i.e. the PRESALE round. Not regretting it that much and was lucky to buy in the License Node in Tranche 1 round.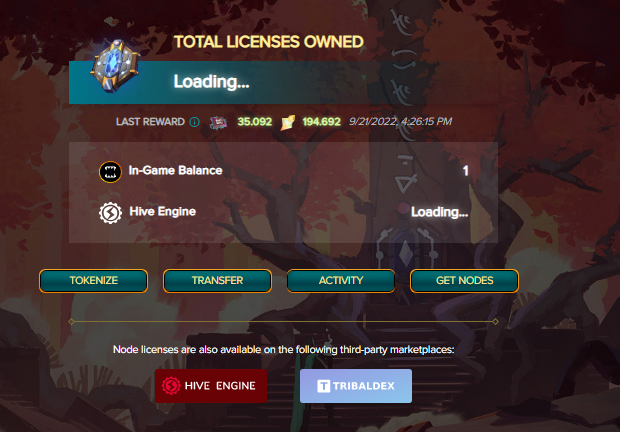 Right now, we are into the Tranche 2 round where currently there are 4997 nodes up for sale. And buying a node without $VOUCHER will cost you somewhere around $5K.
There will be 60,000 licenses available in total, and as each phase sells out, the next phase licenses will be available at the increased price point.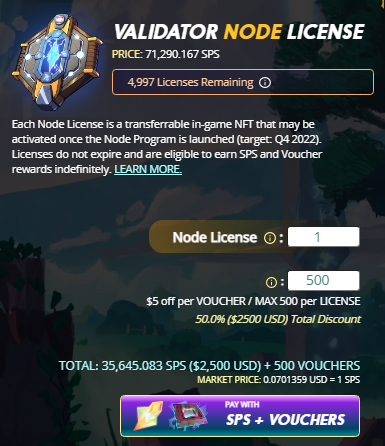 But whereas if you have $VOUCHER tokens you can a get 50% discount and the price of the node will cut down to half that is $2.5K plus the $VOUCHER token price incase you don't have them in your wallet. In my case, I been accumulating most of $VOUCHER tokens that I was getting for $SPS staked. So this put me in a good position to buy immediately, when the Tranche 1 round was open. At that point in time, the $SPS - VALIDATOR NODE LICENSE overall costed me $1.5K. Not considering the $VOUCHER price coz. all the 500 $VOUCHER tokens that I leverages was due to my $SPS staking rewards. Let me be more honest here, also the $SPS that I invested in buying the License Node came via the $SPS staking rewards. :-)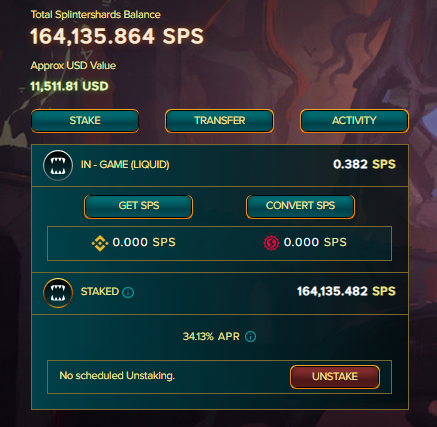 But not saying that I didn't invest in anything and was able to buy the License Node all for FREE.I had been accumulating $SPS and staking them all. There were opportunities, where I had bought $SPS in bulk and then again staked them all. Here is the current status of my staked $SPS; growing slowly and steadily - targeting 200K+ $SPS staked. At current, pace and the $SPS rewards that I am getting via all the sources - I am staking 100+ $SPS daily; that like $7+ being invested into $SPS daily; considering the current price of $SPS which is $0.07+ cents.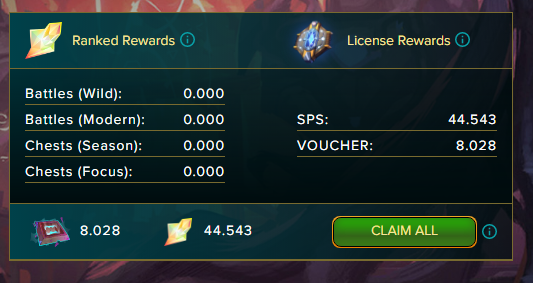 Lets now look into my daily License Reward The above picture demonstrates two days of rewards in the form of $SPS and $VOUCHER. Divided by two this would be like 22+ $SPS and 4+ $VOUCHER daily.
22+ $SPS = [22 * 0.07] = $1.5+
4+ $VOUCHER = [4 * 0.50] = $2+
Total $SPS & $VOUCHER revenue = $3.5+
Therefore at current price of $SPS & $VOUCHER, I am making close to $3.5+ daily with 1 License Node rounding it up it will be close to $4 being made daily.. Not that bad isn't it? I am over happy with the investment that I made in buying the License Node and the rewards that I am getting daily. The plan is to compound the earning and redirect into the different $SPS and $VOUCHER pools. Currently, I have provided LP in $SPS - $BNB and $SWAP.HIVE - $VOUCHER pools.
Both the pools are giving APR of above 80%, which is pretty decent. I am approximately getting close to 150 $SPS as LP rewards. These rewards further gets added to the main individual $SPS staking pool; where the APR is above 34% as of writing this article. This almost concludes my article for today, and in a nutshell $4+ is the income that am receiving daily for owning 1 VALIDATOR NODE LICENSE. Right now I don't have plans to buy any other node and will be looking about to buying in some Tower Defense or maybe even Riftwatchers pack. Just waiting up my rental income in the form of DEC to accumulate to a point where I can at least target 100 packs or so to get some bonus packs. :-)
#splinterlands #voucher #staking #cards #sps #riftwatchers #packs #sale
Image Courtesy:: splinterlands

Posted Using LeoFinance Beta
---