HIVE - A PLACE THAT FEELS LIKE HOME
---
---
OVERVIEW
---
Getting to know a platform like Hive has been one of the greatest gifts I've received ever. I have always thought of so many things that I would like to have while I live my life and coming to see almost all of it in one place is just so amazing for me. I got to know about Hive through my sister and I was motivated to be a part to it because of all the beautiful testimonies she has to say about Hive. I was feeling left out on something and that had pushed me ask more questions about Hive and how I can become a part of it.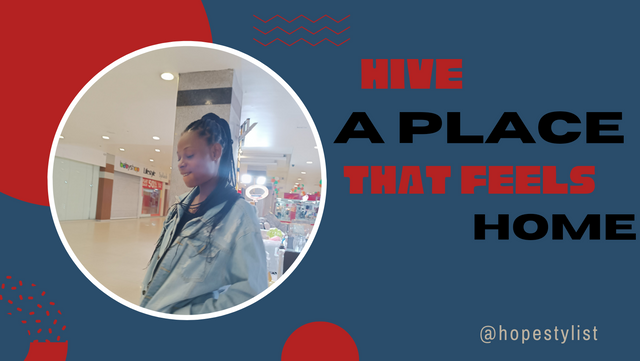 Image designed using canva
When I finally became a part of Hive, I was a little bit confused and curious as well, my sister had told me to make a post to introduce myself and I was not so sure of how I should go about it, so she asked me to go look how others did theirs and I did that and I figured how to go about mine. After I made my introduction post, I was reluctant to write for almost a month because I was still not sure how to navigate around here. By the second month of my joining Hive, I started reading more contents from different users and I began learning how to grow in this space, trust me when I say it wasn't easy but it was so much fun because a lot of things got a lot clearer with time.
I met a lot of good content creators and I didn't hesitate in pushing the follow button so I don't miss a post from them whenever they make one. I also got the opportunity to learn a lot from the newbies initiative that I was opportune to be a part of. I learnt the importance of posting original content and the consequences of plagiarizing as well. I also learned of the benefits of engagement here on Hive as it helps us become visible to more users on the platform. I also learned a few things about markdowns and stylings to make my blogs look presentable and all these and many more I did not mention has made me discover a very good part of myself and has also helped me grow here on Hive.


From all I have been saying, you will understand that there are so many things this writer have come to love about this platform (Hive) and today I want to let you in on five things out of many that I love about Hive.

---
Hive has been the best place I've gained so - 4authors on Hive, has helped me know so much about different places, people, beliefs, cultures, nature and the world at large. I have come to know how beautiful the world outside my space is and it has helped me to always think outside my niche.
Before joining Hive, I never for once thought I would be able to write an article on my own but now I feel like I can write about anything as long as I put my mind to it. Hive has made me realize that I was more smart than I thought I was. While I was still in school, I never for once got a complete score in any subject and that made me feel like I was not brilliant at all and you know, I had already accepted things like that but being a part of Hive now, I realize that I can be anything I want if I just put in the effort.
Hive as a platform was made possible by some people who we refer to as DEVS (developers). Everyday on Hive, we see how the platform keeps improving in different ways and it's just so incredibly awesome to see how these people put so much effort to making our beloved Hive a beautiful place to be. I so much love how the developers never seize to come up with more creative ideas to make Hive conducive for everyone in it. It's a shame I know just a little about developers but I do know that if it was not for their beautiful ideas and creative ideas, Hive won't be as it is today.
The Strictness When It Comes To Plagiarism
In my overview, I mentioned plagiarism and some of you already know what it means while some might still be unsure of what it truly means. Meaning of plagiarism in my own words





Plagiarism simply means using something that does not belong to you without seeking for the owners consent or without recognizing them as the true owner of such things.




Here on Hive, we have been made to know that it is a great sin to be caught plagiarizing and it has a very grave consequences on your reputation. Before joining Hive, my sister has always stressed on the importance of always being creative in writing and to always avoid plagiarizing no matter what and I have always been happy about it because that meant I have to be really creative all by myself and I also have to be a really good thinker as well.
The fact that Hive frowns greatly at plagiarism has made a lot of its users very creative when creating their content and I so much love that about Hive. I've seen other platforms where they cared very little whether or not the content is plagiarized and I've noticed it has made such writers so reliant on the knowledge of others that they don't dare to do things on their own without getting help from somewhere. Here on Hive you find so many people that are super creative and that is because they have put in the work thereby depending more on what they know and they build on it.
The Availability Of Communities
Just as Hive frowns against plagiarism, it has made it easy for anyone to be creative because of the different communities that are available. Having these different communities here, it helps its users to relate well with the platform and it also makes everyone feel free to share their thoughts and ideas with others on the platform. Also the fact that Hive has different communities available has helped communication really easy and fun, I don't have to read everything I see, I can simply just go to the community of my choice and engage with them and in that way I learn from them and vice versa.


Being here for about eight months now, I've come to understand that the more my followers grew the more I learned more about the platform and my followers keeps growing because of how well I've been engaging with the platform and it's amazing users. There are four things that brings joy to me, a good up vote on my post, a comment from someone, a reply from someone and finally, getting a follower. The more I stay here on the platform, the more I create a stronger bond with it. The people I've come to know here on Hive has made it feel so much like home and without them I'm not sure I will still be this active here because they are everything to me, I mean, YOU ARE EVERYTHING TO ME. I cannot imagine Hive without you, it's going to feel so void and lonely, I know how receiving a comment, a reply and an up vote from you makes me feel so happy and special and I just so much love Hive for giving me this privilege to know YOU.
---
FINAL WORDS
---
There are a lot more things I love about Hive but I just want to share these few things with you and I want you to know that you are in the right place when you are with Hive and if you are not, you are so damn missing out from a lot trust me. Just imagine that all of the above things I've mentioned above are just a few things of what Hive truly is. When you are with Hive, you learn, you earn and you grow, how incredible!! What more do we really need? Yes I know we do need other things but it is a good thing we can find three in one.





Well, I will leave you to give an answer to that but most especially, I want to sincerely appreciate your patience for reading up till now, please don't hesitate to leave your comments and up votes if you find it useful.




Thank you so much for visiting my blog, I really appreciate your presence here 🙏🙏.
---
Posted Using LeoFinance Beta
---