XPOLYCUB is a thing of beauty.
---
So, prior to today, I didn't really get it. The whole POLYCUB, XPOLYCUB thing didn't really make much sense in my head. I've never used farms that had this concept before, and it just didn't really click in my head how it actually would work.
But now I get it.
And it is magical.

XPOLYCUB for dummies.
The display interface for XPOLYCUB does not really show how good it is, yet. @khaleelkazi says there are plans to improve the UI, but for now it takes a little math to see what is going on.
Long story short...
People stake funds into farms and kingdoms.
They earn yield.
They claim rewards.
If they want rewards NOW, it is taxed 50%.
That tax goes to XPOLYCUB.
In around 8 hours, since the Polycub platform went live, XPOLYCUB has gained over 60% in value. In the early days, it is worthwhile for the farmers in farms and kingdoms to pay the 50% tax to unlock immediately, as the APR's on everything are so high. All these taxes go to increase the XPOLYCUB value.
Here is an example:
My personal airdrop to claim on day 1 was 5.88 POLYCUB.
I claimed it as soon as the site went live.
I staked it to POLYCUB pretty much immediately.
Pretty much got 1 for 1, or close to.
Lots of farmers started pooling and farming.
Lots of Polycub got taxed.
Now, 8 hours later, if we look at my XPOLYCUB, I still have 5.88. It has not changed at all, right?
WRONG.
On this screenshot, we see there is basically 90,000 POLYCUB total staked.


Then, when we check Polygonscan for the XPOLYCUB token we can see there is currently 54,000 XPOLYCUB. (Rough numbers, easier math)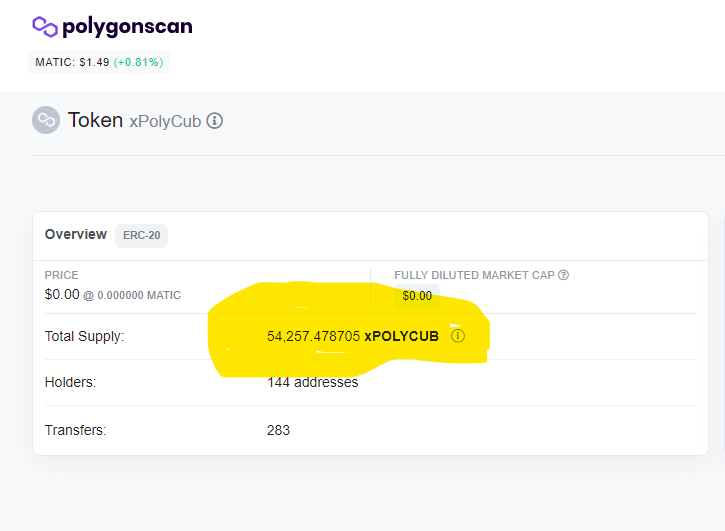 So from that, we can see that each XPOLYCUB is worth 1.66 POLYCUB. (90000/54000)
So that means that my 5.88 XPOLYCUB are now worth 9.76 "normal" POLYCUB.
So, this mechanism has yielded a 66% increase in less than half a day. Pretty incredible really.
Obviously, the rate of growth here will slow down over time, as farming yields find their more realistic levels and people get choosier about being taxed on their farming activities.
But, it is pretty clear that getting into XPOLYCUB as quickly and as biggly as you can will be a rewarding experience.
The ratio of POLYCUB to XPOLYCUB can never go down, it can only go up over time.
---
Genius. Congrats Khal on implementing this design. Now I need to find some more funds from somewhere to get more POLYCUB asap. Wasn't planning on buying much, but now I am.
Happy farming everyone.
JK.
Not financial advice, do your own research.
Posted Using LeoFinance Beta
---