#piratesunday: A break from the pirate business to have a Blessed Easter
---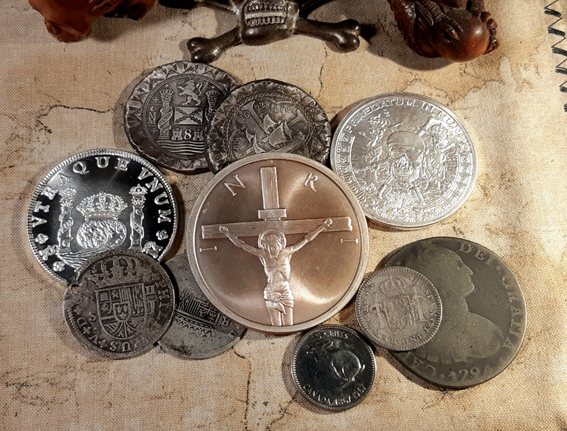 "Black birds tend to like shiny things. I'm a Pirate, not a scurvy Financial advisor." ~ The Bloody Raven
There is a change in my plans underway as I rummaged for a different piece of silver from my strong box for this week. A plan that is not of my own choosing but of circumstance and the odd challenge in my adopted faith. You see, I am not all dark. So, if God promises me a mansion in a shaded side of heaven, I'd probably be Gothic.
A recent Doctor's visit detected a cardiovascular abnormality; a significantly altered Blood pressure well outside my normal range that set off an OMG alarm bell while his response was along the lines of 'a-matter-of-fact' manner as to keep me calm and suggested a follow up appointment in August.
2015 2 Troy oz. Silver Shield's The Crucifixion The Passion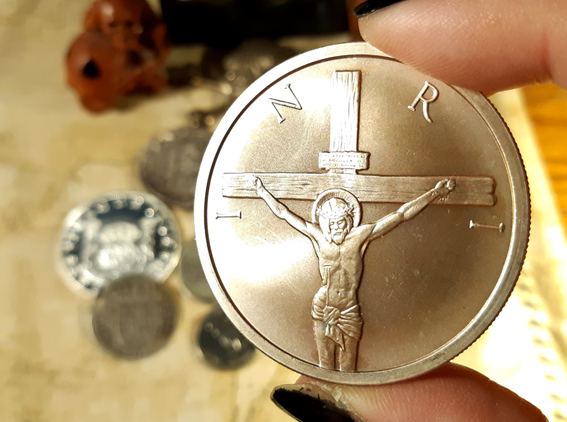 Reverse; Christ Crucified, Legend INRI
2 Troy oz. 0.999 Fine Silver
47mm Diameter, 4mm Thickness
INRI is an acronym of the Latin phrase IESVS·NAZARENVS·REX·IVDÆORVM (Jesus Nazarenus, rex Judæorum), which translates into English as "Jesus Nazarene, King of the Jews." This title appears in the New Testament in the Passion narrative of the Gospel of John (19:19)…. ~ New World Encyclopedia
Pilate had a notice prepared and fastened to the cross. It read: Jesus of Nazareth, the king of the Jews. Many of the Jews read this sign, for the place where Jesus was crucified was near the city, and the sign was written in Aramaic, Latin and Greek. The chief priests of the Jews protested to Pilate, "Do not write 'The King of the Jews,' but that this man claimed to be king of the Jews." Pilate answered, "What I have written, I have written." ~ The Gospel of John 19:19-22 NIV
Concerned, I spilled out a litany of other issues including weight gain and sleep problems. Being trained and practicing as a nurse does have its drawbacks is that my mind can go long and far of the possible variety of prognoses on the smallest shred of a symptom. A little knowledge can go too far.
2015 2 Troy oz. Silver Shield's The Crucifixion The Passion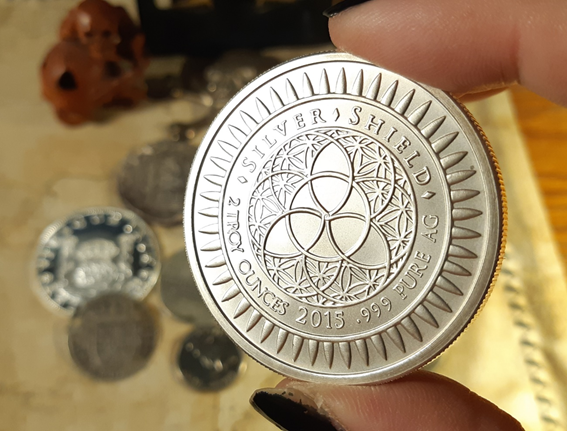 Obverse; 2014 Version of The Trivium
Legend; SILVER SHIELD, 2 TROY OUNCES, 2015, .999 PURE AG
Minted by; The Mulligan Mint
For God so loved the world that he gave his one and only Son, that whoever believes in him shall not perish but have eternal life. For God did not send his Son into the world to condemn the world, but to save the world through him. ~ John 3:16 -17 NIV
I have already assumed my workaholic lifestyle will have to come to an end. It was difficult to meet my family's financial goals over the last ten years but with sheer determination, good timing with a full time Nursing job along with two cash jobs on the side. (And good babysitting) My Hive.blog just happened to be my third. Things would be easier with a gainfully employed and supportive spouse, but I can only play with the cards I'm dealt with.
I can guess that the acquisition of the family car was good timing since I felt changes in my general health had slowed down from the wear and tear of working extended hours beyond my limits for so long. Feeling more aches and pains than I usually do and finding more and more white hairs. It is time to ease off the gas pedal and start declining the Overtime and two of the side jobs. And get back on my Kona mountain bike or maybe even do that Actifit thing but I need exercise.
For those into the Easter Bunny
1967 Canada 5 cents 100th Anniversary of Canada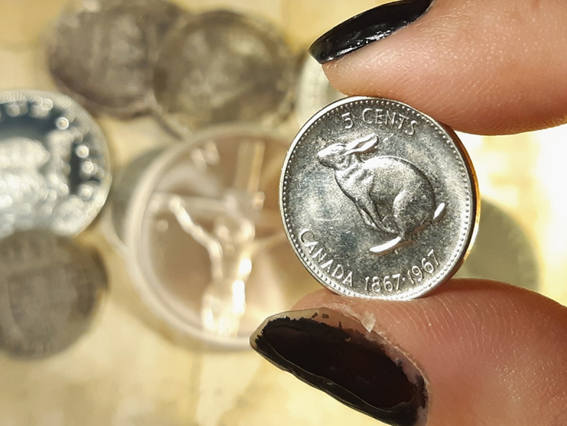 Reverse; Hopping Rabbit
Legend; 5 CENTS, CANADA 1867-1967
4.54 g, Nickel
21mm Diameter, 1.7mm Thickness
Mintage of 38,876,574
Reference KM# 66, Schön# 68
And finally, to get back on track with my devotional time with my Lord and Savior on a more consistent basis. My Pastor was right, the Provincial government-imposed mandate of prolonged closing of the Church causes harm to the spiritual bonds of the fellowship while Social Houses and Bars are fully open for business. I suggested having Church service in a bar.
In his way he'd say, "The physiological issue with your heart isn't as important as the spiritual one." And it is no coincidence he chose my Doctor's appointment so close to Easter to drive this message home.
"Do not store up for yourselves treasures on earth, where moths and vermin destroy, and where thieves break in and steal. But store up for yourselves treasures in heaven, where moths and vermin do not destroy, and where thieves do not break in and steal. For where your treasure is, there your heart will be also. ~ Mathew 6:19-21
"Say what?"
He is Risen!
He is Risen Indeed! Come Lord Jesus!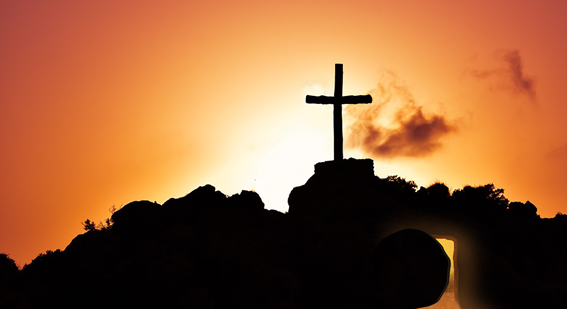 First Easter by Jeff Jacobs under Pixabay

Have a wonderful and blessed Easter Sunday
Thank yea fer coming aboard!


The #piratesunday tag is the scurvy scheme of Captain @stokjockey for #silvergoldstackers pirates to proudly showcase their shiny booty and plunder for all of Hive to see. Landlubbers arrrh…welcomed to participate and be a Pirate at heart so open yer treasure chests an' show us what booty yea got!
Sources
2021 1 Troy oz. Silver Shield's The Crucifixion
New World Encyclopedia : INRI
NIV – New International Version , Biblica The International Bible Society
References
1. My own pictures shot with a Samsung SM-A530W
P. Image under Pixabay
R. Clip art from 123RF
W. Wiki Commons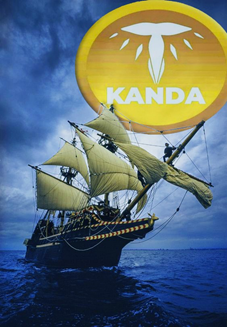 Educating Africans on the benefits of the Block chain
Join our Discord, https://discord.gg/cmbSM5B
"Et lux in tenebris to serve laboro, sum sicarius" "I work in the shadows to serve the Light, I am an Assassin"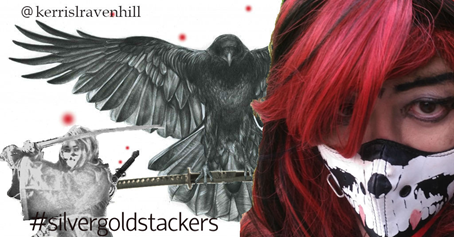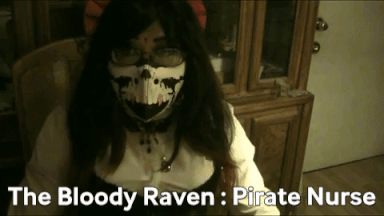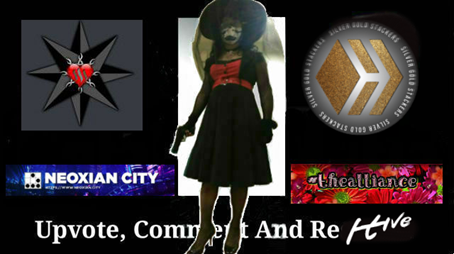 Posted Using LeoFinance Beta
---