RE: The Dogcoin Effect: Mail Call from HK Colonial coins and Nyssacat373
---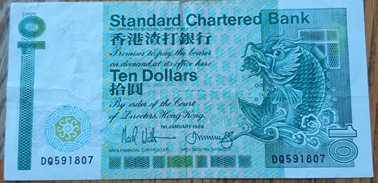 Yes Sis, this silver bar spoke to be in volumes. There were so many angles to this bar begging to me to buy it. I bought it with Litecoin than I have earlier converted from Dogecoin.
It's vintage, lovely cooling lines, made by an official licensed operation, a great story and history and meshes in with a branch my family nicely.
Tying it in with the Lee Cheong buttons was a NO BRAINER!
The timing was exceptional that I've run into this piece of Economic history. More to come from this talented dealer in HK! BTW, i've decorated the comments with more pictures.
Thanks for dropping in @elizabetbit

1989 Standard Chartered Bank $10
Posted Using LeoFinance Beta
---