THORStarter (XRUNE) - A New Addition to THORChain Worthy of Much Attention
---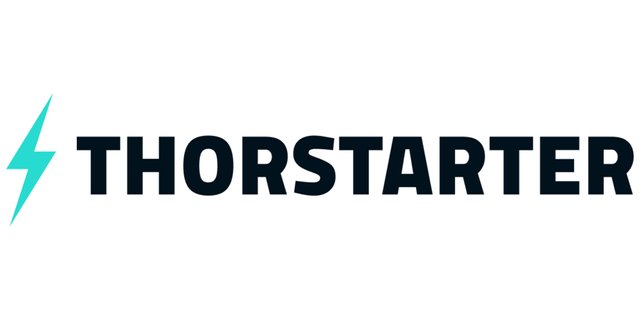 Photo Source
INTRODUCTION
Being a major RUNE fan, your author read with great interest a recent post by @khaleelkazi titled LeoAlpha: RUNE Up 60% From Our Last LeoAlpha Buy Signal. In his article, Khal mentioned several new projects to THORChain, and your author immediately dug in and began research to learn more about them. Well, the first one your author looked at was THORStarter and truth be told, it looks to be one hell of a novel and unique project with fabulous potential.
In this article, I will share with you my findings regarding this wonderful new project. In my humble opinion, this one looks to be a real deal winner delivering great price appreciation possibilities.
This article is published as a supplement to the THORChain Coin Guide and as a contribution to the Alpha Project - #LeoAlpha advanced by @khaleelkazi.
WHAT THE HELL IS THORSTARTER?
According to the THORStarter official documentation "Thorstarter is the first decentralized community-driven Venture DAO. By combining a unique launchpad model with liquidity grants we fund and launch the most promising projects across THORfi and DeFi." [Thorstarter. Welcome to Thorstarter. (Accessed October 24, 2021)].
To start with, Thorstarter is a decentralized launchpad created for the purpose of bringing cross-chain liquidity to the rescue of long tail cryptocurrency asset projects. A long tail crypto asset is defined as "crypto assets [which] are usually months, if not years in circulation, yet suffer from a low to non-existent trading volume". [NewsBTC. Moma Protocol Raises $2.25 Million To Focus on Long-Tail Assets In DeFi. (Accessed October 25, 2021)].
THORStarter accomplishes this task through the issuance of liquidity grants to early stage crypto projects and assisting the project launch by way of an IDO. As projects complete their IDO, THORStarter enables the project to pair their token with native THORChain pooled assets. XRUNE is paired with the project asset to provide cross chain exchanges using native RUNE-XRUNE on THORChain.
Procedurally, THORStarter operates in four basic steps:
Thorstarter community selects projects and vote using decentralized governance.
Selected projects are given a 1:1 liquidity grant to help grow.
Thorstarter pairs the liquidity grant with project tokens on both THORChain and external AMMs.
Using a unique approach to time locked vesting a portion of the LP position is split between both the project and the Thorstarter DAO.
[Thorstarter, supra.].
New projects should find this protocol quite attractive for several reasons:
Holders and traders of the project can obtain liquidity from other blockchains in native cryptocurrency (no need for synthetics or wrapping).
The new project gains a sizeable grant and investment from the THORStarter protocol.
There is support for the new project from the general communities and marketing divisions of both THORStarter and THORChain.
The new project is afforded a Liquidity Pool paired with the XRUNE token, a hyperliquid settlement token (just like the RUNE token).
A grant process governed by the DAO and signed off by a panel of nine members called the Council of Asgard is required for each new project. All new projects advanced by THORStarter will be evaluated by the Council of Asgard and if approved, the project will receive seed funds from an entity known as the THORStarter Ecosystem Liquidity Fund.
There will be a slow transition to a fully governing DAO within THORStarter. During this transition the Council of Asgard will function as the DAO, attracting, vetting, and approving IDO candidates. The first nine member panel will be chosen by THORStarter to provide an early council of experts to evaluate new projects through the transition. Thereafter, and as soon as the DAO becomes fully operational, quarterly votes on council members will take place.
XRUNE must be locked by THORStarter community members to entitle them to vote on any matters. Locking XRUNE for vXRUNE ensures that for participating in governance the vXRUNE holders are rewarded with a share of the protocol profit.
To be eligible to participate in any THORStarter funding campaign, the prospective investor must hold and utilize XRUNE tokens. The XRUNE token also provides extra rewards to holders who are active in the THORStarter community.
THORSTARTER (XRUNE) TOKENOMICS
XRUNE is currently available on the Ethereum mainnet with its contract address being:
0x69fa0fee221ad11012bab0fdb45d444d3d2ce71c.
Per CoinMarketCap, at the time of the writing of this subsection (October 25, 2021 at 11:00 EDT) there is a self reported circulating supply of 80,689,454.00 XRUNE. With the current price of $0.4288 the market capitalization of THORStarter (XRUNE) is $35,484,270. There is a total supply of 1,000,000,000 THORStarter (XRUNE) tokens authorized yielding a fully diluted market capitalization of $428,770,037. Presently, THORStarter (XRUNE) is ranked No. 2941 by CoinMarketCap.
Price history for this token is shown on the following graph: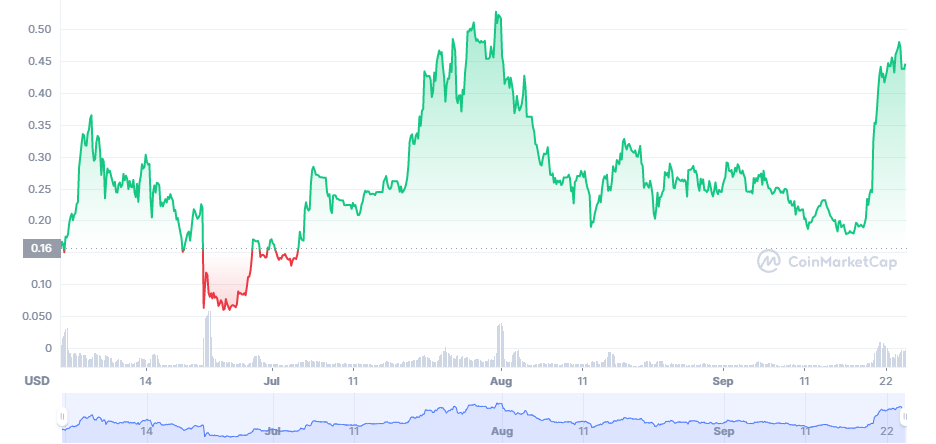 Photo Source
THORSTARTER (XRUNE) PRICE PREDICTIONS
WalletInvestor has issued a price prediction for THORStarter (XRUNE) through November, 2022 in graph form as follows: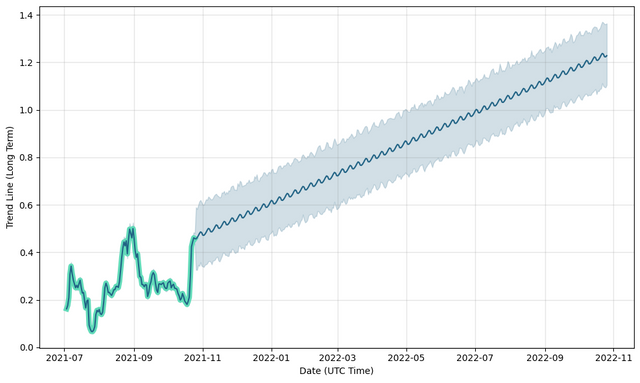 Photo Source
Digitalcoin has issued a very conservative price prediction in bar graph form for the years 2021 through 2028 as follows: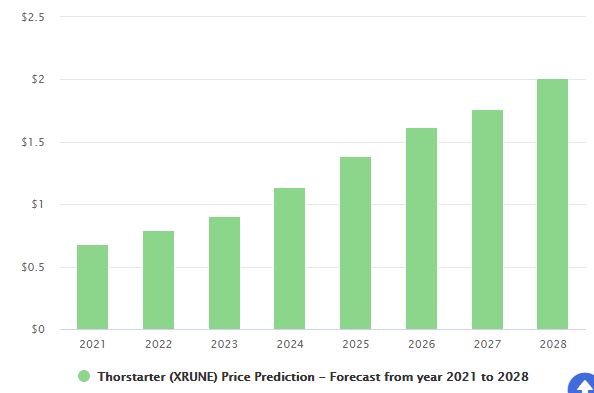 Photo Source
And Priceprediction has issued a report for the price of THORStarter in December, 2029 as follows: minimum price - $8.37; average price - $8.61; and, maximum price - $10.38.
Please keep in mind that while these price predictions paint a rosy future for THORStarter (XRUNE) as an investment, they are just that - predictions. No one has a crystal ball that can guarantee future performance. As such, as a potential investor, you may take the prediction for what it is, as the same is no guarantee of future price performance of THORStarter (XRUNE) due to the volatility of the cryptocurrency markets.
CONCLUSION
While this author is extremely bullish on both THORChain (RUNE) and THORStarter as an investment, it is left to you to decide whether or not, based on the foregoing, THORStarter (XRUNE) is an appropriate investment for you. One final tidbit, THORStarter's first IDO is set to commence on November 1, 2021. And the offering - THORSwap (THOR).
DISCLAIMER:
Your author holds a long position in THORChain (RUNE) and intends to take a long position in THORStarter (XRUNE) prior to November 1, 2021.
The content herein is presented for educational purposes only and should not be construed as investment advice. Any loss incurred as a result of investing in THORStarter (XRUNE) is yours and yours alone and may not be imputed to this author. Any foregone gain incurred as a result of not investing in THORStarter (XRUNE) is yours and yours alone and may not be imputed to this author.
Posted Using LeoFinance Beta
---