Working on Finishing the HIVE / USD Contract for Difference Functions and it's Community Bankroll Investing on Hive.Loans
---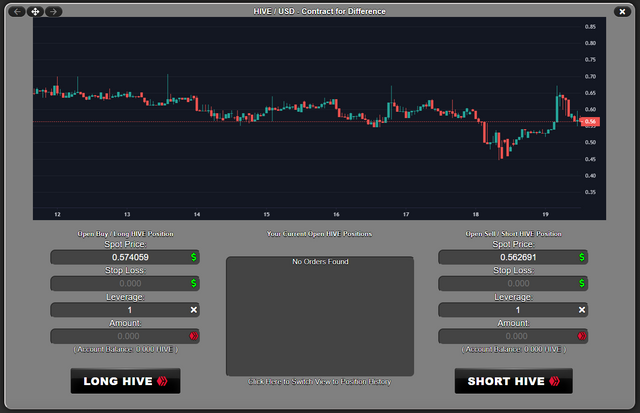 ( a little screenshot sneak peak at to what the browser version of the CFD platform GUI looks like )
Being a first to market innovator on HIVE has always been one of those things that have been a source of great pride in the development work done here on HIVE and on the previous chain.
There is just something friggin' neat about being the first person to put forward or launch a product or service that otherwise wouldn't have existed without the hours of focused work and dedication it takes to bring it into reality for the betterment of the community and to help drive HIVE demand.
While still in need of some serious testing and to see how well its logic scales when there are hundreds or thousands of active orders on the books, pretty damn proud to announce that HIVE / USD contract for difference (CFD) trading is coming to HIVE shortly offered as a bonus to the paradigm shifting HIVE liquidity lending using the first of it's kind "account as collateral" lending model. After finding the algorithms and formulas enabling the addition of this financial vehicle after some deep digging online to facilitate Hive.Loans users to create positions speculating on future HIVE / USD prices, I'm quite confident that the platform will be a great addition to the ecosystem.
Initially I'd not planned to allow for leveraged CFD trading to occur until later down the road but found that it's inclusion on the launch of this aspect of the upcoming Hive.Loans site would actually be beneficial overall as long as kept limited to a "sane" range of allowed multipliers which will initially be tested between 1x <-> 10x. With 1x being the default if the trader doesn't bother to specify.
Profit as it Should Be: Calculated By The Second
The community supplied bankroll and the current HIVE / USD price coupled with the total sum of unrealized profits/loses owed to the open positions created by the community will ultimately decide what sort of future positions and profits can be realized by traders, and with by the second price updates not only will the CFD trading be real-time, but also the prior statements about having to time lock positions will be discarded altogether, as it won't be required due to the inclusion of a spread on spot prices offered on the long and short positions. Effectively everything pertaining to the CFD trading ranging from position profits, stop loss checking, position liquidation and bankroll investors profits will be processed / calculated every second reflecting the price changes of the HIVE / USD pairing with the source of this by the second price update being the average of many exchanges.
Offering the HIVE Community a New Investment Vehicle
Bankroll investing will take place as an "open to all" community funded financial vehicle allowing you to park your HIVE in the bankroll against CFD traders in order to realize / earn profits from their position loses (or incur loses of invested HIVE capital from their position wins). Had briefly considered privatizing the bankroll, as it would be FAR less work to simply supply the bankroll from private funding however in the interest of creating more lucrative reasons to buy and hold HIVE it was decided that an open community architecture was worth the effort.
In order to prevent investors any ability to "rug pull" or otherwise invalidate or force close CFD traders positions investments in the bankroll will require a 7 day divest delay once triggered in order to withdrawal their invested HIVE. While an inconvenience at least and effectively the sort of thing I was trying to avoid as it sits this seems to be the only way to ensure that potentially malicious bankroll investors wouldn't be able to manipulate the platform in their favour to force orders closed.
A Note on the Upcoming Beta Testing Coming This Week
While initially there will be some caps on investment amounts and CFD position sizes put in place during public beta testing in order to prevent huge sums of HIVE capital from being injected into a system in need of hours and hours of testing, both features will ship with the v0.1.0 public beta releasing here hopefully within the next week. I've still got probably 100 hours work site wide to put into developing before Hive.Loans is ready to shift into a fully functional public beta testing phase, but the goal is still to release it before the start of this weekend. If this timeline shifts a bit for whatever reason I'll let the community know in a post.
The exchange side of things on Hive.Loans to facilitate the sale of HLSHARE is also coming together and prior to the beta testing launch will be announced in regards to initial offering.
My development work is currently unfunded, so if you have a spare witness vote or aren't yet supporting my latest proposal to fund this and the Hive Smart Chain solidity smart code side chain project that ramps up after this one goes live please consider giving your support. <3
Thanks for reading!
---



Looking for an Affordable, Secure & Reliable Server Host for Your Witness Server or Other Web Related Projects? Check out Privex.io!
Posted Using LeoFinance Beta
---