Staking NFTs for Passive Income Just Got Easier | WAXDAO Guide
---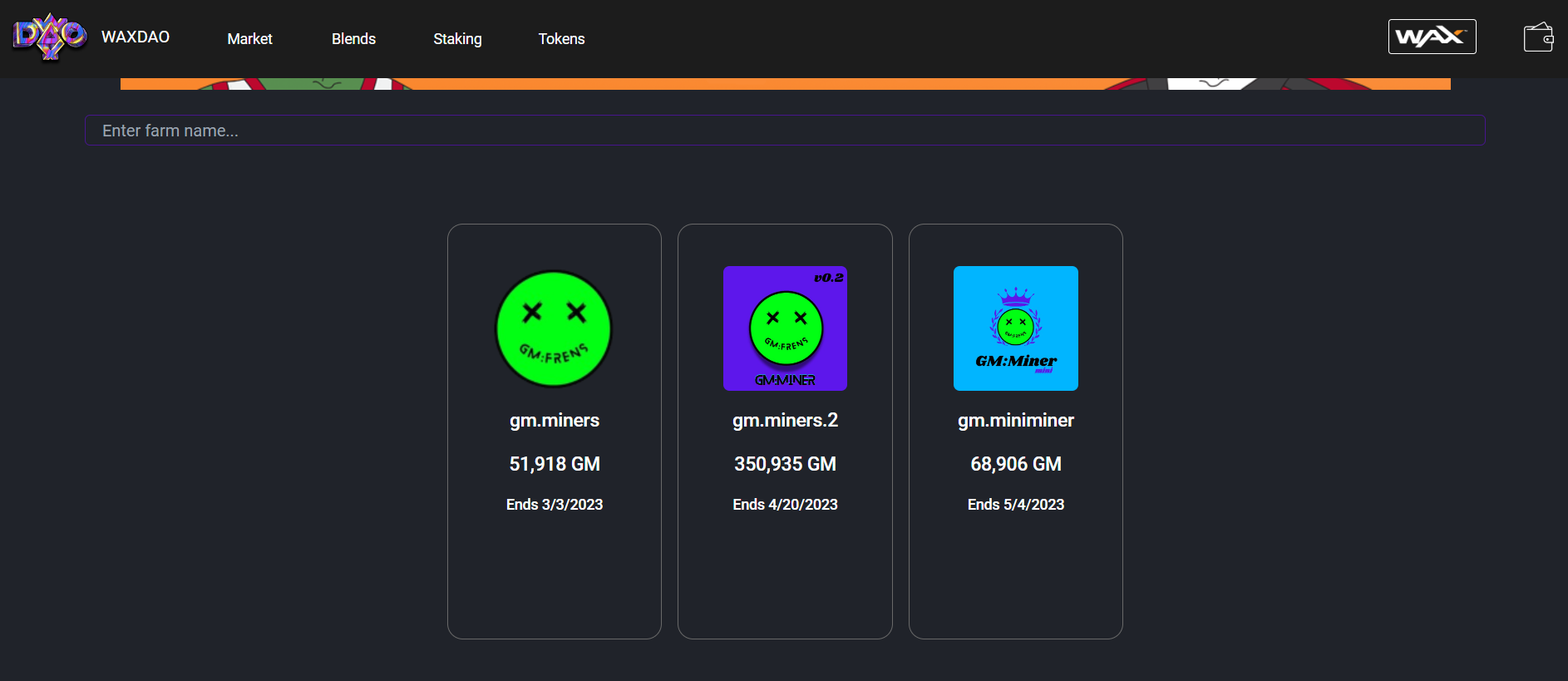 NFT Staking
You've probably heard plenty of times about staking tokens whether it be on DeFi platforms to earn yield or to get vote weight for voting on whatever platform. I'd bet that the majority of people that read this have never heard of NFT staking, though. It's not exactly a new concept, and we're not reinventing the wheel here either. If you're a WAX blockchain user like myself, you've probably heard of it a time or two. NFT staking can be used for all kinds of things, and my favorite one is to farm tokens. After all, farming is just honest work.
I happen to know a guy that may or may not be the Overlord of a project that is making great use of WAXDAO for this very thing. It's a project called GM:FRENS, and it's the first ever project Built on Threads with the goal of connecting users in a gamified way. It's on the verge of bringing together the WAX and Hive communities through GM tokens and NFTs. Quite revolutionary, if you ask me. Anyway, it just got a whole lot easier to manage your staked NFTs and claim rewards from those pools. The UI has gotten some improvements and will continue to get better, so definitely support our guy @mikedcrypto - the WAXDAO mastermind.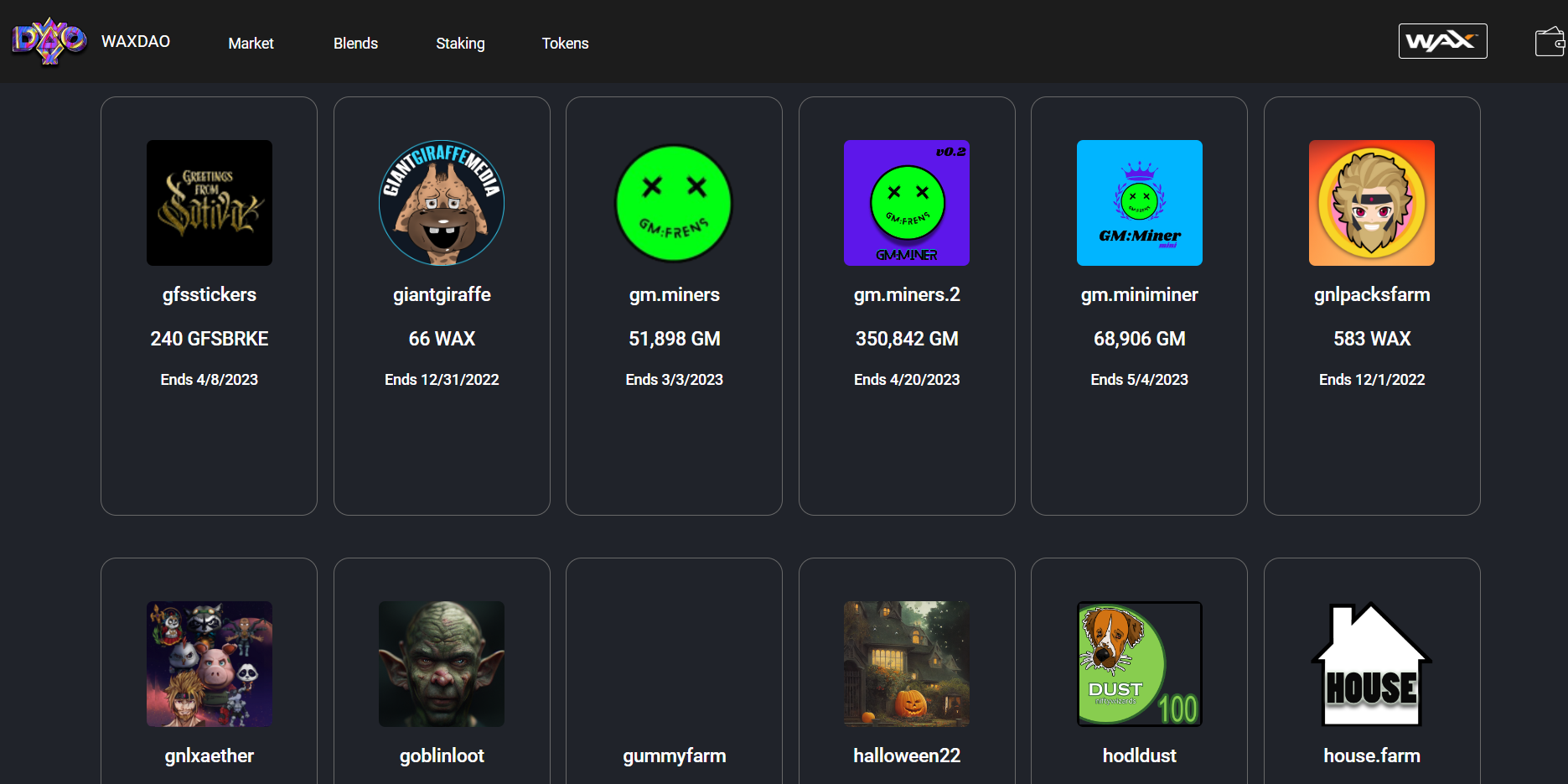 So - to get started, it's super easy. You'll need to take a look at the farms available on WAXDAO and pick one. Once you do that, you will need to acquire the appropriate NFTs to stake, whether that means by blending or buying on the market. There's a ton of different projects with different staking pools that reward stakers in all kinds of different tokens. You can see the amount of tokens and the symbol of the tokens in the reward pools for each one below the name of the farm. As you can see, some contain WAX, GM, LEEF, and a variety of other tokens.
Once you've decided on a farm that you want to stake your precious NFTs in, click on the farm and you'll be take to the farm page. The farm I chose for this guide is the gm.miniminer farm, which requires you to stake GM:FRENS NFTs that can only be acquired via blending GM:HALLOWXXN NFTs. This of course won't be the case with every single farm or collection, it's just the case with the best one. Once you've acquired your NFTs and you're ready to stake them in their corresponding farm, you're half way there!
Pro tip - if you are searching for multiple farms from a particular collection, you can visit their collections farm page, like this one, for example.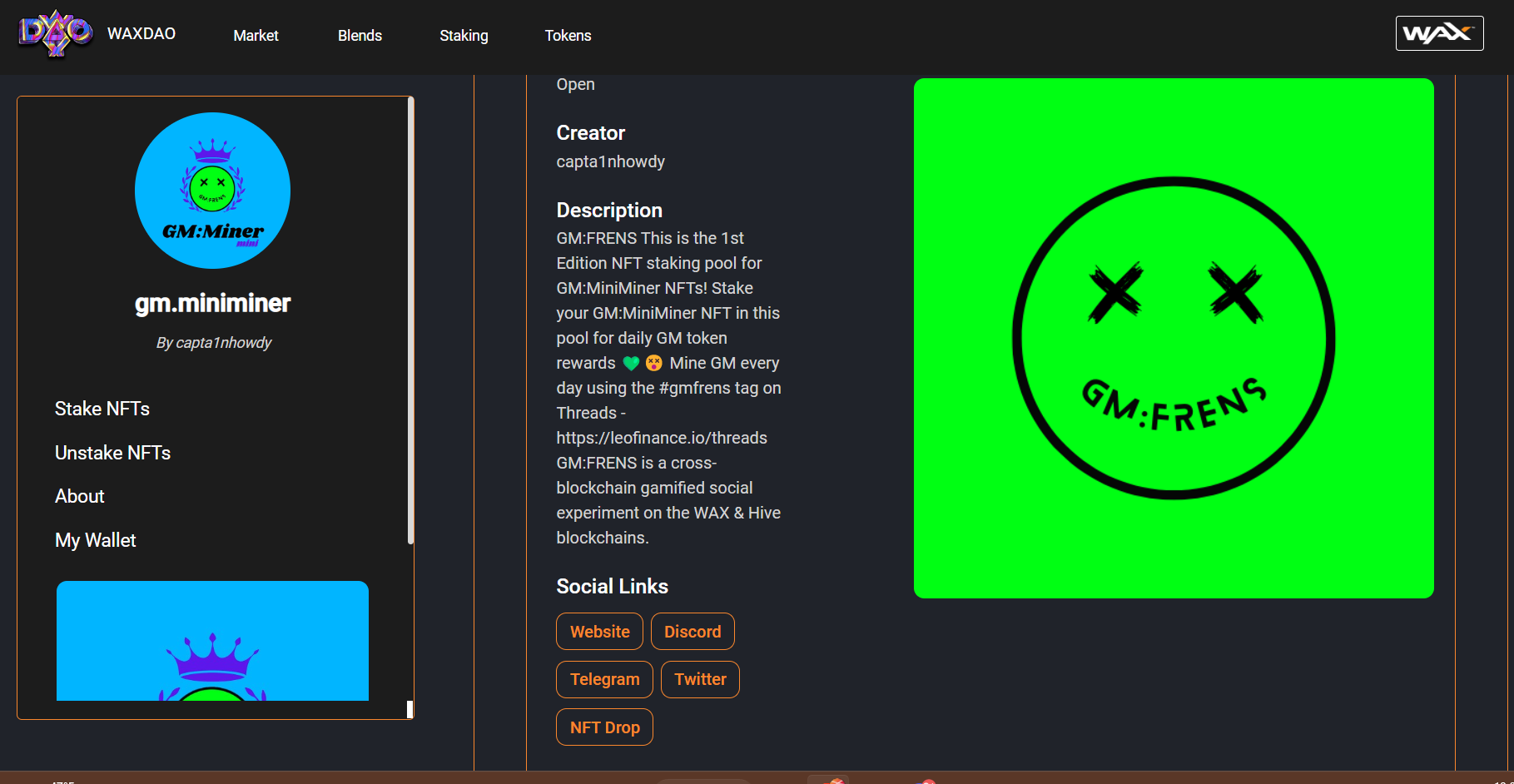 Head to the farm page and click "Stake NFTs" on the left hand side of the screen. This will take you to a page that will load all of your NFTs that can be staked in this particular farm. Since I'm just using this as an example, I'll just be clicking Stake Now on the one NFT that I am staking. If you have multiple, there's a switch in the top right of the page that you can click to select multiple NFTs.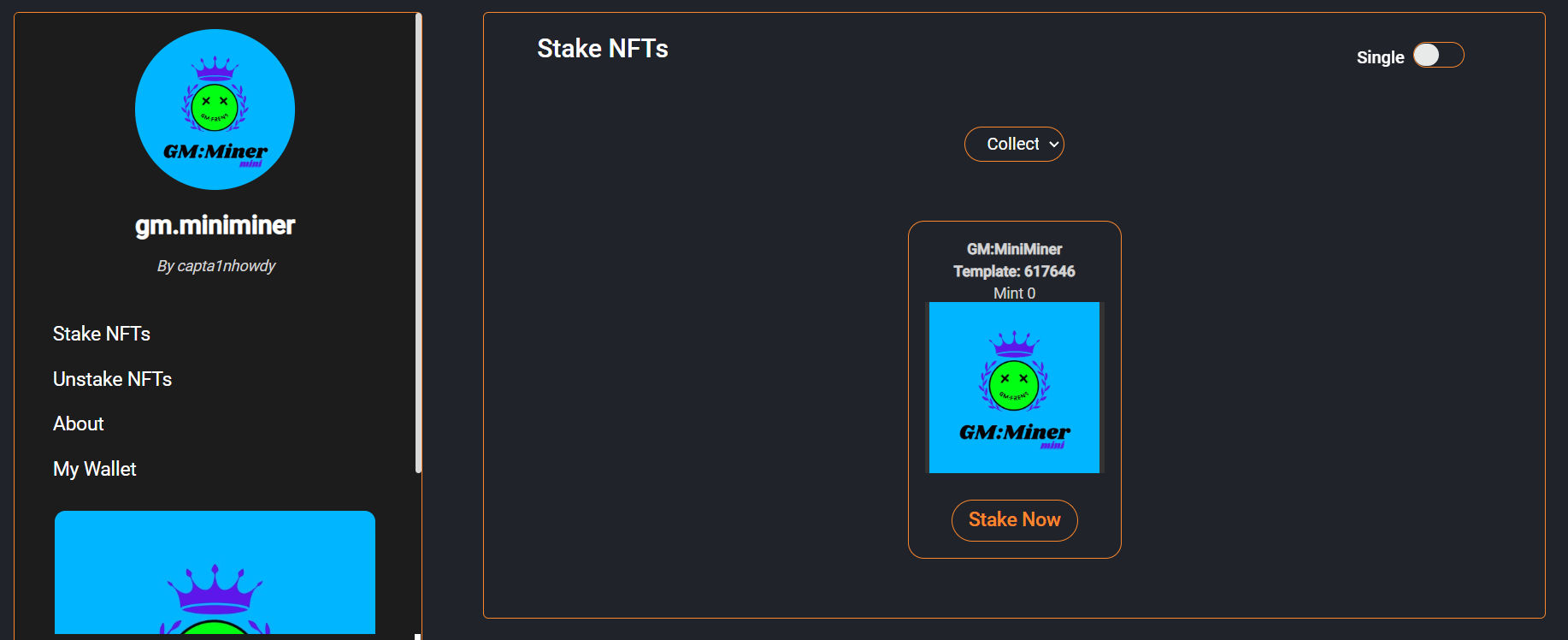 Once you've staked your NFT or NFTs, you're farming! Now you can walk away and let your staking rewards stack up. Farms produce rewards every single hour but that doesn't mean you have to claim them every single hour. I mean, you could if you want to but you're just going to burn a bunch of WAX network resources and that's no fun. After you walk away for a few hours or days, maybe have a few beers... It's time to claim those juicy farming rewards. This can be done in 2 ways. Number 1 is from the same farm page, but that's no fun if you're staked in multiple farms.
You'll need to Go to the farm page and click My Wallet. This will show a button to "Open X Row", which basically means you need to approve whatever token you're farming. If you've already done this, great. If not, it takes a second. You'll need to do this for every farm that you have NFTs staked in. Don't worry, it's a one time thing that takes almost no effort.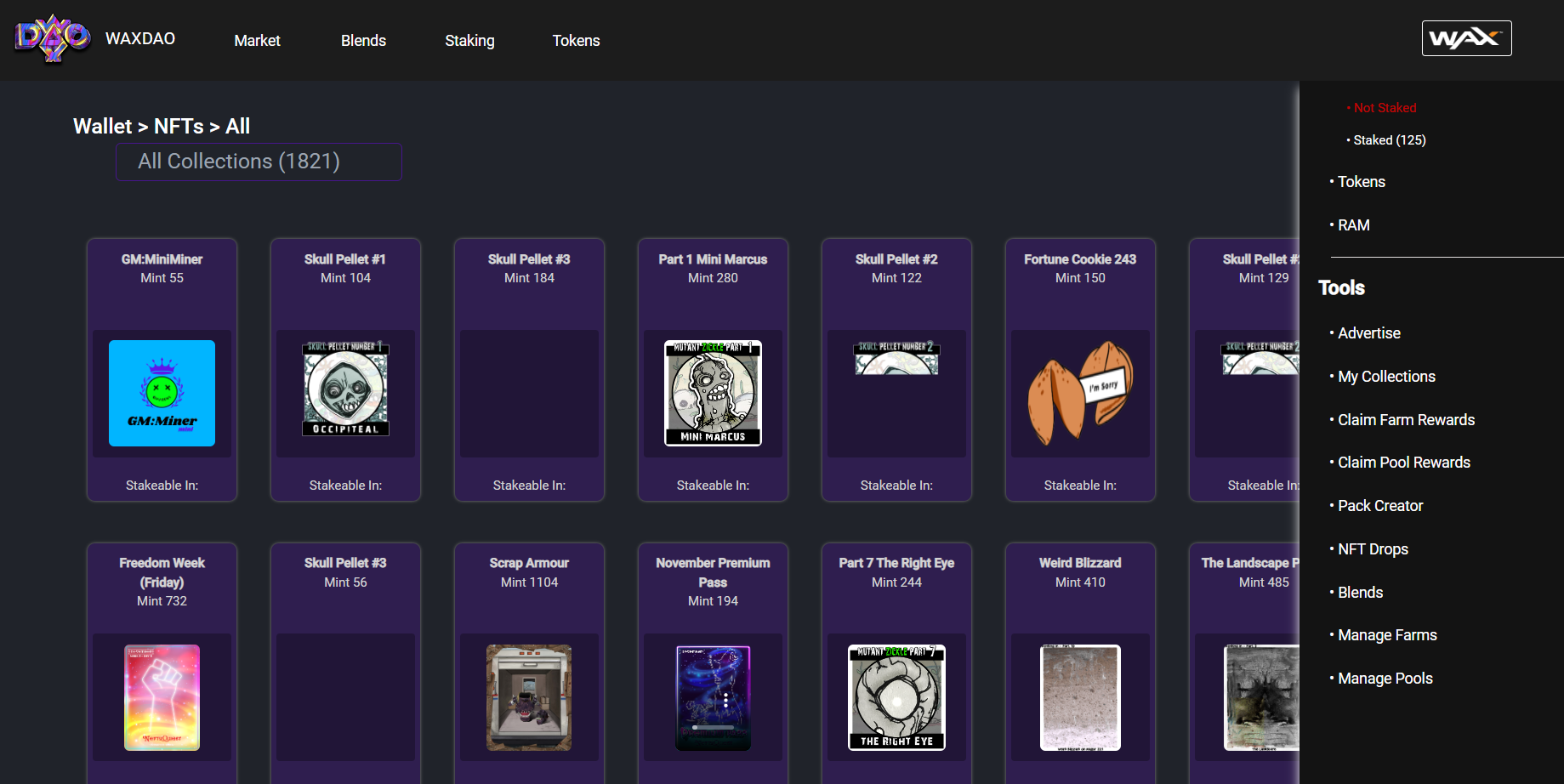 After approving all your farms, you can go directly to your Wallet page on WAXDAO and claim. Just click "Claim Farm Rewards" and all the farms you have NFTs staked in will populate for claiming. Before the latest update to the UI, you had to claim farm rewards one pool at a time. That has changed! Now there's a big ole' Claim All button right there to make your life easier.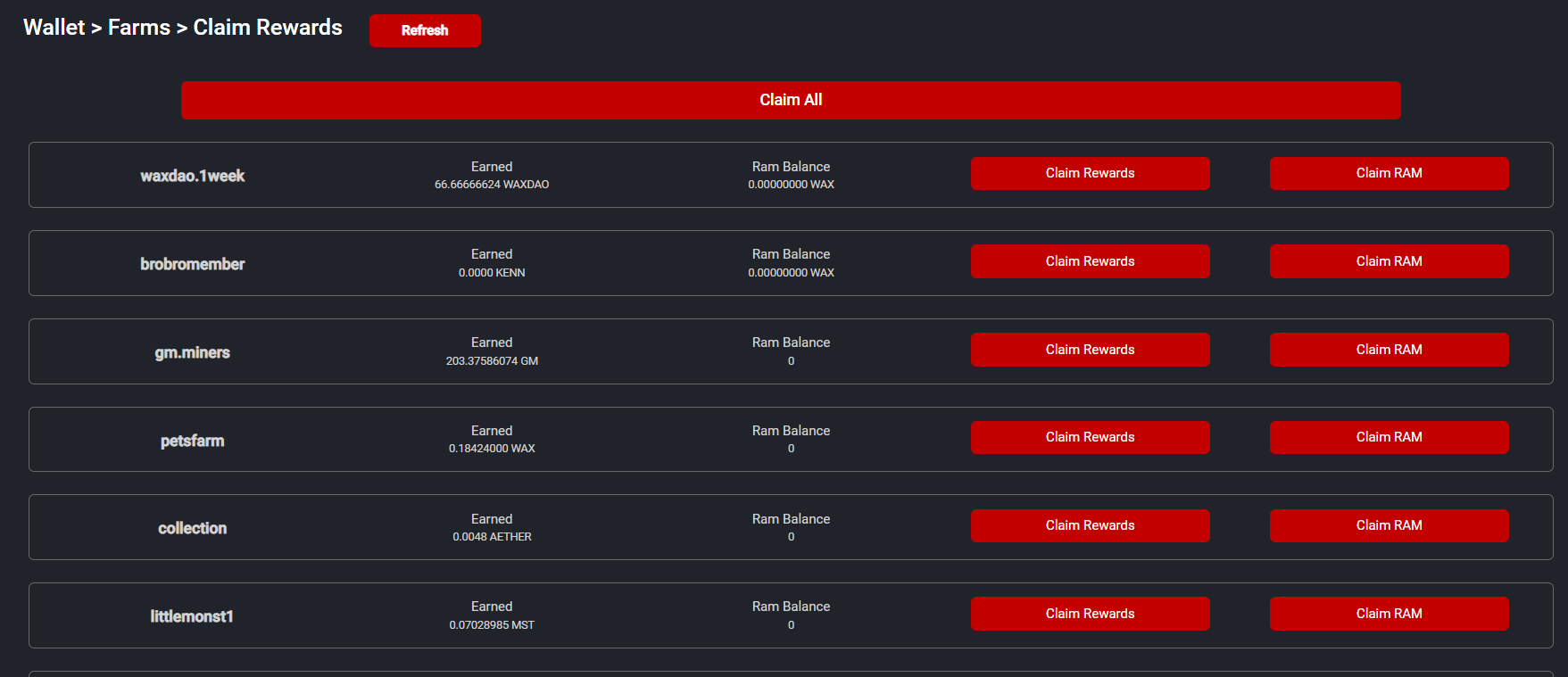 Not only does claiming rewards all at once save you time, but it also saves you WAX network resources since it's one single transaction. I highly recommend checking out WAXDAO if you're interested in doing some weird DeFi stuff with NFTs and WAX tokens. It's created by a local Hiver and is enabling regular dudes like myself to do really cool shit with their projects without knowing how to write smart contracts.
While you're there, make sure you take a look at all the cool projects including GM:FRENS. If you have no idea what I'm talking about, head over to the GM:FRENS website and @gmfrens profile for all the info you need to get involved.
Happy farming frens.

Thanks for reading! Much love.
Wanna learn about all kinds of things you can do with the crypto you earn blogging on Hive? Check out my index - Learn Crypto Stuff for some fun educational crypto stuff.
Posted Using LeoFinance Beta
---