Authored by: @hetty-rowan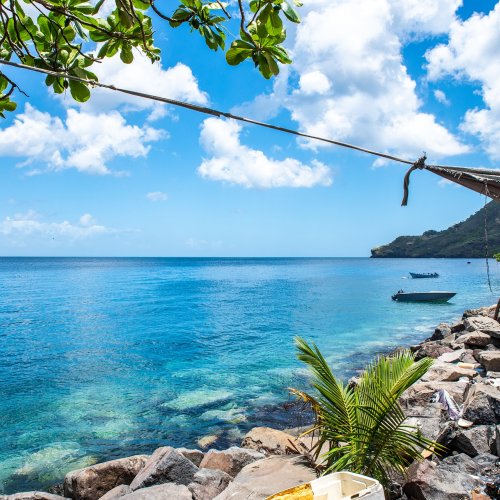 Tropical Dreams
Have you ever had dreams of a life on a tropical island where you don't have to worry about MONEY anymore?
Lying in the beach chair, drinking from a coconut, swimming in a clear blue sea (if you don't end up in a plastic soup), looking for the shade of the swaying palm trees when the scorching sun gets too hot for you? In the evening, a drink on a terrace, (if Corona doesn't pull through those plans).
Maybe, just maybe that dream is less distant than you might think.
There is a small island that has all these ingredients, AND that island will switch their economy completely to Bitcoin!
Welcome to Bequia
Yes, the tiny island, only 18 square kilometers in size, is poised to become the world's first full Bitcoin community. Now of course you immediately ask yourself what is the reason for this. Not because all island residents are now such heavy Bitcoin investors, let that be clear. It has a completely different reason. A reason that you would not immediately expect, and one that may make you think even more negatively about the traditional banks and their systems.
An answer to the challenges
Bitcoin adoption on the islet is the answer to the very real challenges that more and more island communities are facing. They are increasingly being cut off from regular banking facilities. And as you can understand, the latter presents quite a few challenges.
Small islands are often cut off from International Payment Networks by the major banks as a result of "DE-RISKING".
Cut off from international trade and commerce
The so-called de-risking makes is almost impossible for small island banks to do business internationally. And you already get it. If this trend continues, it means that small island nations will essentially be cut off from international trade and commerce. This can be disastrous for the islands that often have their economy based on tourism.
Switch to Bitcoin
In order now to prevent Bequia from being completely cut off from the global economy, to prevent tourism on the island from coming to a complete standstill and their economy from being devastated by a lack of economic facilities, the island is going to take matters into its own hands .
Pay for everything with Bitcoin
In the near future, real estate company One Bequia plans to build 39 luxury villas here. And they tout themselves as "The only real estate development in the Caribbean to accept Bitcoin." The fact that the acceptance of Bitcoin is more forced than anything else makes little difference in this. And it will not stop with the construction of the luxury villas. The developers want to create a complete ecosystem in which literally EVERYTHING can be paid with Bitcoin. From groceries, to going out to dinner, to visiting a cafe to a cinema. EVERYTHING you can think of can then be paid with Bitcoin.
Bitcoin is freedom!
The reason for this is that they are cut off by the traditional banking systems. But Bitcoin does not have these limitations! Bitcoin offers freedom. As we all know, Bitcoin transactions no longer require a third party. Just an internet connection, you don't need more than that. In this way, Bitcoin will of course become a payment method of choice for islanders AND for tourists. They don't need banks anymore!
Bitcoin adoption rate is high in the Carribean
Many Caribbean island states have been pushed to adopt blockchain and the cryptocurrencies much faster than other countries for this reason. The islands at the forefront of this are Bermuda, Bahamas, Barbados and now also St. Vincent.
This kind of news gives me HOPE!
Aah, just reading these names brings visions to my retina of wonderful hours on a tropical beach with the warm sun on my body. Unfortunately the reality is different for me. In the drizzly Netherlands I sit typing this blog with a smile from ear to ear. Because is this kind of news what gives me the hope that the blockchain will bring many positive changes with it. And it gives me the hope that there will be a change in the old, perhaps even outdated, traditional banking system.
Philosophy of Decentralization
However, Bitcoin and other cryptocurrencies are not understood by everyone, and many people are still skeptical. However, for the residents and visitors of Bequia, Bitcoin is more than just a financial instrument, it is a philosophy. These people strongly believe in the philosophy of Decentralization, and therefore propagate it by wanting to run their entire economy entirely on Bitcoin in the very near future.
Welcome to Bequia
So if you still have some Bitcoins left, and are ready to live an unbanked life in a beautiful place in the Caribbean. Bequia is the place where you can do this soon. Just to give you an idea… Bequia is the largest island in the Grenadines, in the Caribbean very much. The capital of Bequia is Port Elizabeth… and you can get by very well if you master the English language, because that is the main language there!
Happy Sunday!

Posted Using LeoFinance Beta