Introducing CUB Fixed-Term Staking! | Migrate From Old CUB Kingdom to New CUB Kingdom
---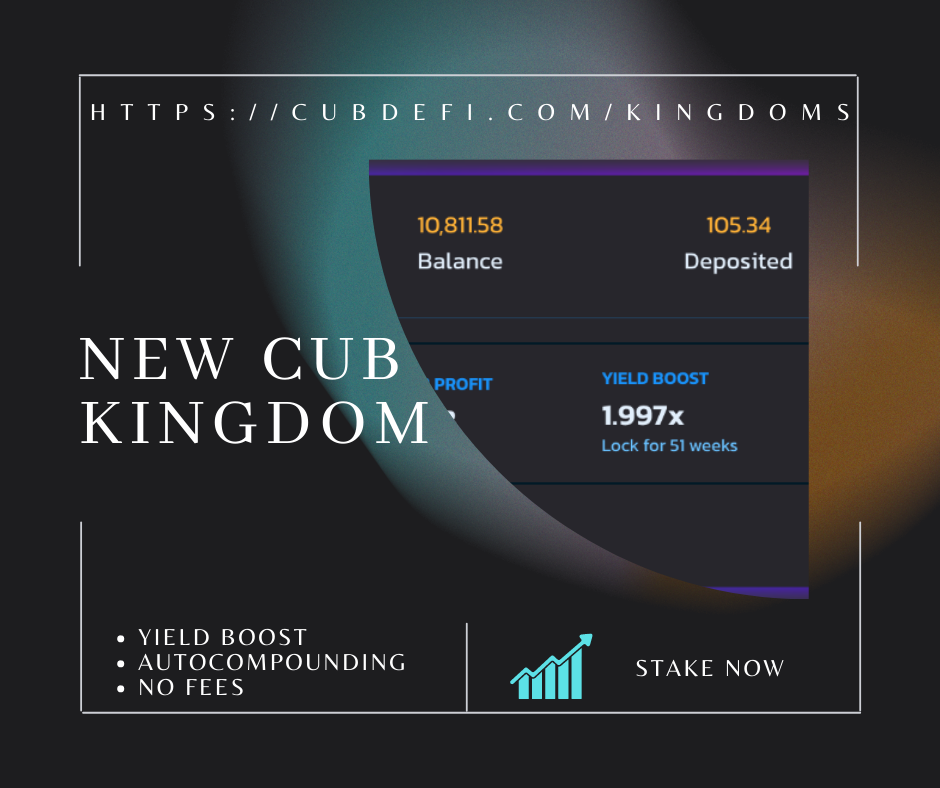 It's official! The new CUB Kingdom that we've been working on for so many months is finally live. This marks a radical shift in CUB. The Multi-Token Bridge (bHIVE & bHBD Derivatives) were the first phase of a 3-phase plan to rebuild CUB to the glory that it once had.
Our focus: generating sustainable, reliable and growing yields in DeFi. This has always been our mission from day 1. It's taken so many iterations. So many trials and failures.
We believe that the Multi-Token Bridge (bHIVE & bHBD) are showing us the way of the future for CUB. If you've been following along with our monthly burn reports, you'll see that more than 400k CUB is now being bought back and burned on a monthly basis by the CUB DAO.
This pace has been increasing by more than 100k CUB per month. The revenue continues to grow exponentially as the bHIVE & bHBD liquidity on https://cubdefi.com continues to increase and trading volume occurs on BSC.
The new CUB Kingdom is a major new development that allows for both fixed-term and flexible autocompounding.
Below is a guide that explains it.
This new CUB Kingdom vault will also be utilized as the basis for something that we've also been working on bHIVE & bHBD Bonds.
Imagine being able to single-stake bHIVE & bHBD and earn single-sided yield. No LP exposure. One click, easy staking. Bond yield is generated by CUB and the CUB DAO uses this to generate a new use case for bHIVE & bHBD which ultimately leads to more liquidity, trading volume and wrapping revenues for the CUB DAO which is 100% utilized to buyback and burn CUB autonomously.
The total amount of CUB burned crossed 1.5M tokens last week and it continues to exponentially rise. By the end of 2022 (only 6 weeks away!) we'll have more than 2M CUB bought back and burned by the CUB DAO. This is truly incredible.
We're on pace to escape velocity (burning more CUB than is produced on a monthly basis) in the next few months. We're excited to finally have a model of DeFi that is sustainable, reliable and growing. The yield for HIVE & HBD has only continued to grow on https://cubdefi.com/farms. You can earn 30% yield on HIVE / HBD right now and this will start to increase as burn activities keep growing with the MTB Revenue.
New CUB Kingdom
A completely revised version of the CUB Kingdom. Now with both fixed-term staking and flexible staking
Stake CUB, Earn CUB

One of the most popular vaults on CubFinance is the CUB Kingdom. The old CUB Kingdom currently (as of this writing, November 21st 2022) has ~$200k TVL with nearly half of all CUB in circulation deposited to the vault.
The new CUB Kingdom offers two different staking options. It has replaced the old CUB Kingdom and all users who would like to stake their CUB to earn CUB are asked to:
In this short guide, we'll cover the new CUB Kingdom and explain the options of flexible staking and fixed-term staking.
Flexible Staking

Flex staking (or flexible staking) is the same as the old CUB Kingdom. It allows users to deposit CUB and earn auto-compounding CUB profits back into your position. You can withdraw at any time.
Note: one of the many requested features in the old CUB Kingdom was to see your CUB profits. In the new CUB Kingdom, you can see your profits separate from what you originally staked. Your profits are still being auto-compounded, but now they are displayed so you can see exactly what you're earning!
Fixed-Term Staking

Fixed-term staking is what we're really excited for. It allows any user to define a lock term and stake their CUB for that term. Doing so will earn you a linearly increasing CUB Boost for the longer you choose to stake.
For example, a user who stakes their CUB for 12 weeks will earn a yield boost relative to a user who is staking for 2 weeks (or flex staking).
Flex staking earns you the lowest APY for CUB staking. Fixed-Term staking can be as little as 1 week or as long as 52 weeks. The more weeks you stake, the more APY you earn.
Flex vs. Fixed - A Side-by-Side Comparison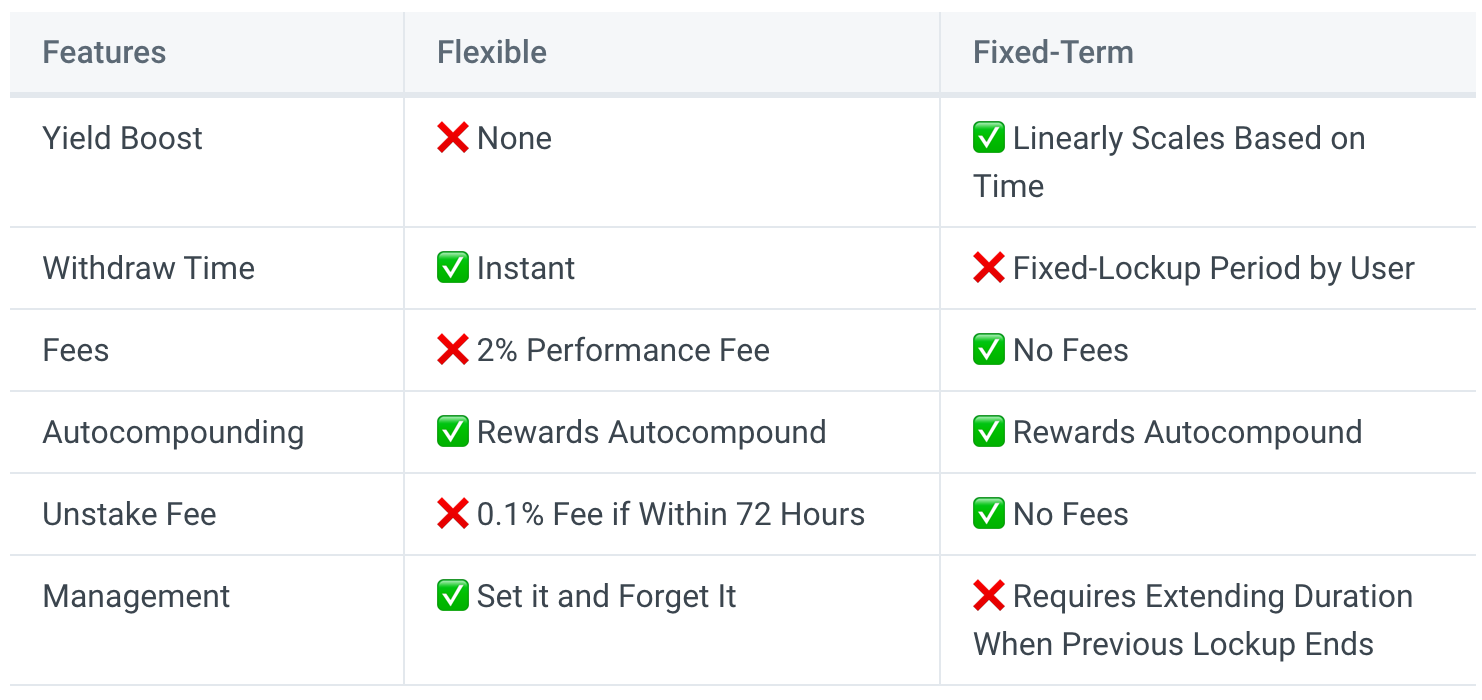 Both flexible and fixed-term staking are held within the same pool. This means that you can convert between the two. For example, if you stake for flex staking, you'll notice a button pop-up that allows you to convert it to a lock-up period for greater rewards.
we've spent a lot of time testing the new CUB Kingdom but there are bound to be edge cases that we did not catch. If you catch one of these, please open a Discord Bug Report Ticket and we will promptly triage and fix the issue. Thank you 🦁

About LeoFinance
LeoFinance is a blockchain-based Web3 community that builds innovative applications on the Hive, BSC, ETH and Polygon blockchains. Our flagship application: LeoFinance.io allows users and creators to engage and share content on the blockchain while earning cryptocurrency rewards.
Our mission is to put Web3 in the palm of your hands.
Twitter: https://twitter.com/FinanceLeo
Discord: https://discord.gg/E4jePHe
Whitepaper: https://whitepaper.leofinance.io
Our Hive Applications
Join Web3: https://leofinance.io/
Microblog on Hive: https://leofinance.io/threads
LeoMobile (IOS): https://testflight.apple.com/join/cskYPK1a
LeoMobile (Android): https://play.google.com/store/apps/details?id=io.leofi.mobile
Delegate HIVE POWER: Earn 16% APR, Paid Daily. Currently @ 2.8M HP
Hivestats: https://hivestats.io
LeoDex: https://leodex.io
LeoFi: https://leofi.io
BSC HBD (bHBD): https://wleo.io/hbd-bsc/
BSC HIVE (bHIVE): https://wleo.io/hive-bsc/
Earn 50%+ APR on HIVE/HBD: https://cubdefi.com/farms
Web3 & DeFi
Web3 is about more than social media. It encompasses a personal revolution in financial awareness and data ownership. We've merged the two with our Social Apps and our DeFi Apps:
CubFinance (BSC): https://cubdefi.com
PolyCUB (Polygon): https://polycub.com
Multi-Token Bridge (Bridge HIVE, HBD, LEO): https://wleo.io
Posted Using LeoFinance Beta
---