The First Ever Decentralized IDO on CubFinance! | CAKEPOP
---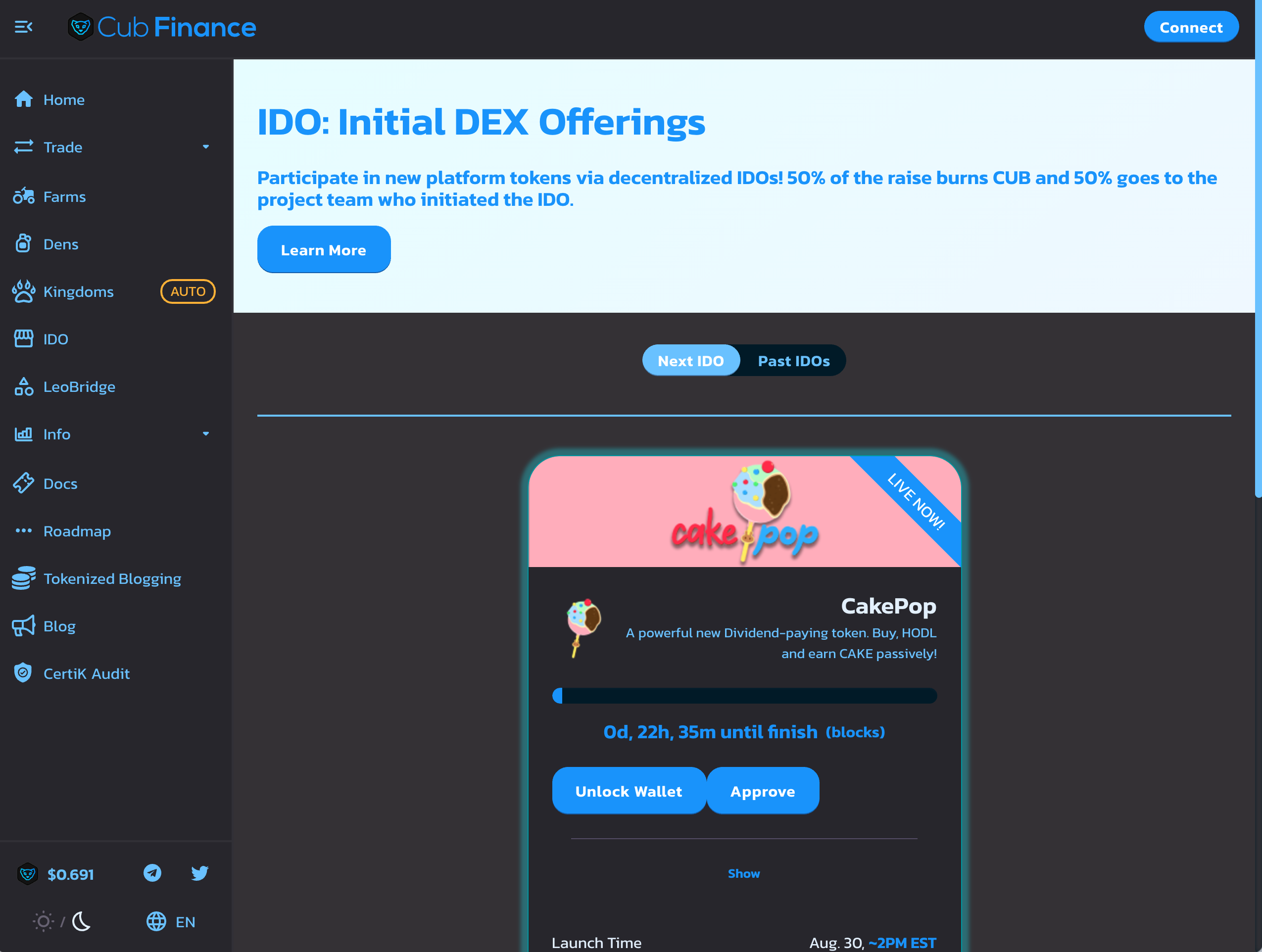 It's been an incredible past few weeks and months as we built out the IDO system and found our first 3 launch partners to showcase the potential of our community LaunchPad.
CubFinance can now handle decentralized IDO requests. New platforms that are seeking initial liquidity, attention and marketing awareness can now come to CubFinance and utilize the CUB token and community as a launchpad.
In exchange, 50% of their raise (the CUB portion of CUB-BUSD) gets burned. They get to use the other 50% (BUSD) to seed initial liquidity.
This creates a value capture mechanism for CUB. Regardless of the platform and it's future success, CUB geneated massive value through the initial burn. If platforms are also successful in the long run, then CUB gains more value through the awareness they generate. Their users will forever know that a platform (like CAKEPOP) launchpaded via CubFinance and generated massive capital and awareness prior to their launch.
We're extremely excited to see the performance of CAKEPOP in this first IDO run. This IDO will be a great precursor to the future IDOs that launch on CubFinance. There are now 4 IDOs scheduled to go live within the coming weeks.. the total CUB to be burned is in the Millions of USD range. It's going to be a fascinating experience and test of rapidly expanding utility.
---
The CAKEPOP IDO: How to Participate
The CAKEPOP IDO is running on an overflow method. It utilizes CUB-BUSD LP tokens for the raise. Here's a quick tutorial on how to participate - it's much easier than you think!
1). Get CUB-BUSD
The first thing you need are CUB and BUSD tokens.
CUB can be purchased on https://exchange.cubdefi.com.
BUSD can be purchased there or on any major DeFi platform on BSC.
2). Pool CUB-BUSD on PancakeSwap V2
Go to PancakeSwap LP and pool CUB-BUSD together to get CUB-BUSD LP tokens.
3). Go to the NEW IDO Page on CubFinance
Head over to https://cubdefi.com/ido to see the current IDO status.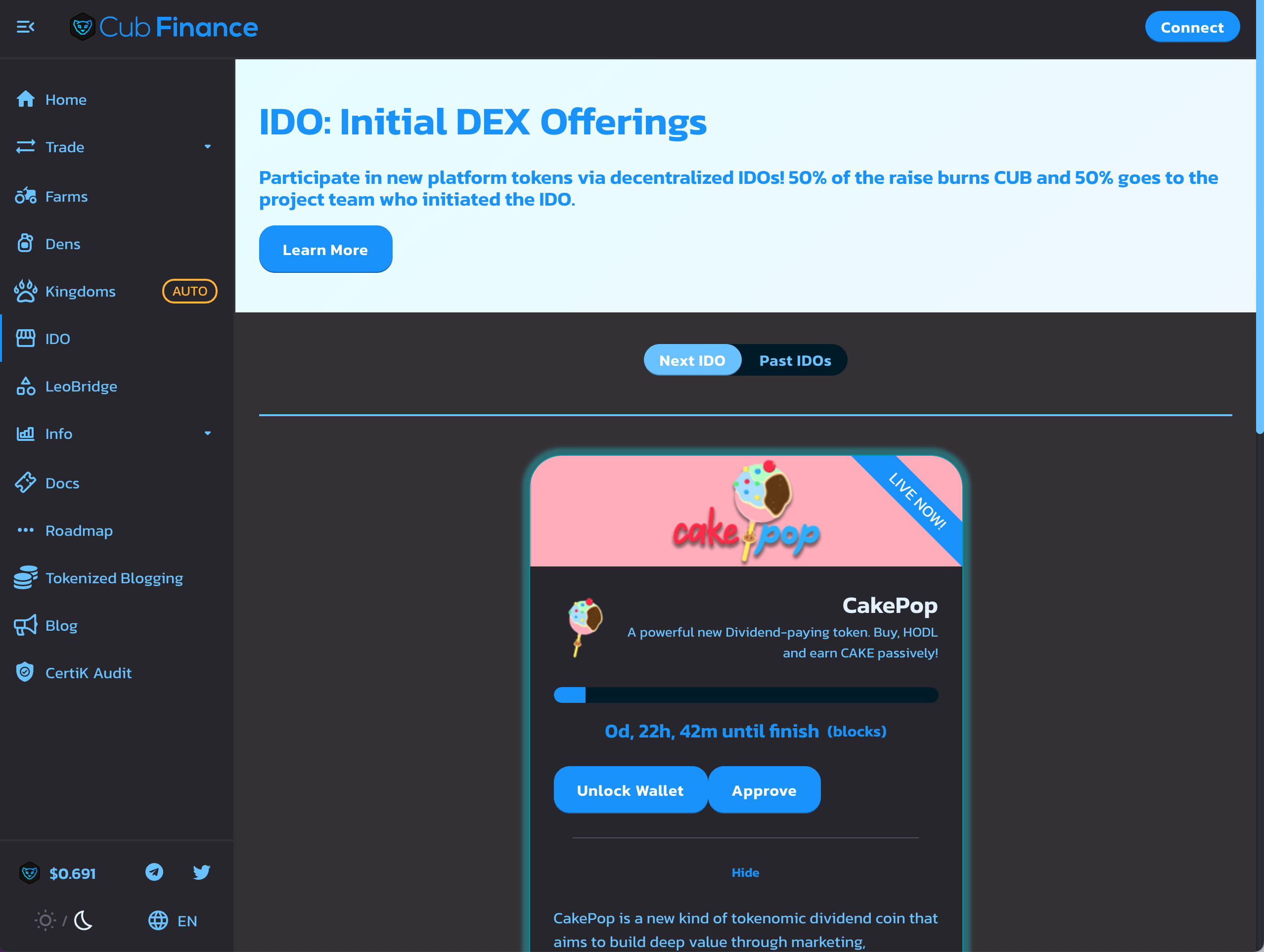 Unlock your wallet (sign in with Metamask)
Click "Approve" to approve CUB-BUSD LP token spending
Click "Commit" and then select how much CUB-BUSD to allocate to the IDO
Confirm the TX with Metamask
Done! Wait for the IDO to finish and then come back to the IDO page to claim your IDO tokens and any unspent CUB-BUSD (in the event of an overflow)
Frequently Asked Questions:
How do I know how much CAKEPOP I will get?
This will depend on if the raise is overfilled. If the raise is not overfilled, then you'll get CAKEPOP at a rate of $0.000375
How much will I make on the launch?
DYOR! With any token launch, things can be crazy and there is no predicting what can happen.
When will I receive my CAKEPOP tokens?
CAKEPOP will become claimable on the IDO page once the raise is finished.
The IDO Progresses
We just launched the IDO page 15 minutes ago and the raise is already 10% committed and climbing fast. The IDO will close in about 23 hours. Stay tuned for more updates from @leofinance on how the IDO is looking from our perspective on the CubFinance side of the spectrum. The @cakepop team will also be releasing various posts about their UI, marketing, tokenomics, etc. today, tomorrow and in the days that follow.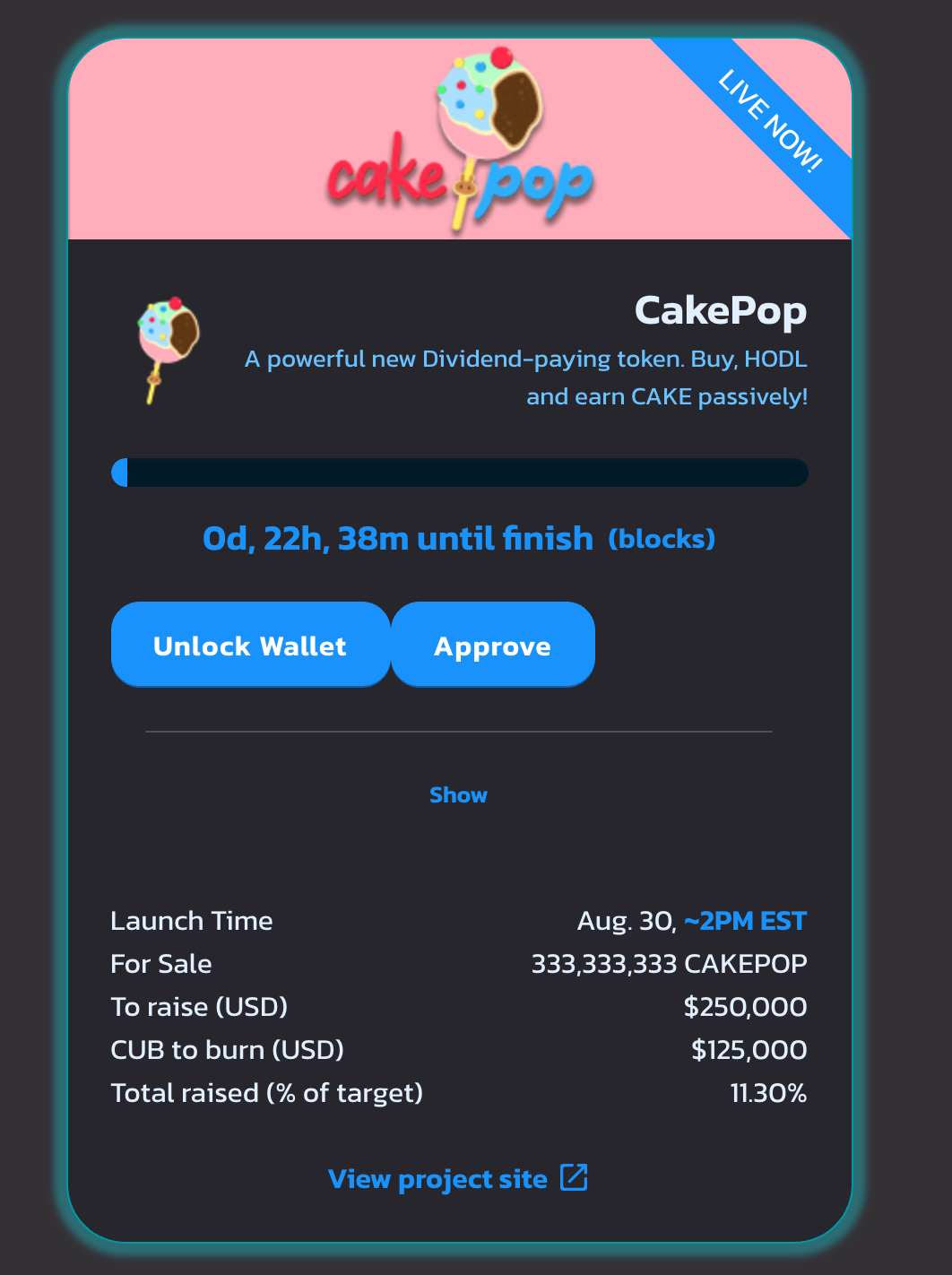 LeoFinance is a blockchain-based social media community that builds innovative applications on the Hive, BSC and ETH blockchains. Our flagship application: LeoFinance.io allows users and creators to engage and share content on the blockchain while earning cryptocurrency rewards.
Earn a 16% APR on HIVE POWER and Support LeoInfra's Onboarding Efforts by Delegating HP to @leo.voter (Currently at 2M HP). We Use this to Claim Accounts and Delegate RCs to Newly Onboarded Users + Daily LEO Payouts to Delegators
Posted Using LeoFinance Beta
---