Thorswap Is Getting On My Nerves
---
They need some good dev material ASAP.
As if the so-called $THOR airdrop wasn't enough to piss people off, I just logged in to app.thorswap.finance only to be informed that I can't even access my funds right now. Yeah, they're safe and all, but I really don't appreciate not being able to access my own funds. I guess nobody does.
I've been a massive supporter of the project for quite some time now, but I have to admit that I'm getting disappointed lately. Truth is I didn't panic as I still trust the platform, but that ''WITHDRAW NOT AVAILABLE'' notification is not a very pleasant surprise, is it?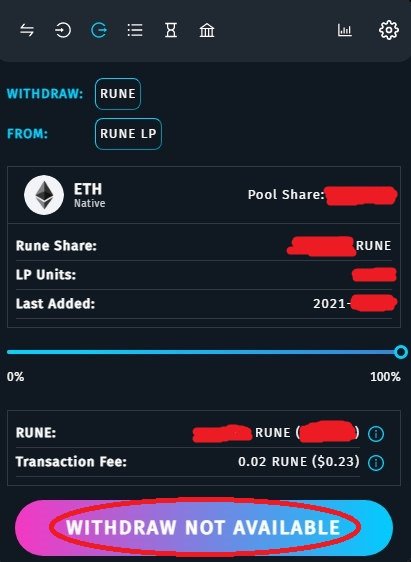 I've been at the office all day today, so I haven't been following the news. Therefore, I decided to head over to discord for some insights. It appears that Thorchain is halted again, and people are advised to not interact until chain consensus resumes. It goes without saying that people are not very excited about this news.
It was supposed to only last a couple hours, but we're still frozen. Ain't nobody got time for that.

$RUNE is almost 7% down today, and while I do realize that even BTC and ETH have stopped racing for the time being, I think we should expect a further dip in $RUNE's price. Actually, that works for me, as I've pooled $RUNE asymmetrically, and I will most likely end up exiting the ETH pool with much more RUNE than I entered with.
The problem is I am now having second thoughts about it. More and more $RUNE holders are getting pissed off as the days go by, and the timing couldn't have been worse. It's mid November and we were supposed to be exploring new ATHs. One problem after another. The network is designed to revolutionize the entire crypto space and the road was always going to be bumpy, but I can't help but think there's no room for more problems right now.
Anyway, that should sum up my crypto thoughts for today. Hope I will be able to play with my $RUNE tokens again soon. Now it's time to get back to battling on Splinterlands as I've got some DEC to farm. Catch you around later.
---
Never forget!
NFA - DYOR
---
Have a good one everyone!
@lordneroo
Posted Using LeoFinance Beta
---